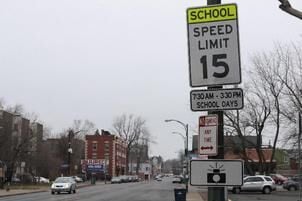 Buffalo Public Schools has appealed to Common Council members to activate speed-zone cameras all day at its schools, instead of only around arrival and dismissal times.
But such a change could cause more confusion around the controversial program, lawmakers say.
Legislation approved last November by the Common Council and Mayor Byron W. Brown leaves the decision for each speed-zone camera to whoever represents the Common Council district where each camera is located.
But the process could lead to inconsistencies if some Council members approve the BPS requests in their districts while others don't, especially if cameras at one school location span more than one district, some lawmakers said during Tuesday's Council meeting.
For example, Delaware Council Member Joel P. Feroleto voted no on the request for one school in his district – School 54 Dr. George E. Blackman School of Excellence at 2358 Main St.
Debate raged Tuesday over the program that uses speed camera technology to enforce the 15 mph speed limit at 20 locations near schools in the city.
But Masten Council Member Ulysees O. Wingo Sr. pointed out that one of the cameras at School 54 is located in his district, across the street from the camera in Feroleto's Delaware District.
"I'm waiting to get an answer on this question: How do they reconcile the fact if I want my camera on all day in Masten and Councilman Feroleto wants his camera off in Delaware? How is that reconciled?" asked Wingo, who approved BPS requests for three schools in his district: School 61 Arthur O. Eve School of Distinction, Bennett High School and Buffalo Academy for Visual and Performing Arts.
South Council Member Christopher P. Scanlon, who voted against the November legislation, further explained why Tuesday.
"If individual council members were going to be given the ability to determine the duration of the camera activation in their individual districts, we were not going to have any semblance of uniformity across the city," he said. "Now by doing this … we open ourselves up to major criticism."
Scanlon said he will deny BPS' request for School 67 Discovery School in his district.
"My commitment to protecting children in every neighborhood of this City will not waver," said Mayor Byron W. Brown in a written statement.
Envisioned as a way to catch motorists who endanger students and others by speeding on streets around schools, Buffalo's School Zone Safety Program imposes 15 mph speed limits around 20 public, private and charter schools. Flashing beacons warn drivers about the lower speed limit, which is in effect during the entire school day. Drivers captured on camera traveling at least 26 mph receive a $50 citation mailed to the car's registered owner. From that, the city receives $36, and $14 goes to the camera company that issues the citations. The zones were selected based on accident and traffic data, administration officials have said.
The original hours of speed camera enforcement – one hour before the start of school to one hour after the close of school and during student activities – were set by New York State law specifically for Buffalo. But the city can limit those hours, officials have said.
That is what happened last year when the Council passed a resolution 6-3 to amend the hours to arrival and dismissal times only. Scanlon, Wingo and North Council Member Joseph Golombek Jr. voted against the change.
Brown vetoed the legislation in October.
But the Council was prepared to override the mayor's veto until an 11th-hour compromise in November averted that showdown.
"The program is failing the citizens of Buffalo. The Common Council has a duty to act," said Peter Rizzo, a certified fraud examiner, government auditor and urban planner who works for the federal government.
The compromise called for the cameras to be activated one hour before the start time of each school to one hour after the start time, and again one hour before dismissal at each school, to one hour after dismissal.
For any activities outside of those hours – including sporting events, outdoor walks or recess and activities that involve students going off campus – individual school leaders must request permission from their respective council members to activate the cameras.
Fillmore Council Member Mitchell P. Nowakowski said Tuesday that the legislation states that the school or school district may request intermittent additional times for anticipated special events. Therefore, an application for all hours of the school day is not congruent with the terminology of special events.
"It appears that the application is to evade the legislation that was passed by this body to make the cameras all day," said Nowakowski, who will deny requests for Hutchinson Central Technical High School, Herman Badillo Bilingual Academy and Harvey Austin Elementary School.