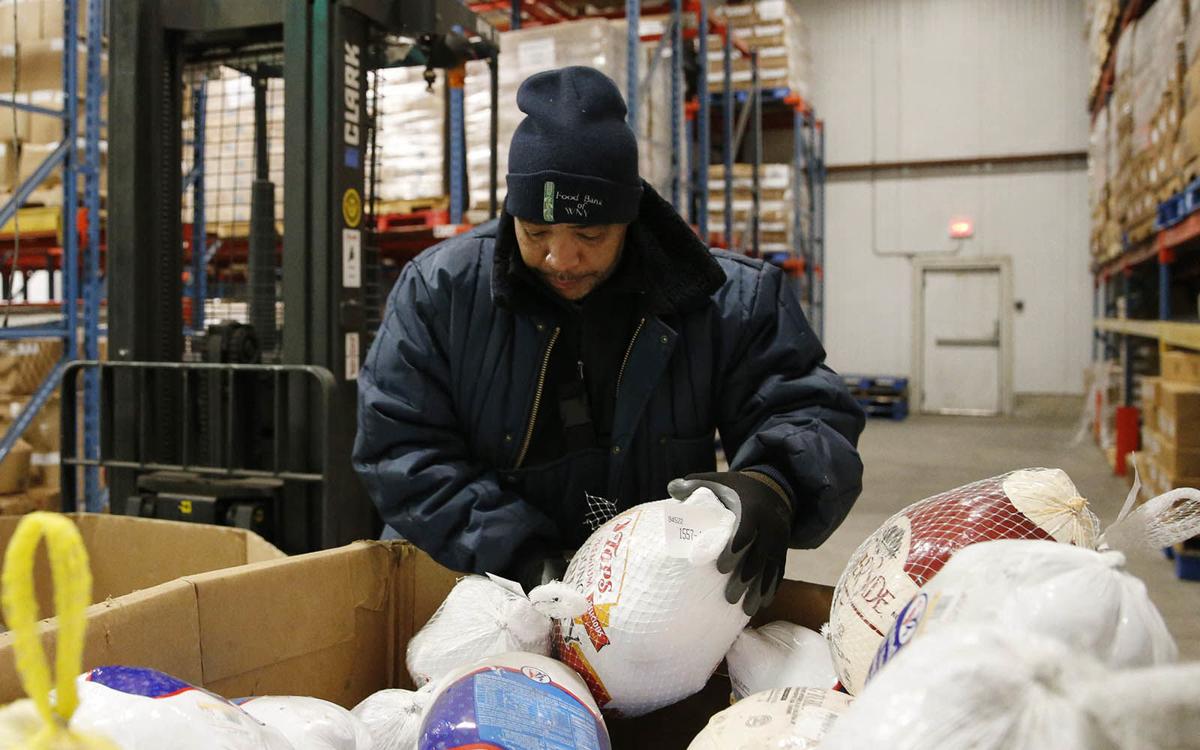 With jobs cut off and mouths to feed, the economic victims of the Covid-19 virus are increasingly turning to Western New York's food pantries and free meal sites.
But worries mount about how much food will be available for them.
Maj. Jose Santiago, head of the Salvation Army in Lockport, said he saw a 10% increase, all newcomers, at last week's grocery giveaway. He counted members of 113 families in his parking lot.
"We haven't seen any increase of donations of any kind related to Covid-19 here in Lockport," Santiago said.
Last week, Community Missions served 108 households at its Niagara Falls pantry.
"Those numbers are about double what we would typically see for the third week of the month," Hoffman said. On Thursday alone, 23 of the 29 customers were newcomers.
"I have seen an increase since last week," said Sister Mary Johnice at the Response to Love Center on Kosciuszko Street. "People are panicking. You have to remember, people who are coming to us, if they're homeless or in a rooming house, they would come to us on a daily basis for a meal."
"It's working out pretty well," Sister Mary said of supplies keeping up with demand so far. "But there is going to be an increase, because I can feel the panic of our regular dining room and food pantry people."
Sister Mary is one of the Felician Sisters at the Response to Love Center on Kosciuszko Street. The center offers 175 to 250 cooked meals four mornings a week and also gives away pantry bags and produce.
"People are calling in and asking, 'If we don't belong to your particular place, can we come?' And we tell them yes," Sister Mary said. "We do have an emergency bag or a take-home warm meal."
"All the calls that are coming into the center are about our food pantry," said Patrick Gormley, executive of the Old First Ward Community Center, which operates the Buffalo River Food Pantry on Republic Street.
"I anticipate we're going to be seeing a lot more people coming in over the coming weeks," Gormley said.
FeedMore WNY, formerly the Food Bank of Western New York, supplies more than 300 pantries in Erie, Niagara, Chautauqua and Cattaraugus counties.
"Our agency partners have absolutely been feeling the increased burden as many new, first-time clients are reaching out to them because they have recently been laid off or are fearful about having food assistance," FeedMore spokeswoman Catherine Shick said.
"They're doing a tremendous job making sure we have the basics," said Christian Hoffman, spokesman for Community Missions of the Niagara Frontier, based in Niagara Falls.
FeedMore has a retail partnership with grocery chains, which donate unsold food. But panic buying of food has cleared many store shelves.
"We hear from our retail agency partners and across the board from our agencies that they are experiencing a decrease due to the supply chain taking hits," Shick said.
Last week, instead of the usual six pallets of food, one major store shipped Community Missions only grapes and cake.
Niagara Falls restaurants have sent perishable food they no longer need because of a lack of customers, but Hoffman said that's only a temporary help.
"There is certainly a concern that we won't be able to do much beyond the very basics, the minimum staples," Hoffman said.
"We are going to need more food, and I know we will, because the numbers are going to increase, and it's going to be for a longer time," Sister Mary said. "We really could use the canned goods. We could use the financial donations in case we have to get some bread. Right now, we don't have bread."
The Buffalo River Food Pantry, which used to operate four days a week, started seeing a spike in calls Wednesday. But Gormley is the only worker available with the community center closed in line with state orders, so he's cut pantry hours to Thursday mornings only.
"As of now, we're only serving people that live in (ZIP codes) 14204 or 14210, but at the recommendation of FeedMore WNY, we will serve anyone on an emergency basis, no matter what area they come from," Gormley said.
"They're seeing a lot of unprecedented numbers," said Shick of FeedMore. "And at the same time, we know that they're experiencing a shortage of volunteers as well, as many of their volunteers who help at these agencies are older and considered an at-risk population in the outbreak."
FeedMore is "doing everything in our power, leaving no stone unturned" to come up with more food donations, Shick said.
"We definitely need the continued support of the community, whether that is in the form of monetary donations or actual food donations," Shick said.
Food donations can be brought to the FeedMore warehouse at 91 Holt St. Pickup of large shipments can be arranged by calling 852-1305. Those who need help or want to contribute money should call 822-2002 or use the FeedMore website.
Shick said FeedMore could use more volunteers in the warehouse, too.