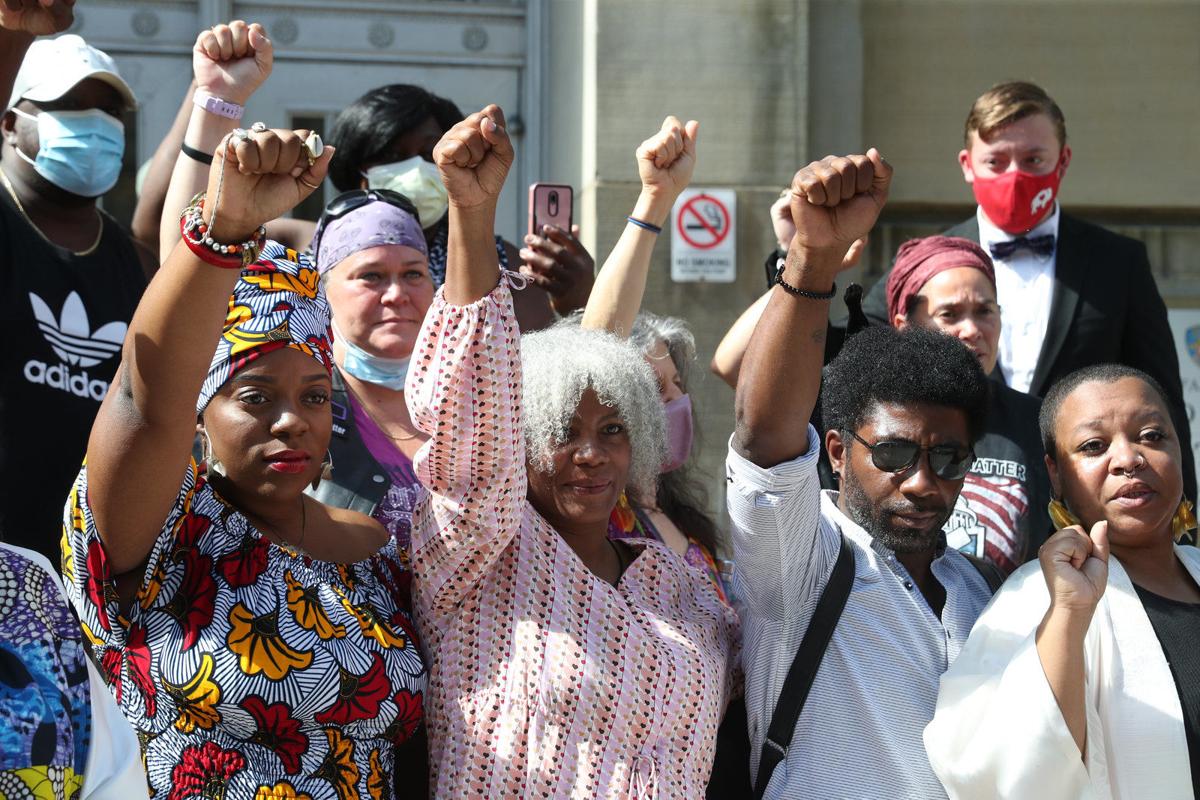 Cariol Holloman-Horne, a former Buffalo police officer who says she was fired for stopping a fellow officer from using a chokehold on a man 14 years ago, announced a new push Tuesday to pass legislation called "Cariol's Law," which she believes would combat the excessive use of force by police.
" 'Cariol's Law' will protect officers who do stand up against police brutality and they will not be treated as I have been," Holloman-Horne said Tuesday morning while standing in front of the Buffalo Police and Fire Headquarters building. "... I don't want any other officer to be treated as I have been treated for doing the right thing."
The legislation, which Holloman-Horne and other Buffalo advocates for the Black Lives Matter movement want the city to pass, would require a police officer to intervene when another officer is using excessive force, hold officers who fail to intervene accountable and protect whistleblowers.
She's also fighting to have her termination from the Buffalo Police Department vacated and receive her full pension benefits.
As protests have erupted across the country following the killing of George Floyd, who died while a Minneapolis police officer knelt on his neck, Holloman-Horne's case in Buffalo has gained new -- and national -- attention. She was interviewed recently on CNN.
Holloman-Horne had a 2006 on-duty confrontation with  fellow Officer Gregory Kwiatkowski during a violent arrest. Holloman-Horne, who is black, claimed Kwiatkowski was choking a black suspect whom officers were placing under arrest. Kwiatkowski alleged Holloman-Horne jumped on his back while he was trying to subdue the man.
She was fired in 2008 following an internal affairs review and a disciplinary proceeding. A jury in 2012 found no wrongdoing by the five Buffalo police officers whom the suspect sued in civil court for false arrest and battery. The jury, made up of five white people and one black person, voted 5-1 in favor of the officers, with only the black juror voting against them.
In 2018, in an unrelated case, Kwiatkowski pleaded guilty in federal court to a misdemeanor count of deprivation of rights under color of law and was sentenced to four months in prison.
At the Black Lives Matter protests in Buffalo that began May 30, Horne-Holloman has been a leading figure, marching with crowds and demanding action to put an end to police brutality.
She first introduced "Cariol's Law" in 2016 but it has gained new interest amid the protests. She and supporters said they planned to present their proposed laws to the mayor, Common Council and the public Tuesday through their website cariolslaw.com.
"Cariol Horne is the example of what heroism looks like. We stand proudly with this black woman. We stand proudly with this mother. We stand proudly with this community activist," said Phylicia Dove, owner of Black Monarchy, a clothing store on the West Side who describes herself as a "fashion activist."
Dove invoked the names of black people who were killed or injured by police in America "who did not have a Cariol Horne," mentioning Abner Louima, Amadou Diallo, Eric Garner, Trayvon Martin, Michael Brown and Tamir Rice. She broke down in tears as she listed the names.
She also named Quentin Suttles, who is suing Buffalo police for his violent arrest May 10. "And I, a police brutality survivor, could have used a Cariol Horne," Dove said. She did not give details about her experience.
Drea D'Nur, an activist, music artist and owner of Feed Buffalo, an organic food pantry on Massachusetts Avenue, said after the news conference that it is important to note that Holloman-Horne isn't just a former police officer.
"She's a black mother of five,' D'Nur said. "She needs to be vindicated. She risked everything to do what is right."
Get local news delivered to your inbox!
Subscribe to our Daily Headlines newsletter.