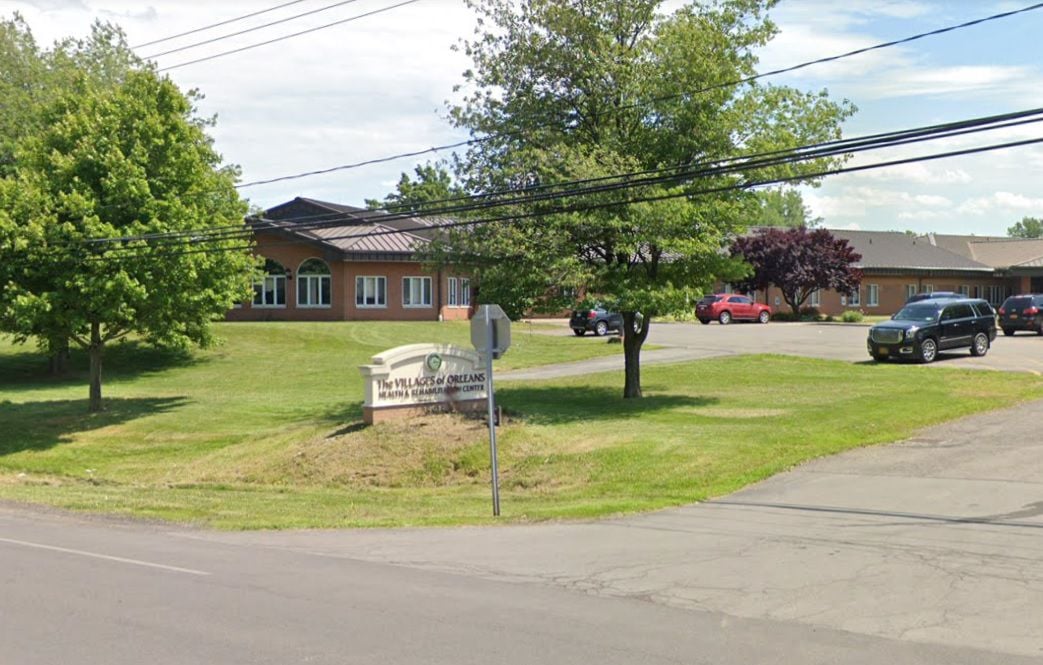 The nursing director fired from an Albion nursing home where 23 residents died from Covid-19 before the end of May was ordered Tuesday to comply with subpoenas issued as part of a State Attorney General's Office investigation.
State Supreme Court Justice Mark A. Montour said Debra Ann Donnelly must produce any documents she has and answer questions under oath.
The office sought the court order saying she "willfully and unlawfully" refused to produce documents and submit to questioning called for by its investigatory subpoenas from August and September.
Her attorney said she offered some cooperation, but resisted further cooperation until she could learn whether she is the target of the investigation. 
Donnelly, a medical professional with over 26 years experience, has an "unblemished and impeccable record of service," said her lawyer, Robert LaDuca Jr.
"She does not want to unjustifiably be the scapegoat" for others at the Villages of Orleans Health and Rehabilitation Center or government agencies who may have made mistakes dealing with the pandemic, LaDuca said in his written response to the state.
So she has serious concerns about sharing any information from her personal cellphone or providing information that can be used against her in any proceeding looking into criminal neglect, malfeasance or dereliction of duties, he said.
Donnelly, a registered nurse, was fired on June 22, escorted from the premises with nothing but her personal belongings, so she no longer has access to documents, emails, letters and reports relating to her work there, according to her lawyer.
None of her requests to the Attorney General's Office over the past few months have been unreasonable, LaDuca said at Tuesday's hearing. 
"All along we believe my client appears to be a target of some sort of investigation – the nature and scope of which we've never been informed of," LaDuca told Montour. "All we've done is made reasonable demands to offer cooperation, learn of the nature of their investigation, and why it is they want to subject my client to this inquisition, so to speak."
One of the subpoenas seeks information that may be on her cellphone, such as messages to and from her former co-workers or employer, as well as photocopies or documents she may have saved that may be relevant to the investigation, said Thomas N. Schleif, special assistant attorney general in the Medicaid Fraud Control Unit.
"What we got in return was, 'It's personal. It's private. And we're not going to disclose it unless we know about your investigation so we can make the determination on whether we want to disclose it,' " Schleif said at the hearing.
The lack of cooperation has delayed and interfered with the state investigation, Schleif said. 
The Medicaid Fraud Control Unit investigates abuse and neglect of residents in nursing homes across the state. The investigations include interviews, document reviews, financial and billing audits and subpoenas. Last March, the unit undertook a statewide effort to investigate, among other issues, the responses of nursing facilities to the Covid-19 pandemic. The investigations are confidential.
"I don't know what questions they want to ask, and I don't know what her responses, if any, will be," LaDuca told Montour. "I've been arguing all along: What is the exact nature of my client's alleged involvement? Are they looking for malfeasance on her part, criminal responsibility? We want to cooperate and work toward satisfying the attorney general. We just don't know which direction they want us to go in and how she fits in."
No law requires the state to provide the answers LaDuca wants as a condition for cooperation, Schleif said. 
"Yeah, you don't know what the questions are because they haven't been asked yet," he said during the hearing. "I guess we won't know until the opportunity arises, the questions are put forward to your client. You do have every right and opportunity to exercise any constitutional rights you may have at the time for any questions that may be put forth to you by the Attorney General's Office."
The state investigation should come as no surprise, he said.
"It's been well publicized what our office is doing at the present time in terms of our investigations into facilities," Schleif said. "It's not just this facility, it's a lot of facilities."
On Aug. 18, an investigator from the Attorney General's Office and a special agent from the U.S. Department of Health visited Donnelly at her residence, with no advance notice. Without counsel, she spent about two hours with them, answering their questions about the Villages of Orleans Health and Rehabilitation Center's care of residents amid the Covid-19 outbreak late last winter and spring, according to her lawyer. 
She remains willing to offer information about the facility's ownership, her lawyer said.
But their line of questioning and "very questionable sources for their allegations against her about patient neglect" made it apparent to her that their purpose was not to primarily to secure her cooperation against the facility's ownership, but instead to find fault with her as the former director of nursing, her lawyer said.
During an inspection on May 9, the state Health Department determined the facility did not establish and maintain an infection control program to protect against the transmission of Covid-19. Staff for Covid-19 units and rooms, as well as Covid-19 presumed rooms, were not wearing proper personal protective equipment, or PPE, according to the inspection. "Specifically, facility staff (certified nurse aides and licensed practical nurses) entered and exited the room of a resident diagnosed with [redacted]. The same staff then entered the rooms of residents without Covid-19, passed breakfast trays, assisted with the residents' meal and provided hands-on care without wearing PPE and completing proper hand hygiene," according to the inspection.
Donnelly, like many other front-line medical professionals last spring, found herself dealing with a pandemic the likes of which hasn't been seen in over 100 years, LaDuca told the court.
"The battle that she and her associates waged was unfortunately without the benefit of adequate personal protective equipment, staffing, experienced infectious disease personnel and the like," according to LaDuca's legal papers submitted to the court.
Compounding the problem was the State of New York, which was was not adequately prepared to take on the pandemic and issuing "inconsistent and ever-changing directives and guidance on how to manage and treat the disease" plus mandates for retaining and readmitting Covid-19 positive residents, he said.
She went to court over the subpoenas "so she too does not to become an unwanted casualty of this pandemic," LaDuca said in court papers.
"Whether or not your client is a target, I don't think the AG's Office is compelled to provide that information to you," Montour said. "I think they're well within their rights to seek a deposition of your client. I think they're well within their rights to submit a subpoena for certain documentation."
Montour said he wants the interview done and documents, if any, turned over by the end of next month.