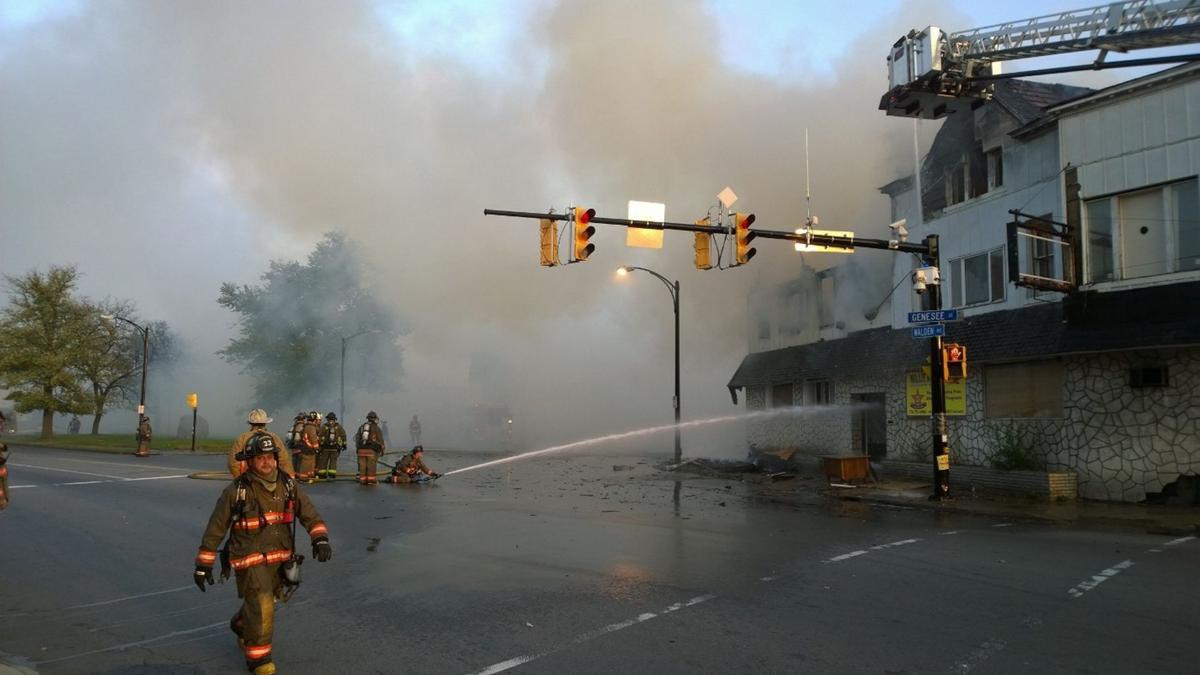 A wind-whipped fire Saturday destroyed a vacant building at Walden Avenue and Genesee Street that once housed the Ernest Wedekindt Funeral Home, and more recently, a mosque.
The two-alarm blaze caused an estimated $250,000 damage, said Division Chief Patrick Britzzalaro. The cause remains under investigation, and the building was expected to be demolished. No injuries were reported.
Firefighters were called to the scene about 5 p.m. and battled windy conditions. They continued to pour water on the building as darkness fell. Onlookers gathered on surrounding streets to watch the fire, some of them shooting pictures and video recordings, as smoke poured above the East Side neighborhood at the edge of Martin Luther King Park. Debris from the building was scattered on Walden Avenue.
Britzzalaro said the structure actually consisted of three interconnected buildings. The fire began at 5 Walden Ave., which was a 2½-story wood-frame building, and spread to 3 Walden Ave., also a 2½-story wood-frame building. From there, it spread to 1 Walden Ave., a two-story building with brick on the outside and a wood frame on the inside.
"The difficulty was, the age of the structure, the condition of the structure and windy conditions quickly accelerated the fire," Britzzalaro said.
However, fire trucks had good access to the property and firefighters had a good hydrant system to draw from, he said.
The property had no visible outside markings, except for a billboard promoting a youth sports program. It was not immediately clear how long the building has been vacant.
When last in use, the property most recently was the home of Muhammad's Mosque. Much longer ago, the property was the site of Ernest Wedekindt Funeral Home. A different funeral home operated at the site after Wedekindt and before the mosque began using it.
An online history of Wedekindt funeral homes in the region said Ernest Wedekindt established a funeral home at 5 Walden Ave. about 1893 and reached more than 1,000 funerals per year during a flu epidemic. He sold the family business in 1952, according to the history.
Get local news delivered to your inbox!
Subscribe to our Daily Headlines newsletter.