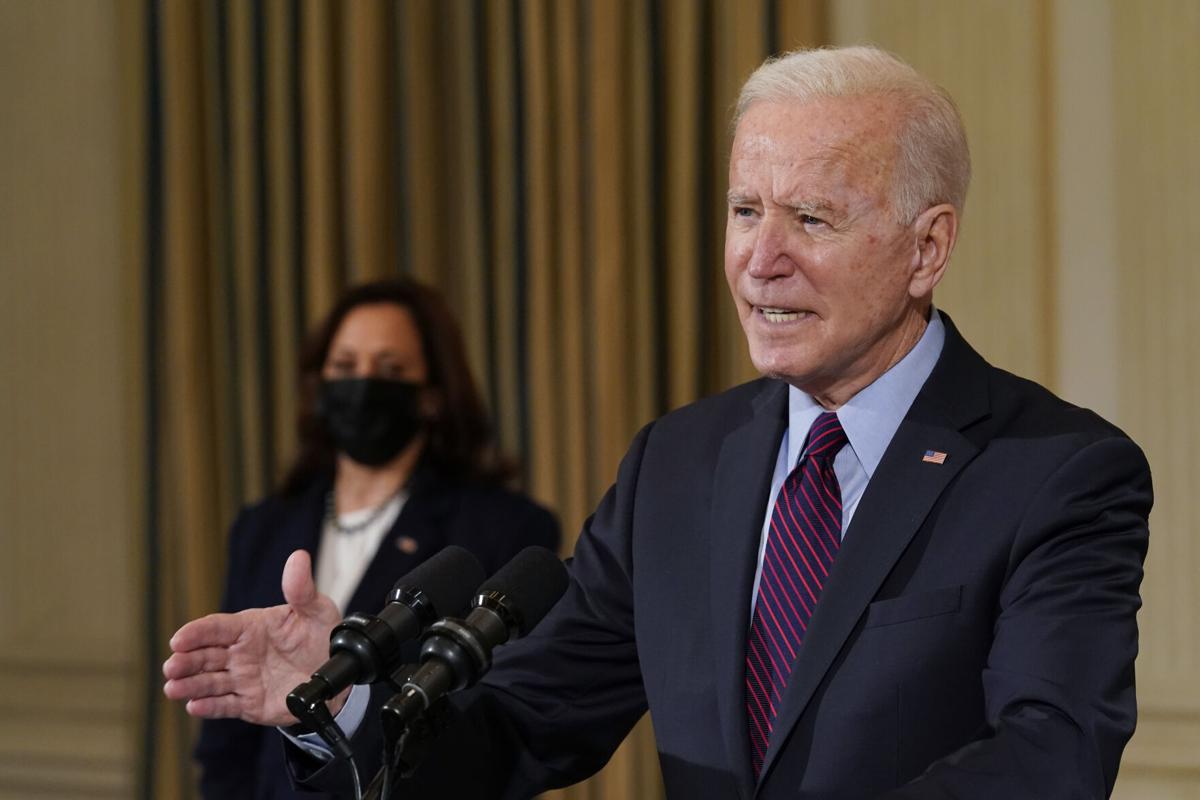 WASHINGTON – Erie and Niagara counties and their municipalities would receive more than $792 million in federal aid under President Biden's proposed stimulus bill, with the City of Buffalo getting the biggest share: an estimated $324 million. Meanwhile, cash-strapped New York State would get $12.665 billion of the $15 billion Gov. Andrew M. Cuomo has been counting on to patch the hole the Covid-19 pandemic blew through the state budget.
Rep. Brian Higgins, a Buffalo Democrat, released those estimates Wednesday morning. They're based on calculations released late Tuesday by the House Committee on Oversight and Reform, which is drawing up the part of the $1.9 trillion Biden relief proposal focused on aid to states and localities.
Higgins said the aid would fix the fiscal problems that state and local governments have faced due to shrinking tax revenues and exploding costs amid the Covid-19 pandemic.
"It is the responsibility of the federal government to provide states and regions with disaster relief during times of national emergency," Higgins said. "This bill protects the jobs of those working on the front lines, provides necessary resources to maintain essential services and delivers for our communities."
While the figures Higgins released are estimates, a significant amount of federal aid is almost certain to be included in the final stimulus bill that Democrats plan to pass over Republican objections in both the House and Senate in the coming weeks. Senate Majority Leader Charles E. Schumer, a New York Democrat, has insisted that state and local aid be included in the final package – and insisted that Biden increase the total to $350 billion from his original proposal of $160 billion.
Many Republicans have resisted sending large amounts of aid to states and localities, calling the notion a "blue state bailout" that will mostly benefit larger Democratic states like New York and California.
However, Rep. Tom Reed, a Corning Republican and the GOP co-chair of the House Problem Solvers Caucus, has been pushing for state and local aid. He lauded the Democrats' aid proposal while sharply criticizing the $1.9 trillion package that will include it.
"I am glad to see the state and local aid in this proposal, and I'm comfortable with the numbers that they're going to be hashing out and debating," Reed said on his weekly conference call with reporters Wednesday.
Reed said he's concerned, though, that Cuomo will trim state aid to localities if the federal government sends them large amounts of money, and also expressed concerns that smaller municipalities will be left out of the federal largesse.
In addition, Reed said it's disturbing that the state and local aid is included in a $1.9 trillion bill that includes several measures – such as stimulus checks for higher-income people who don't need them as well as a $15 minimum wage – that are anathema to Republicans.
Higgins said the state and local aid is necessary to prevent municipal government layoffs and huge local tax increases.
"Over the last year, our communities have borne the brunt of costs and duties associated with responding to the pandemic and this work continues today," he said.
President Biden's American Rescue Plan – which congressional committees are drawing up in detail – would provide $350 billion for state and local governments. Some 60% of the money would be dedicated to states and 40% for localities. Local governments nationwide would receive $130.2 billion.
The Erie County government would receive an estimated $180 million, while Niagara County would get $41 million.
Besides Buffalo, the City of Niagara Falls would get the most among local cities and towns: $55 million. But the region's towns and villages would benefit broadly, too, with the Town of Tonawanda set to get $39 million. Cheektowaga would get an estimated $24 million and Amherst would get $14 million.
Counties and towns throughout the eight-county Western New York region would get millions in aid in total, as well.
Under the proposal, counties would get aid based on their population, while local governments would get money based on a formula that's similar to the one used to distribute Community Development Block Grants, a longstanding local aid program.