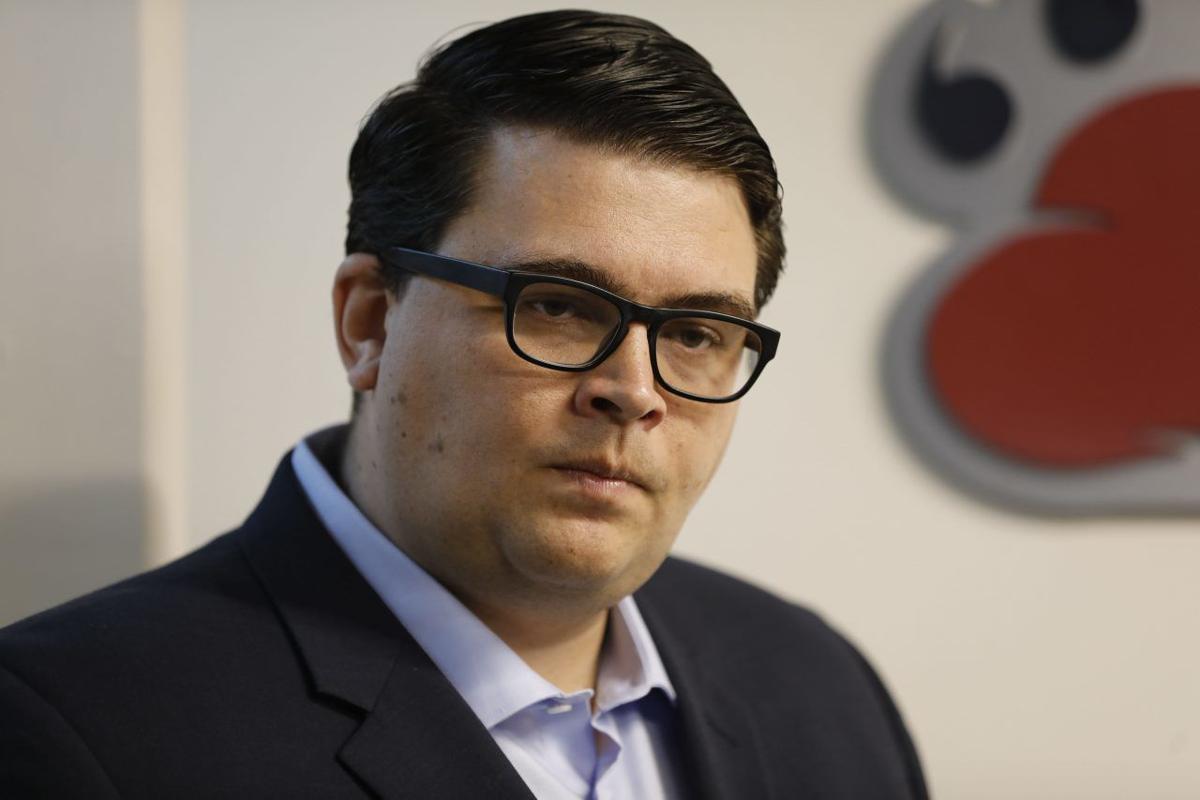 WASHINGTON – The day after Rep. Chris Collins learned that the Australian biotech stock he had been touting might soon be worthless, his son and his fiancee's family dumped their shares – and according to newly discovered court papers, so did Christopher M. Grant, Collins' longtime political adviser.
So did two relatives of Michael Hook, Collins' top congressional aide at the time.
And so did Buffalo businessman – and Collins campaign donor – Gerald A. Buchheit Jr.
Grant, Hook's relatives and Buchheit saved themselves from tens of thousands of dollars in losses by dumping shares of Innate Immunotherapeutics on June 23, 2017, according to affidavits filed in July 2018 by Tina M. Taylor, an FBI agent investigating possible insider trading among Collins' associates.
While prosecutors charged Collins, his son, Cameron, and Stephen Zarsky – Cameron Collins' prospective father-in-law – with insider trading, Grant, Hook and Buchheit have not been charged with a crime.
The Buffalo News obtained Taylor's affidavits – which were part of search warrant applications – on Thursday, a day after WKBW reported on the warrants. WKBW noted that the warrants authorized searches of the personal devices of Buchheit and a Collins business partner, Christopher Graham.
Taylor's affidavits provide new insight into the breadth of the investigation into Collins and his associates, which is scheduled to culminate when Collins, his son and Zarsky go on trial in federal court in New York next February.
Here's a closer look at what the search warrant applications, and Taylor's affidavits in particular, have to say about several longtime associates of Collins, a Republican from Clarence:
Chris Grant
Grant, who engineered Collins' rise from businessman to Erie County executive to four-term member of Congress, now ranks as one of Western New York's leading Republican campaign gurus. Currently, he's the main operative behind Erie County Legislator Lynne Dixon's bid to oust Erie County Executive Mark Poloncarz, a Democrat. Dixon is an Independence Party member from Hamburg.
Under Grant's guidance, Collins won re-election last fall even though only three months earlier, federal prosecutors charged the congressman with fraud, conspiracy and lying to an FBI agent.
Taylor's affidavits indicate that while investigating the Collins case, she discovered that Grant – like many Collins associates – had invested in Innate.
Grant owned approximately 23,300 shares of the company's stock as of May 31, 2017.
On June 22, 2017, Innate called a halt in its trading in Australia, pending a major announcement. Collins – who served on Innate's board – learned why in an email while attending a White House picnic on June 22, 2017, according to prosecutors. Innate's only product, an experimental multiple sclerosis drug, had failed in clinical trials.
Prosecutors said Collins told his son, Cameron, the bad news in a cellphone call from the picnic. They say that allowed Cameron Collins and Zarsky to dump their shares the next day on the U.S. over-the-counter market, where trading continued.
Grant dumped his Innate shares on the same day as Cameron Collins and Zarsky.
"These sales allowed Grant to avoid losses of approximately $11,200," Taylor wrote.
At 7:40 a.m. on the morning that Grant sold, he began a 17-minute cellphone conversation with Hook.
"Shortly thereafter, at approximately 8:51 a.m. EDT, Grant sold substantially all of his holdings in Innate," Taylor wrote.
Asked for comment, Grant issued a statement, cleared by his lawyer, that said: "As one of nearly 40 people interviewed in this investigation and countless other investors, I was hopeful that Innate would find a cure for MS."
Michael Hook
A leading Republican staffer and consultant for decades, Hook served as Collins' chief of staff in 2017 and remains on his congressional staff today.
And while Hook has not been charged with a crime in the insider trading case and did not dump any of his Innate shares, Taylor indicated in the affidavit that she was suspicious of his actions regarding Innate.
Mandi Scott, a daughter of Hook's wife, Vicki, owned about 201,000 shares of Innate in May 2017 with her husband, Michael Culhane. But on or about June 23, 2017, the couple sold all their Innate shares, avoiding losses of approximately $83,600, Taylor said.
Another of Vicki Hook's daughters, Mindy Scott, owned about 110,700 shares of Innate with her husband, Eric Welninski, only to sell all that stock on or about June 23, 2017. Taylor said that allowed her and her husband to avoid losses of approximately $47,700.
Taylor indicated that Hook prompted those stock sales.
"On the morning of June 23, 2017, at 7:18 a.m. EDT, Michael Hook forwarded an email chain to Michael Culhane, Eric Welninski, Mandi Scott, and Mindy Scott indicating that a trading halt had been announced in Innate," the FBI agent wrote. "Hook commented on the news, advising that '[a] trading halt means bad news.' "
The night before, Hook had attended the White House picnic where Collins received the email from Innate's CEO about Innate's failed drug trial.
"I submit that there is probable cause to believe that Michael Hook knew that the results of the trial were negative at the time he sent the above-quoted email, in which he advised that a trading halt indicated bad news," Taylor wrote.
Asked about Taylor's affidavit, Hook said in an email that he could not discuss pending litigation.
Gerald Buchheit
A longtime Buffalo-area businessman and real estate developer, Buchheit most recently made news with plans for a 23-story residential tower on Buffalo's Outer Harbor.
Behind the scenes, though, he's been a longtime friend and supporter of Collins. Federal records show that he gave Collins' congressional campaigns $13,o00 since 2012. That explains why Buchheit was at the White House with Collins, Hook and Graham for that picnic on June 22, 2017.
The next day, Taylor said in her affidavit, Buchheit sold approximately 45,000 of his Innate shares, saving himself from potential losses of about $19,000.
The FBI agent said in her affidavit that she believed Collins told Buchheit about Innate's pending bad news before he dumped his stock. But Buchheit's lawyer, Joseph M. LaTona, denied any wrongdoing.
"Gerry did nothing wrong, and an analysis of his trading history conclusively demonstrated that he did nothing wrong," LaTona said. "Gerry was not interviewed by the United States Attorney's Office, nor did he testify in the grand jury."
Christopher Graham
Graham is president of Volland Electric of Cheektowaga, a company in which Collins has a major ownership stake. The congressman's 2018 personal financial disclosure form shows that the value of Collins' investment in Volland is somewhere between $5 million and $25 million, and that his investment earned the congressman between $1 million and $5 million last year.
And Graham, like Buchheit, is a longtime Collins donor, giving his campaigns $18,300 over the years.
Graham attended that White House picnic, too. And that's why, according to the search warrants issued in the Collins case, FBI agents raided both Graham's home in Williamsville and Buchheit's Lake View residence last July, all in search of electronic devices and the information on them.
"In light of the fact that Graham posted to the public portion of his Facebook account photographs of himself with Christopher Collins, Buchheit, and Hook together at the Congressional Picnic on June 22, 2017, it is likely that those same photographs and others showing those individuals at the Congressional Picnic are also stored on (Graham's) cellphone," Taylor, the FBI agent, wrote.
Graham also invested in Innate, but Taylor's affidavits noted that his shares were held in Australia, meaning he couldn't sell them because of the trading halt.
Still, the FBI agent wrote that Graham might know something about Innate's failed clinical trials, having possibly heard something about them from Collins on the night of the picnic.
Graham did not return a phone call seeking comment.
News staff reporter Phil Fairbanks contributed to this story.
The Buffalo News: Good Morning, Buffalo
The smart way to start your day. We sift through all the news to give you a concise, informative look at the top headlines and must-read stories every weekday.