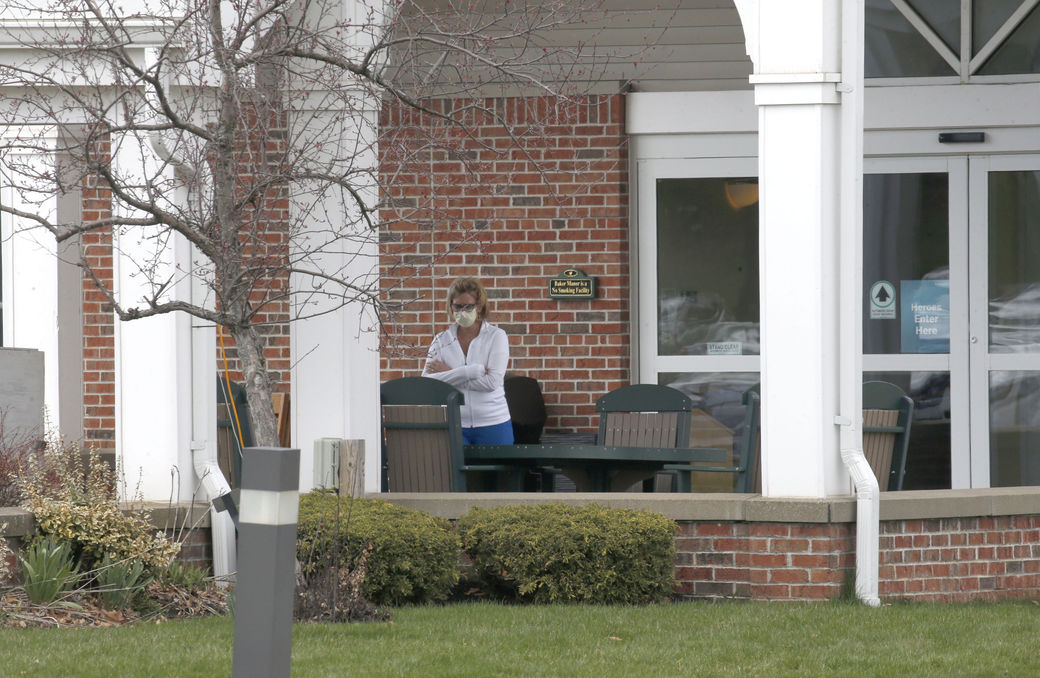 A "possible cluster" of Covid-19 cases has broken out at Father Baker Manor nursing home in Orchard Park, Erie County Executive Mark Poloncarz said Saturday.
Catholic Health, which operates the 160-bed nursing home, confirmed that a number of patients and residents had tested positive for Covid-19. It would not disclose details on the number, ages or conditions of those who are sick.
But a Father Baker Manor employee told the daughter of one resident that there were 17 confirmed cases as of Friday night, one day after reporting three confirmed cases at the nursing home.
"We can't believe my mom is there, to give her good care, and this pandemic hits and we can't help one iota," said the daughter, Judy Manchester-Vassie. Her mother, Grace D'Angelo Tutton, 93, tested negative.
All employees and long term-care residents at Father Baker are being tested for Covid-19, Dr. Kevin Shiley, Catholic Health's medical director of infection prevention and control, said in a statement.
Shiley said Catholic Health has contacted families of the facility's residents.
"Father Baker Manor's administration and our infection control team have taken swift action to stop the spread of the virus," he said.
He also said Catholic Health has been in touch with county and state health officials to review the system's plan to stop the spread of Covid-19 within the facility.
The Erie County Health Department said it does not comment on individual Covid-19 cases. It noted that the state Health Department has oversight of nursing homes.
The state in the past has declined to provide information on Covid-19 cases at nursing homes.
Poloncarz, in a statement issued on Twitter Saturday, said the county's Health Department was "aware of a possible cluster of Coronavirus at the Father Baker Manor home in Orchard Park." He said his team was in contact with Catholic Health and the state Health Department regarding a response.
"We are awaiting further test results," Poloncarz said.
Shiley said Father Baker Manor is following state and federal guidelines to prevent the spread of Covid-19, including restricting visitors, screening employees each day, eliminating group activities and rehabilitation services, and monitoring patients and residents for Covid-19 symptoms.
Father Baker Manor is a subacute rehabilitation and long-term care facility. It has an overall rating from the federal government of five stars, which is well above average.
Manchester-Vassie said her mother had lived at the Orchard Glen senior residence for nine years before moving into Father Baker Manor shortly before Christmas. Her mother is in the early stages of dementia but had been doing well, Manchester-Vassie said, and someone from the family visited at least once or twice a day.
On a visit in early March, Manchester-Vassie said nursing home employees took her temperature and asked if she had traveled out of the country recently. Soon afterward, about three weeks ago, the nursing home barred visitors and went into lockdown under new state rules.
"We didn't even get a chance to try to explain it to her," Manchester-Vassie said. They call, but it's hard for their mother to understand what's going on, she said.
Manchester-Vassie said it was distressing to learn of the positive cases and to think of her mother alone at the nursing home.
She would like to move her mother out of the facility, but said her home and her siblings' homes are not well-configured for their mother.
"I spent half the night crying," said Manchester-Vassie, who posted a heartfelt Facebook note apologizing to her mother for what's happened.
Dan Mahar said his 89-year-old mother, whose name he asked not to be published, was a patient at Father Baker Manor for a couple of days when the home called to report the coronavirus outbreak.
"Friday we got the call that we needed to get her out of there," Mahar said.
He said he drove up to the nursing home later on Friday and staff had him fill out the discharge papers outside. They brought her home, but she fell last night and is at Sisters of Charity Hospital.