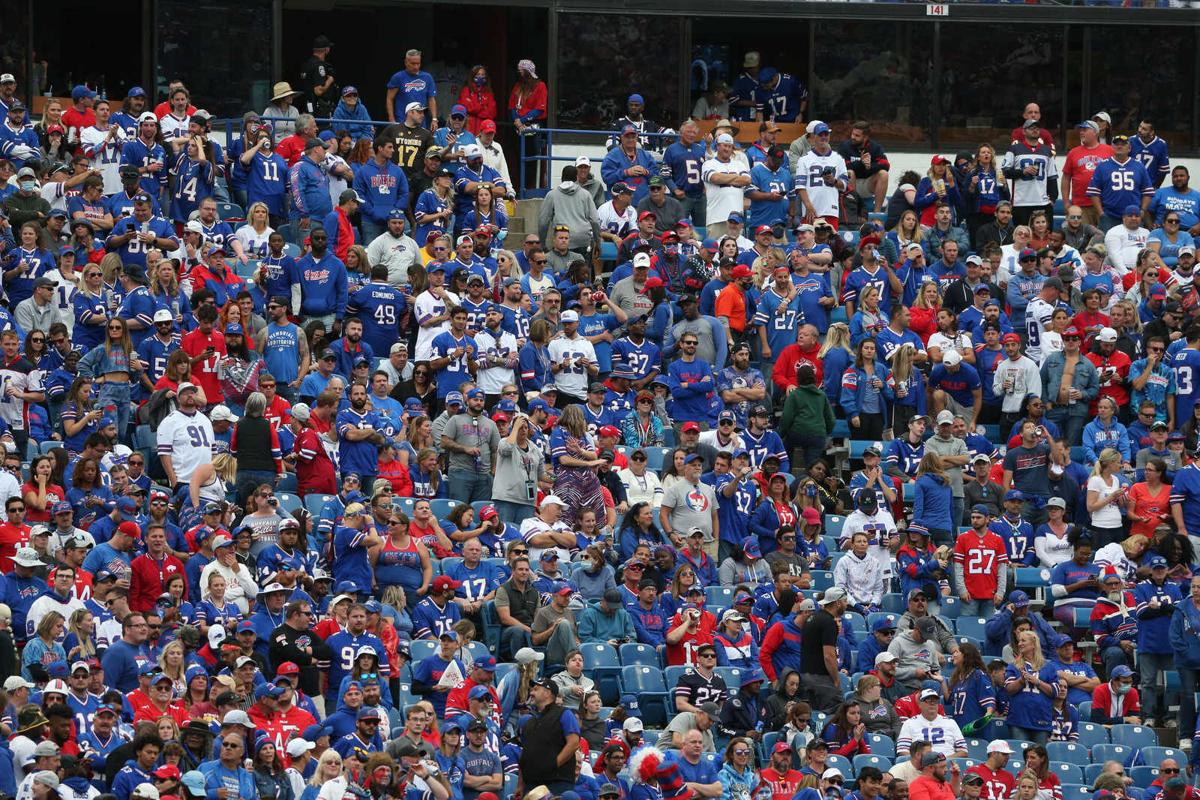 A Buffalo Bills fan is coming under further scrutiny after she boasted on Twitter about getting into the stadium on Sunday using a fake vaccination card.
According to a story reported first by RochesterFirst, the website of WROC TV, Kimberly Ray, the former host of the "Kimberly and Beck" radio show in Rochester, is being investigated by the New York State Department of Health after she posted a tweet indicating she used a fake vaccination ID card to get into Highmark Stadium.
The health department stopped 258 people from entering Highmark Stadium on Sunday, dwarfing the number of people turned away at prior Bills games.
That post garnered a lot of attention after the Bills game against the Miami Dolphins, as did follow-up posts from Ray defending her decision.
The first tweet included a photo of Ray standing with a man in a Miami Dolphins jersey inside the stadium shortly before kickoff. It read: "Here we are. Didn't even look at my fake card lol."
She followed up by saying, "Did I feel bad about it? Not at all."
Ray has since shut down her Twitter account, but not before many screenshots of her Twitter posts were taken and a TikTok video highlighted her posts and background.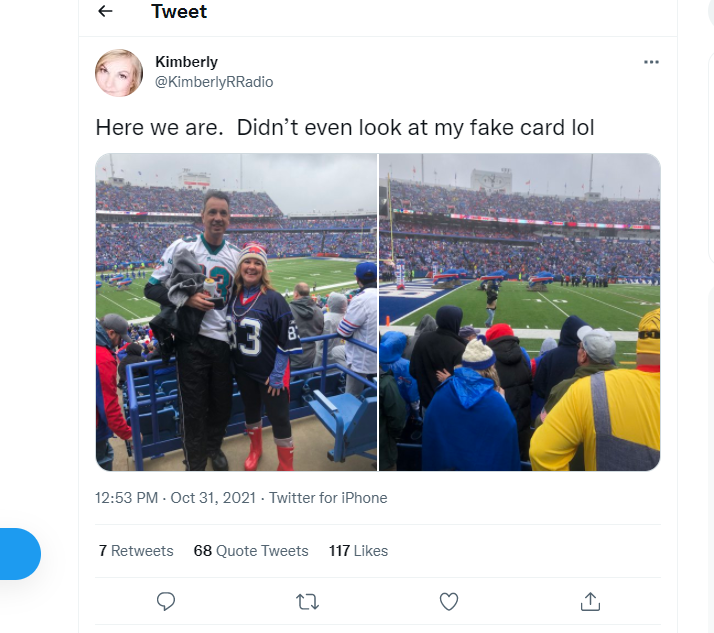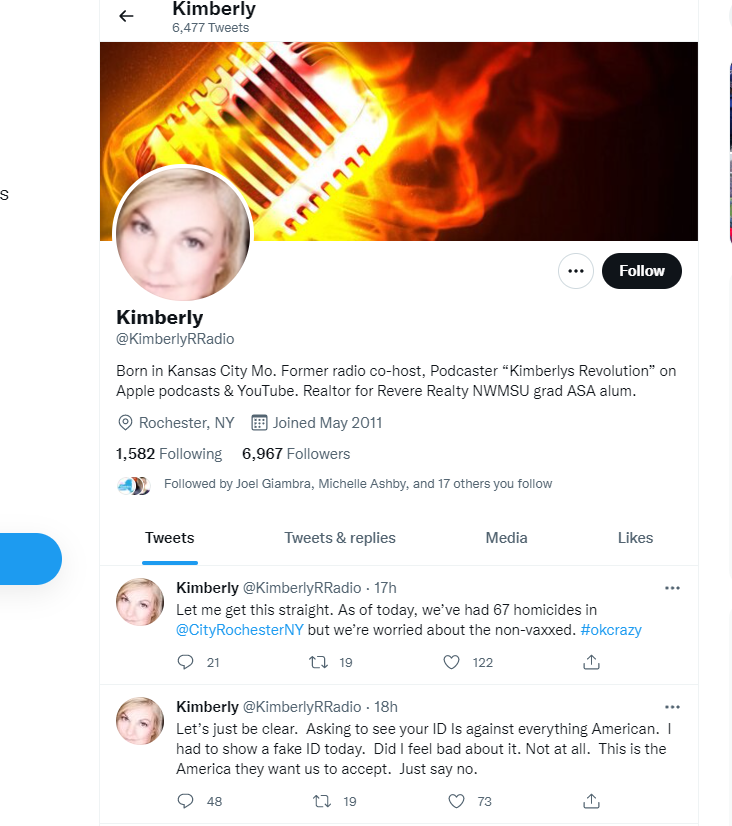 In June of last year, Ray, whose married name is Goodman, was fired from her radio show for referring to, but not saying, the n-word while discussing the attack of a local couple at a Black Lives Matter protest. As reported by Rochester-area media, Ray referred to the n-word several times, asking if the attackers were "n-word-ish" and "n-word-ly."
On Monday, Erie County Executive Mark Poloncarz posted a tweet stating, "Regardless of what may be published by individuals on social media, to date we have not had any confirmed instances of unvaccinated individuals in the stadium." At a Wednesday news conference, he confirmed that county Health Department screeners did interact with Ray at the Bills game and the county was contacted by the state Department of Health, which is further investigating the matter. 
He said he could not speak more directly to the issue because sports and entertainment venues that require vaccination for entry are prohibited under guidance from the U.S. Centers for Disease Control and Prevention to reveal individuals' vaccination status without their consent.
"I can confirm, without talking about vaccination status, that the individual was reviewed by the Erie County Department of Health and those personnel while at the game," he said.
Poloncarz has previously threatened that Bills fans would be prosecuted if they present a fake vaccination card. But while county Health Department inspectors turned away 258 ticket holders on Sunday for lacking proper vaccination documentation, the county has not reported any incidents of fraud.
The state Health Department issued a statement about the incident indicating the matter is an open investigation being pursued at the state level: "The New York State Department of Health takes fraud in the Covid-19 vaccination program very seriously and, through its Vaccination Complaint Investigations Team, will continue to work with law enforcement to crack down on forged vaccination documentation. We are aware of this posting and cannot comment on an open investigation. New Yorkers can report vaccine-related fraud by calling 833-VAX-SCAM (833-829-7226) or emailing stopvaxfraud@health.ny.gov."
Erie County and the Buffalo Bills announced last month that only vaccinated fans would be allowed at Bills games. This past Sunday was the first game at which all fans had to be fully vaccinated, not just have a single dose of a two-dose vaccine.
Health Commissioner Dr. Gale Burstein said that the higher numbers of people turned away on Sunday was a combination of having more county health inspectors at the stadium, the Bills staff proactively referring more cases to them for secondary vetting, and the new, full vaccination requirement. 
Poloncarz also clarified, in response to a Buffalo News question, that spouses of Bills players must be vaccinated to attend games.
Speculation has swirled around Rachel Bush, model and wife of Bills safety Jordan Poyer, who has been attending Bills home games and been very public about her anti-Covid-19 vaccination position on social media.
"Spouses of Bills players are required to be vaccinated," Poloncarz said. "They're fans. They're no different than anyone else."