What scientists see at Tonawanda Coke worries them.
Leaking tanks. Moats containing chemicals. Contaminated equipment. Toxic dust. Runoff from underground tunnels.
A month after Tonawanda Coke shut down, federal and state scientists say they have an early grasp of what the community faces.
A Cornell University chemist has also shared with The Buffalo News her observations about the risks at the Town of Tonawanda site and to the Niagara River.
"It's an issue for groundwater and for the river," said Nellie Brown, who consulted with environmental groups about Tonawanda Coke.
The threat also extends into the air.
"I think there's a fair amount of air pollution coming off of this stuff, depending on the condition of the tanks and piping," Brown said.
Brown worked as a water chemist at Tonawanda Coke from 1977 to 1980, so she has seen the spots that now pose the risks.
U.S. Environmental Protection Agency officials say they have begun addressing the contaminated soil and are monitoring systems that treat the plant's wastewater.
"EPA is also sampling and will remove containers of hazardous waste from the site," the agency said in a statement to The Buffalo News.
The problems identified by Brown – most of them confirmed by the EPA and the state Department of Environmental Conservation – are not the only issues at Tonawanda Coke's 160-acre site.
But they are among the biggest facing the community.
"It's a high-risk location," said Rebecca Newberry, executive director of the Clean Air Coalition of Western New York.
Moats
The moats served a useful purpose at Tonawanda Coke by containing leaks of toxic byproducts from producing coke.
They're now filled with a toxic brew of chemicals and stormwater a half-foot deep at places and pose an acute risk.
"There has been an important focus on the conditions of the main plant and its operations," said Jill Jedlicka, executive director of Buffalo Niagara Waterkeeper. "However, Buffalo Niagara Waterkeeper is concerned with the open moat with contaminated surface water that, until it is secured, could overflow into the Niagara River."
In court documents last month, Harish Patel, an EPA environmental engineer, cited a moat in the company's byproduct work area as one that was particularly disturbing.
"I asked what Tonawanda Coke Corp. planned to do with that liquid and they indicated that they were going to leave it as it was when they left the facility because they don't have the money to pump it out," Patel said in court documents. "If the moat overflows during a rain event, it could overflow and contaminated water may eventually go into the Niagara River."
The moats are exterior concrete bin structures that hold back chemicals leaked from the tanks inside of them.
"They're there for a reason. They're there for secondary containment, but you still have to solve that issue," Brown said. "You have to pump it out."
Byproducts area
Heating crushed bituminous coal to ultra-hot temperatures in the absence of oxygen produced coke, but it also purged other elements from the coal.
Among them: coal tar, an ammonia liquor and light oil that mostly consists of benzene as well as toluene and xylene.
Some of these byproducts are flammable and potentially explosive, and they're known carcinogens.
And, they're still on site.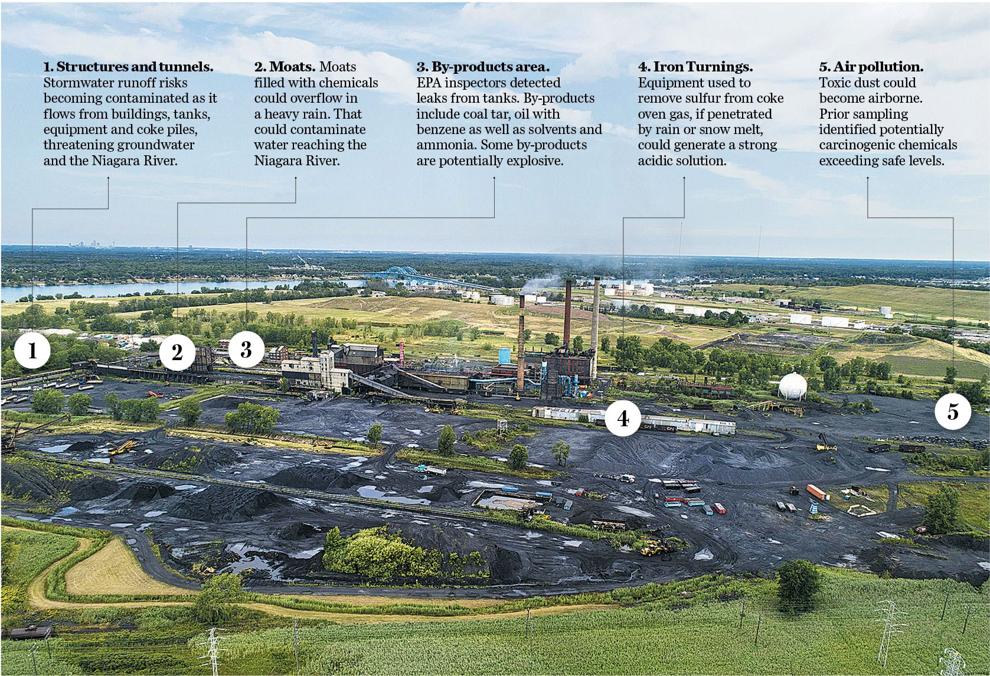 EPA inspectors identified several leaks in the company's byproducts area.
After they're contained and assessed, the issue will be safely removing the hazardous waste.
Deconstructing the elaborate network of piping and tank infrastructure between the battery and Tonawanda Coke's byproducts area could also be necessary to reduce immediate risks of toxins migrating across and off the site, Brown said.
"The only way it can stay in place to me is if the tanks and piping are drained and flushed," Brown said.
Iron turnings
Equipment known as oxide boxes had iron turnings that were used to pull sulfur from hydrogen sulfide in coke oven gas, purifying it.
What was left behind, including residual iron sulfide, could turn stormwater, snow melt and surface runoff into an acid mixture.
Think of the effects of acid rain, but at the ground level.
"Any water to come off of there is strongly acidic," Brown said. "Groundwater contamination may also occur, depending upon soil permeability in that area."
Structures and tunnels
An abandoned site along the Niagara River used by Tonawanda Coke's predecessor, Allied Steel, is connected to Tonawanda Coke's main site across River Road.
A remedial investigation last year revealed the site – where coal, coke and coal tar were once transferred between the production facility and a tank farm – is laced with elevated levels of carcinogenic chemical compounds like benzoanthracene, benzopyrene and idenopyrene. The study also found contaminated sediment in the Niagara River. The location now is classified as a state Superfund site.
Piping, underground tunnels and other infrastructure connect Tonawanda Coke's main site with the vacant site.
Elevated levels of cyanide were detected in soil and groundwater. There are also heavy metals like arsenic, lead and mercury.
Stormwater or snowmelt runoff of contaminants from the buildings, tanks, equipment and coal and coke storage piles could affect the groundwater or follow existing paths along the infrastructure between the two sites to the nearby river, Brown said.
"I think it's an issue for groundwater and for the river," Brown said.
Buffalo Niagara Waterkeeper agrees.
"A potentially greater risk to the Niagara River comes from the outfall and drainage ditch on the Tonawanda Coke-owned property across River Road," Jedlicka said. "Previous sediment sampling in the river near this outfall has shown evidence of contaminants leaching off of these properties."
Toxic dust
Benzene and other pollutants no longer come out of the smokestacks at Tonawanda Coke, but some worry the wind could blow contaminants from the plant into nearby neighborhoods.
"It's not just the volatiles, it's particulates, too," Brown said.
Prior surface soil sampling identified numerous potentially carcinogenic chemical compounds exceeding safe levels for industrial or residential sites.
New studies – like the court-ordered community soil study – could shed light on any emerging threats.
Researchers at the University at Buffalo took a half-dozen soil samples from the site in mid-October in areas identified as open storage areas for finished coke near the moats, byproducts area and desulphurization boxes.
"We are expecting results any time now from the lab," said Joseph Gardella, a UB chemistry professor who's heading the soil study.
Gardella said researchers also obtained a 24-hour air sample from the site on Oct. 15. That air sample was taken near the coke battery.
EPA and DEC officials are reviewing preliminary data obtained from the first-phase of the UB soil study from the community surrounding Tonawanda Coke. Details are expected to be made public later this fall.
Meanwhile, boilers continue to operate at Tonawanda Coke. They're needed to power the shuttered plant's basic operations like wastewater treatment.
That means residents will occasionally see an active smokestack.
The EPA said that air sampling showed no excess chemicals being released and that the boiler only produced steam from the plant's heating process.
Triaging threats
Federal and state environmental agencies are stabilizing sites deemed to be acute threats.
"The site requires a comprehensive investigation to understand the nature and extent of contamination and any potential threats to public health or the environment," said Mike Ryan, the director of the DEC's division of environmental remediation.
The Clean Air Coalition asked the EPA to be especially mindful of safety for nearby residents and for its own employees at work there.
Newberry acknowledged the EPA already has its hands full, but would like it to prioritize crafting an emergency contingency plan for the site over the next week in case there's an explosion, fire or other incident.
"On site, there are literally chemical lakes," Newberry said. "This company has set on fire so many times. Without a fire brigade on site, that's very concerning to us."