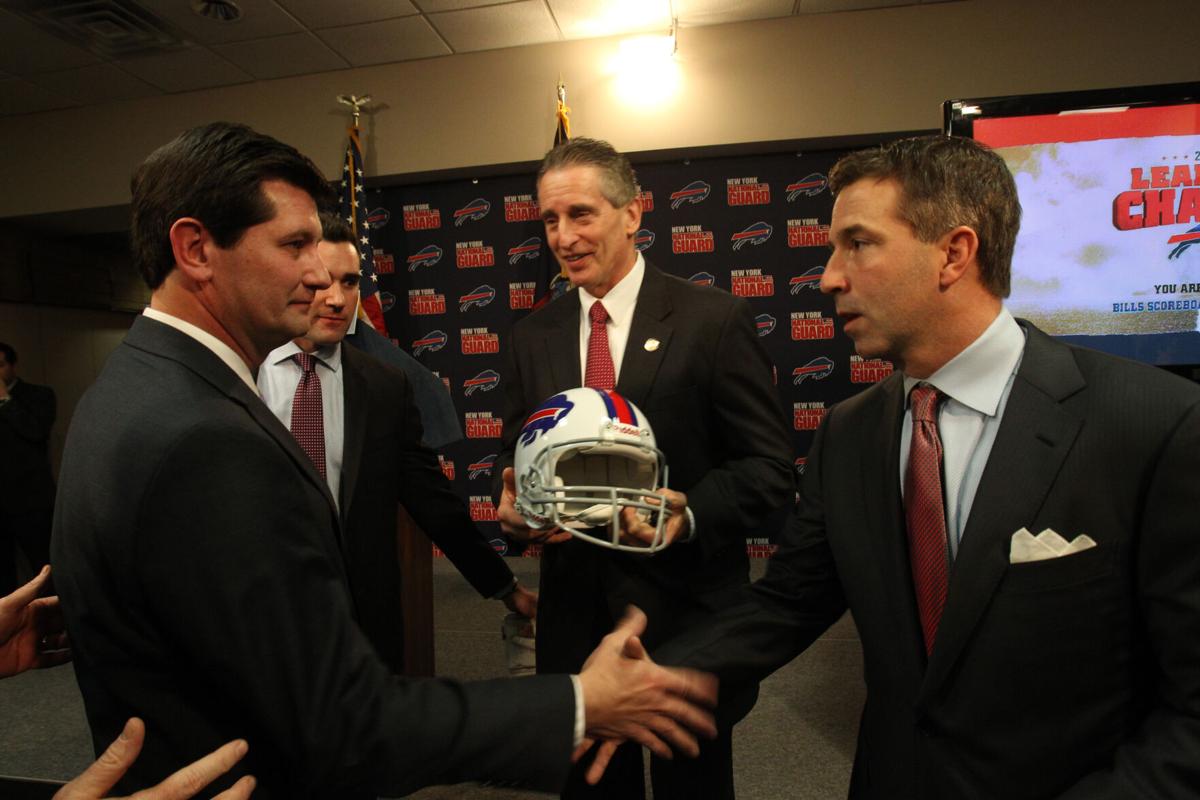 Robert Duffy is quick to acknowledge this: Spending around a billion dollars "is a lot of money anywhere." But the former New York lieutenant governor, who represented the Cuomo administration in negotiations one decade ago for the Buffalo Bills' current lease, isn't jarred by the projected $1.4 billion price tag for a new stadium in Orchard Park.
"It will not bankrupt the state or county or team," said Duffy, a Democrat who was Gov. Andrew Cuomo's second-in-command from 2011 to 2014. He was succeeded in the No. 2 role by Kathy Hochul, who took over as governor when Cuomo resigned in August.
John Cimperman emphasized the need for ancillary development around a new stadium, which the team hopes to build in Orchard Park, and the opportunity to build on the Bills as a "national brand."
If a facility as proposed by the Bills is built to replace Highmark Stadium after the team's lease expires in 2023, it likely will be at least the sixth-most expensive project in the National Football League. The top two priciest stadiums opened in the last year: Los Angeles's SoFi Stadium ($5.5 billion) and Las Vegas' Allegiant Stadium ($1.9 billion). The others – MetLife Stadium New Jersey ($1.7 billion), Mercedes-Benz Stadium in Atlanta ($1.5 billion), and AT&T Stadium in Dallas ($1.48 billion) – opened between 2009 and 2017.
The future of the stadium is being negotiated between New York State, Erie County and Pegula Sports and Entertainment, the company that oversees the holdings of team owners Terry and Kim Pegula. An eventual deal likely will include money from the Pegulas and from public sources.
In a series of interviews with The News, Duffy pointed out "if that money is not spent on that project, it will be spent somewhere else" – and he thinks a new National Football League stadium is both an appropriate and "manageable" expense for all sides.
"But it's going to be substantial investments on all sides to get this done," added Duffy, who is now the president and CEO of the Greater Rochester Chamber of Commerce.
The following conversation is a condensed version of multiple interviews with Duffy, which were edited for space and clarity:
How do you view the Bills' value to upstate New York?
Duffy: The Buffalo Bills are a huge part of the fabric of the Buffalo region, our Finger Lakes region, into the province of Ontario, the Southern Tier. They are a huge part of the culture.
I was so impressed – going back to negotiations with the previous owners, Mr. (Ralph) Wilson and his team – about how hard they worked, and how creative they were to maximize their economic profitability while still facing the challenges of being a small market team. They're a business that provides great entertainment and a great degree of joy to their customers. But the bottom line is, they're a business and they have to survive and make money to stay afloat.
Pegula Sports and Entertainment commissioned an economic impact study and I'm curious whether these numbers seem to be in the ballpark of figures you've heard. The study claims, for example, that building a new stadium would generate just under $800 million annually in Erie County, and $2 billion for the state over the course of a 30-year term. It also says the Bills generate $361 million annually in Erie County, and another $380 million across the state, plus about $20 million in state income tax. Do any of those numbers surprise you?
Duffy: I can't speak to the specificity down to the exact dollar, but I think that they're very credible in terms of what they represent. Here's a point to make: Our state government is usually dominated through its downstate representation. Our downstate leaders have the Giants and Jets to cheer for. Keep in mind, they're both based in New Jersey. The Buffalo Bills are truly the only New York State NFL team, so they are paying back in terms of business taxes, income taxes from all the salaries. Those are paybacks to the State of New York every year through this process.
I remember sitting at a Buffalo hotel during the last negotiations as the Bills' (representatives) went through a very specific breakdown of their revenues, expenses and comparables with large-market teams. I was always so impressed with the work they did to keep their heads above water, be sustainable economically and keep the team here. It also reinforces: They do need help. For those who argue we shouldn't use state or government money, I disagree with that totally. We need to keep the Bills in Buffalo. It has to be a fair negotiation.
Let's say, for example, that of the proposed $1.4 billion project, a full billion of that comes from the state. How much is $1 billion worth to New York State?
Duffy: A billion dollars is a lot of money anywhere. But when you look at the entire state budget and revenues and project it over years, it is manageable. There is bonding, and ways to make this happen with the state and with the county, and they will work together.
(Erie County Executive) Mark Poloncarz is fiscally very responsible. I watched the county executive in negotiations last time. He more than held his own. He wanted that team to stay there, but he was also very adamant about protecting taxpayers. Gov. Hochul will be the same. But I think we have the opportunity to get this done.
In government, if that money is not spent on that project, it will be spent somewhere else. I do think it is an opportunity for Buffalo and Erie County and Western New York to have an investment that will really reap a lot of benefits over time.
But I do think that if the state and county commit to these figures – or even close to it – there has to be a long-term agreement, so you're not going back every four or five years trying to keep the team here.
Gov. Hochul has made clear she wants the Bills remaining in Buffalo. But at the same time, it's certain that she'll be criticized as giving a billionaire handout if the state contributes what critics consider to be too much money to a new stadium. If you're in her position, how do you navigate that political tightrope?
Duffy: I think Gov. Hochul will handle this very well. She is from Buffalo and it's expected that she will support (Western New York) sports, like a New York City leader would support the Yankees. That's a natural thing. People up here would understand why a mayor and a governor would like to save the Yankees, and take steps (to do so). They would get that. They might complain a little bit, and I do think people downstate would feel the same way about the Buffalo Bills. There's always going to be opposition and people who will criticize. Political opponents will look for ways to criticize these decisions.
The governor is going to work hard to make this happen. She has to go through negotiations. I do believe she'll be committed to try to get this done and and do it fairly. There might be some criticism, but overall, if she can make this happen, it's a very strong positive in her favor, along with the county executive and (legislative) delegation.
How much was the prospect of the Bills one day relocating to a larger city on your mind during the last negotiations?
Duffy: In that deal there was a pretty stiff penalty if the team were to move. The Wilson family wanted to get a deal and did not want the team to leave. We were fortunate when the Pegulas came in and bid for the team. I think they bid very high to make sure they got the team and they kept the team in Buffalo.
Negotiations are a business, and here's the thing: There are cities and states across the country that would love an NFL team. They would love the Bills to come, and they have a lot of money to pay for that, and a lot of enticements.
It's like us competing for business: We compete in upstate New York with Texas, Florida, Tennessee, South Carolina, Arizona and all these other states who often come up with a whole lot more. That competition is there. We have to realize this is not a situation of getting a bargain price. We're going to have to be fair about this, and be consistent.