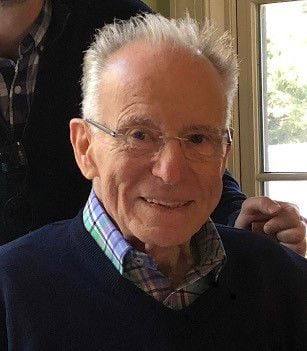 Dec. 27, 1929 – Oct. 31, 2019
Eugene C. Tenney, of Eggertsville, a personal injury trial lawyer who represented families of hostages in the Attica prison uprising, died Thursday in Hospice Buffalo, Cheektowaga. He was 89.
Born in Buffalo, he grew up in the East Lovejoy neighborhood and played third base for the Visitation School team that won a city baseball championship.
He was a 1947 graduate of South Park High School, where he was a member of the debate team and a letterman in baseball.
He earned his bachelor's degree from Canisius College in 1951 and completed his law degree at the University at Buffalo Law School in 1954.
Upon graduation, he joined the Buffalo firm of Saperston, McNaughton and Saperston and became a partner.
Mr. Tenney started the firm of Tenney and Millane in 1960, concentrating on personal injury law, and the firm of Tenney, Smith and Scott in 1976. He founded the Law Offices of Eugene C. Tenney in 1980, where his daughter Kathleen Tenney Willis is an attorney.
He served as confidential law clerk to State Supreme Court Justice Thomas J. Ryan from 1970 to 1974.
His efforts included joining with another Buffalo attorney, William Cunningham, to represent families of hostages from the Attica uprising in their lengthy damage suits against the state.
In 1992, Mr. Tenney won a record judgment of $20.2 million in State Supreme Court for an Eden couple after the husband was severely disabled in an auto accident. At that time, it was believed to be the highest award ever granted in Western New York.
He was a past president of the Western New York Trial Lawyers Association. In 2016, he was honored by the Western Affiliate of the New York State Trial Lawyers Association with a Lifetime Achievement Award.
He was a member of a New York State Trial Lawyers blue ribbon panel that reviewed Civil Practice Law and Rules in Western New York.
He was honored as a Preeminent Trial Lawyer by the Martindale-Hubbell Bar Register.
For more than 40 years, he owned the BAC Building, a 12-story structure designed by E. B. Green that overlooks Niagara Square. In 1984, he and his co-owner, contractor William L. Christie, purchased the former Buffalo City Court Building at 42 Delaware Ave. and remodeled it into an office building.
He was a trustee of St. Benedict Catholic Church in Eggertsville for more than 50 years and was honored at the parish's Legacy Dinner in 2018. He was a longtime member of the church's Holy Name Society.
He served on the Eggertsville School Board and the Amherst School Board for six years in the 1970s, two years as president. He was a past president of Connie Mack Little League.
He was a supporter of the baseball program at Canisius High School, where his son, Bryan, was longtime coach. He also was a vocal supporter of his children, grandchildren and great-grandchildren in their athletic endeavors.
Survivors also include his wife of 65 years, Leona; another daughter, Sharon Downey; 12 grandchildren; and two great-grandsons.
A Mass of Christian Burial will be offered at 9:30 a.m. Tuesday in St. Benedict Church, 1317 Eggert Road at Main Street, Eggertsville.
Get local news delivered to your inbox!
Subscribe to our Daily Headlines newsletter.