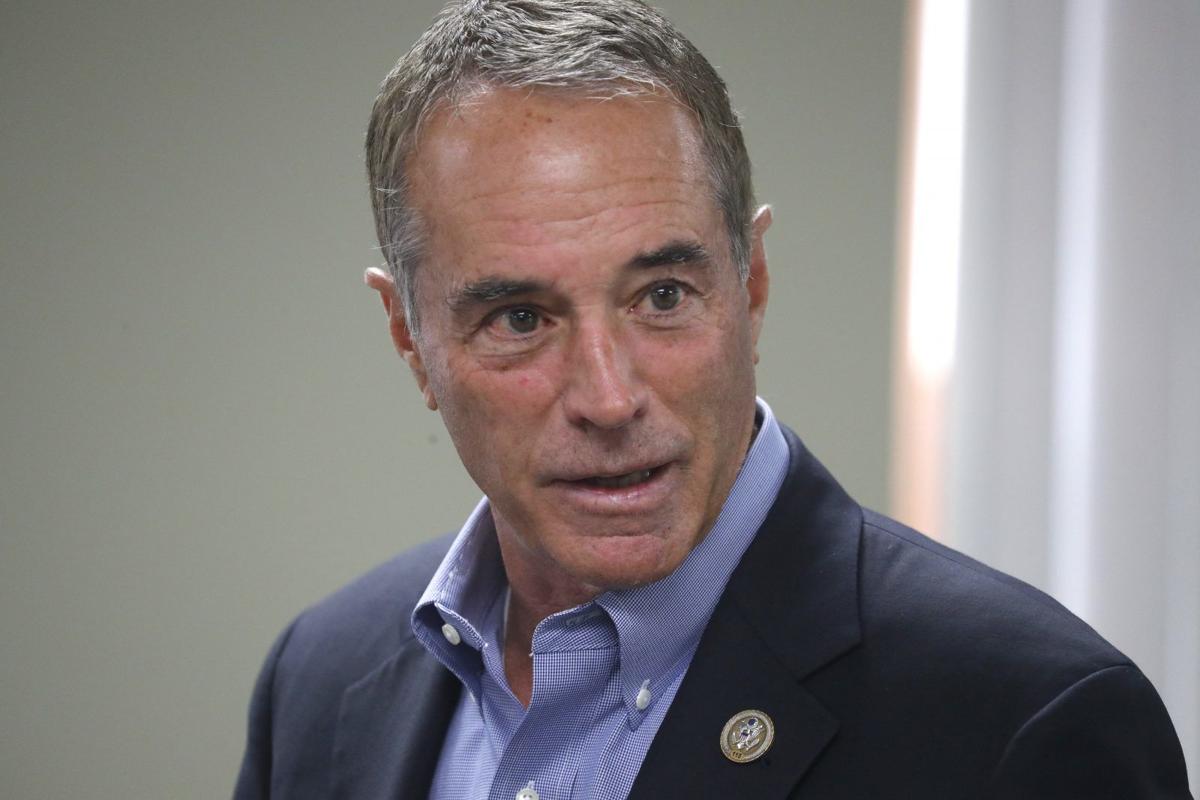 WASHINGTON – There is "a substantial reason to believe" that Rep. Chris Collins violated federal law by touting the stock of an obscure Australian biotech firm based on inside information, while also possibly breaking House ethics rules by persuading National Institutes of Health officials to meet with a staffer from that company.
Those were the key conclusions of an Office of Congressional Ethics report released Thursday on Collins' relationship with an Australian biotech firm called Innate Immunotherapeutics.
Based on that report, the House Ethics Committee said it was continuing its investigation of Collins, a Republican from Clarence and one of President Trump's strongest congressional allies. Unlike the Office of Congressional Ethics, the Ethics Committee has the power to sanction errant lawmakers.
The Office of Congressional Ethics recommended that the Ethics Committee dismiss a third charge against Collins: that he got a discount on a private sale of Innate's stock based on the fact that he was a member of Congress. And the ethics report offers no evidence for allegations by Rep. Louise M. Slaughter and others that Collins wrote an amendment that made its way into law in order to benefit Innate.
But the two remaining charges against Collins and the 155 pages of evidence released with the Office of Congressional Ethics report collectively portray a congressman working hard on behalf of an Australian company in possible violation of U.S. law and House ethics rules.
• Three times in 2015 and 2016, Collins sent emails to Innate investors that included what appears to be private information about the company. By doing that, Collins may have violated the federal Stop Trading on Congressional Knowledge (STOCK) Act, a law barring insider trading among members of Congress, as well as House ethics guidelines.
• In November 2013, Collins met with officials at the National Institutes of Health and asked that an NIH researcher meet with Innate's chief science officer to discuss possible clinical trials for the company's experimental multiple sclerosis drug. That could have violated House rules that bar lawmakers from taking official actions that would benefit an entity in which they have a significant financial interest.
Collins, who is Innate's largest shareholder, denied any wrongdoing.
"Throughout my tenure in Congress I have followed all rules and ethical guidelines when it comes to my personal investments," he said in a statement. "I was elected to Congress based upon my success in the private sector, and my willingness to use that experience every day to facilitate an environment that creates economic opportunity and jobs."
The ethics report says Collins may have been guilty of a very different kind of insider trading than had originally been alleged in complaints to the ethics office.
Those complaints charged that Collins may have acted on inside information tied to his work in Congress in the summer of 2016 when he bought additional Innate stock while working on legislation that could boost clinical trials conducted by such companies.
But the allegation in the ethics report is that in late 2015 and early 2016, he may have engaged in "tipping" -- using inside information that he knew about Innate to persuade investors to put more money down on the company.
In a December 2015 email, he provided Innate investors with information about clinical trials of Innate's multiple sclerosis drug that the company had not made public, the ethics office said.
Collins provided more previously undisclosed information about those clinical trials in an email to investors in January 2016, the ethics office said. In addition, that email included previously unknown details about Innate's plans to work with a large pharmaceutical company to produce its multiple sclerosis drug.
And in a June 1, 2016 email, Collins discussed Innate's upcoming private stock offering before the company announced it.
Adding up the information in those three emails, the ethics office said: "Some information Representative Collins shared with Innate investors was likely nonpublic and may have been important to investors making a decision on whether to purchase Innate stock."
To hear Collins' lawyer tell it, though, the ethics office doesn't prove its case.
"No facts sufficient to support these claims are present," the lawyer, E. Mark Braden, said in a letter to the Ethics Committee.
The ethics office report also accuses Collins of an entirely separate violation of House rules, which prohibit lawmakers from taking official actions that aim to benefit a company in which they have a major financial stake.
This allegation stems not from the complaints that Slaughter, good government groups and constituents filed against Collins, but from the Office of Congressional Ethics' own investigation.
Investigators found that a Collins staff member arranged a meeting for him at the National Institutes of Health on Nov. 18, 2013.
An NIH employee, whom the ethics report didn't name, said Collins discussed Innate at the meeting.
"They need some help with the design of the next Phase 2 trial and he asked me whether I would be willing to help them and I said yes," that NIH employee told investigators.
Afterwards, that NIH employee met three times with Innate's chief scientific officer, the report said.
In other words, Collins' involvement got Innate some government help, the ethics report said.
"There is a substantial reason to believe that Representative Collins took official actions or requested official actions that would assist a single entity in which he had a significant financial interest, in violation of House rules and standards of conduct," the report said.
But Braden, Collins' lawyer, said neither the lawmaker nor the NIH did anything wrong.
The congressman and the government scientist he met with "had an obligation to involve NIH in the studies conducted by Innate, and NIH welcomed the information as an important aspect of its mission," Braden wrote in his letter to the Ethics Committee.
The board of the Office of Congressional Ethics, a nonpartisan investigative body that Congress created in 2008 after a wave of congressional scandals, voted 6-0 to submit its report and recommendations to the Ethics Committee.
And in a statement released Thursday, the Ethics Committee Chairwoman, Republican Rep. Susan W. Brooks of Indiana, and its top Democrat, Rep. Ted Deutch of Florida, said the committee would continue its investigation.
"The Committee notes that the mere fact of conducting further review of a referral, and any mandatory disclosure of such further review, does not itself indicate that any violation has occurred, or reflect any judgment on behalf of the Committee," Brooks and Deutch said in a joint statement.
The committee, which is composed of equal numbers of Republicans and Democrats, has powers that the Office of Congresssional Ethics does not have.
It can subpoena witnesses, and the ethics office recommended that it do just that with witnesses who refused to cooperate with the investigation, such as Innate CEO Simon Wilkinson.  Former Health and Human Services Secretary Tom Price and former Rep. Bill Paxon -- who both invested in Innate after hearing about the company from Collins -- should be subpoenaed, too, the ethics report said.
The Ethics Committee also has the power to recommend punishment against lawmakers who violate House rules. But the panel has a reputation for going easy on House members. And in Collins' case, the committee did not set up an investigative subcommittee, which ethics watchdogs see as a sign that the panel is taking a case seriously.
There also is an open question about whether other investigative agencies may be looking at Collins' relationship with Innate. Slaughter wrote to the Securities and Exchange Commission and the Acting U.S. Attorney for the Southern District of New York, asking them to investigate the matter, and it's possible that the ethics report could lead either of those offices to look into the situation.
But Braden, Collins' lawyer, insists that there's nothing for anyone to investigate.
"Rep. Collins has done nothing improper, and his cooperation and candor during the OCE review process confirm he has nothing to hide," Braden said in his letter to the House Ethics Committee.
He noted that the Office of Congressional Ethics dismissed other allegations against Collins, such as Slaughter's charge that he wrote a provision in a bill called the 21st Century Cures Act to benefit Innate.
Braden said the ethics office charges against Collins "are constructed from whole cloth and are without validity," and should be dismissed.
"Each recommendation is the result of a tortured interpretation of reality and also bespeaks a misunderstanding of the facts, the law, or both, and should be rejected," Braden wrote.
Slaughter couldn't disagree more.
While the Office of Congressional Ethics' findings about Collins were different than what Slaughter had suggested the committee might find, she said the office's report made it clear that Collins likely violated federal law in touting Innate's prospects with inside information.
"He put his obsession to enrich himself before the people he swore to represent," said Slaughter, a Fairport Democrat who authored the STOCK Act, the law that makes clear that insider trading laws apply to members of Congress. "It is a disgrace to Congress and to his constituents, who deserve better."