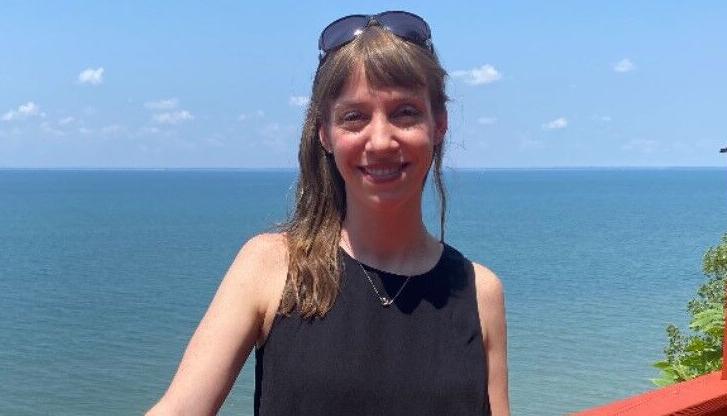 Courtney Gaughan Bowman grew up in Los Angeles. She went to college in Cambridge, Mass. She met her fiancé, who is from suburban Philadelphia, in New York City.
And on Saturday they will be married in Buffalo.
Actually, Hamburg – on a green lawn overlooking a Great Lake.
"When Doug and I decided to get married," Courtney says, "it was the first place I thought of."
Traditionally, brides get home-field advantage. But Courtney has never lived in Buffalo. And Doug Brady had never even been here.
"He was, like, 'Why?' " she says. "He said, 'Why not New York?' Then we moved to LA and he said, 'Why not Los Angeles?' "
For Courtney, the answer was as simple as a breeze off the lake.
"When I was little, every summer my family would come to Buffalo, because that's where my grandparents lived," she says. "All my cousins would gather at their house. It kind of felt like a summer camp to me. Three steps to the beach, and we would swim and kayak all day."
But weddings are not summer camp. The groom made the point that their friends are mostly in New York and LA. Courtney countered that the best place on the planet is the lakefront home that her late grandparents, Vincent and Margaret Gaughan, once owned – and that is now lovingly held by her Aunt Tricia.
What chance did Doug have against logic like that? "OK, I love you," he told his future bride. "Buffalo it is."
Courtney is a writer and teacher in Los Angeles – and, like her parents, a graduate of Harvard University and the Harvard Lampoon.
Her soon-to-be husband is a writer-producer who is working on a new show, as yet untitled, for Nickelodeon. He is also a former showrunner for "Billy on the Street," the comedy show that starred Billy Eichner.
He'll fit right into the family: Courtney's parents – John Bowman and Shannon Gaughan Bowman – are Hollywood writers, too. They met on the Lampoon and worked together on "Saturday Night Live" and "The Fresh Prince of Bel Air." He is the writer/creator of "Martin," which starred Martin Lawrence, and he wrote for "Murphy Brown," among other shows. Both John and Shannon are Emmy winners. And she is a graduate of Nichols School.
"Oh, she loves Nichols," Courtney says of her mother. "She wishes she could have sent all of us to Nichols."
The five Bowman kids went instead to Brentwood School, a tony private school in LA. The yearbook once asked students to name their favorite vacation spots. Answers ranged from Hawaiian resorts to Bahamian getaways. Courtney's twin brother, Johnny, offered an outlier: Buffalo. And this week he took the picture of his sister that appears at the top of this story, with the lake they love as the backdrop.
"I feel very connected to Lake Erie," she says. "I can trace my ancestry through the lake. My great-grandfather worked at the granary. I can practically see it from my grandmother's lawn. And so I just love the intimacy of that and the family lineage. I love that everyone knows each other and supports each other, and that is so important to have at a wedding. When you take those sacred vows, it is important that you are surrounded by that kind of energy."
New York and Los Angeles are great American cities, of course, but Buffalo has something they don't.
"For me, New York and LA, those cities are so huge and so anonymous," Courtney says. "And for me, a wedding should have intimacy and warmth and friendliness. In LA and New York, sometimes it can be hard to get to know your neighbors. Whereas here in Buffalo, my aunt and family, they know all their neighbors. They have known them since they were little. Mr. Hoffman, the guy who is in charge of the reception, he was a pallbearer at my grandfather's funeral."
The wedding was supposed to be last summer, but Covid got in the way. In April 2020, just as the world was coming to terms with the pandemic, the New Yorker ran Courtney's "Quarantine Conversation Starters." Some samples:
• "What's the commute like from your room to your desk?"
• "Do you think you could draw a gym from memory?"
• "What book have you been reading without absorbing anything because Dr. Fauci is talking?"
Not included: What are you going to do about your lakeside wedding that is three months away?
Courtney and Doug moved it from the last weekend of last July to the last weekend of this one. Now, at last, the time is here. She worries about meteors and jokes about warding off rain with rosaries on the rose bushes.
They will be married by her uncle, Kevin Gaughan, the Buffalo attorney and civic planner who loves Buffalo for a living.
"I think," Kevin Gaughan says, "the story is: Buffalo 1, LA 0."
Courtney says her LA friends continue to give her guff about a destination wedding where the destination is … Buffalo.
"But when they see it, they are going to realize why," she says with a musical laugh. "And then they are going to wish they had done theirs here, too."