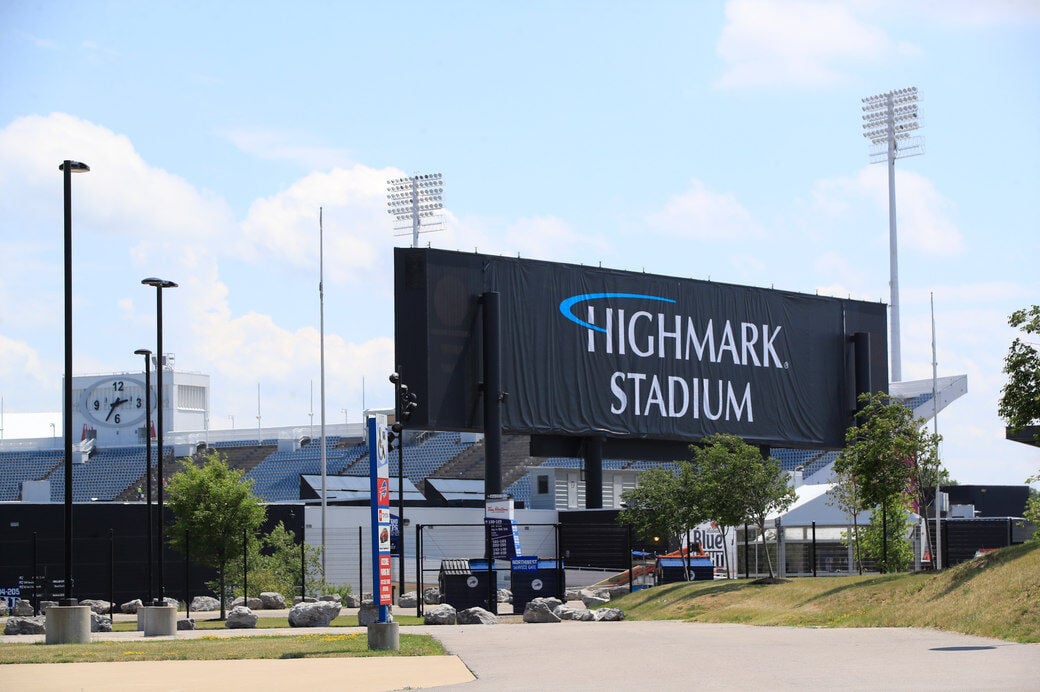 It's like déjà vu all over again.
Yogi Berra said that. The great catcher/philosopher of the New York Yankees wasn't talking about pro football stadiums at the time, but he might as well have been.
Hereabouts we are right back where we were 50 years ago. To summarize:
The Bills want a new stadium. And they want you to pay for it. If you don't, they just might take their ball and go elsewhere.
OK, so they don't quite say that last part. But it's in the air.
The cost of a new playpen is pegged at somewhere north of a cool $1 billion, give or take. (Probably take.) The Bills say that number is wrong, but they don't say if it is high or low. (Pro tip: Take the over.)
If all this sounds familiar, it should. In the late 1960s, when the Bills played at War Memorial Stadium, aka the Old Rockpile, they said they wanted a new place to play. Ralph Wilson, the owner in those days, floated a move to Seattle.
That caused consternation around these parts. Some people argued essentially this: If you build it, they will stay. Others said it is morally indefensible to give public money to private enterprise.
The arguments are shaping up pretty much the same way today: Déjà vu all over again.
Back then, the question became what kind of stadium to build and where to put it. Would it be a domed one in Lancaster, or an open-air one downtown? Instead we got a brand new ballpark in Orchard Park.
Now the plan is to build a new one next to the old one. Tom Precious offered the details Sunday in The Buffalo News. His blockbuster report cited sources who said the Bills want public money to pay for it all.
The Bills pushed back on the number, though not on the notion that the ask is for all public dollars. Maybe it's just the opening gambit in a negotiation destined to end up with a mix of public and private money. We have a long way to go, and a lot of angst, before we know.
That sort of uncertainty is a familiar feeling around here. We lived under the sword of Damocles for the final decade of Wilson's stewardship, worrying that the Bills would shuffle out of Buffalo when he shuffled off this mortal coil.
Then Terry Pegula fell from the sky. He paid $1.4 billion for the Bills. Even better, he was one of us. The implicit promise was the team was here to stay. Our troubles were over. Alleluia.
But even amid that euphoria, the thorny issue of a new stadium was always there. And that's why the implicit promise was always going to be a problem.
The standard tactic for teams to get public money is to threaten to move to a place that will give them public money. It was ever thus.
The report in The News was soon followed by an ESPN report that Austin would pay dearly for the Bills, who in turn said they were not contemplating a move anywhere.
This leaves the team in a delicate spot. Sources told Precious that the Bills, in their negotiations with Erie County and the state, are not threatening a move, but have "made clear that other cities are interested in getting an NFL franchise."
That's threading the needle, isn't it?
All this comes as the Bills prepare for a season in which they are legitimate contenders to win the Super Bowl that has long eluded them. Happy fans will soon fill Highmark Stadium to cheer on their team while trying not to think too much about the very place where they are cheering.
Instead of being ready to take the plunge for the Bills at any cost, the community has to be ready to publicly acknowledge that life without a pro football team can still be good, Watson says.
Here's the thing, though. They will be sitting in a stadium with some of the best sightlines in the NFL. Sure, Highmark doesn't have all the bells and whistles that NFL owners want these days. But it is still a good place to watch a game.
Let's keep that in mind as we ponder spending $1 billion or so for a new place we might not like as much. Marv Levy was right: Where else would you rather be?
Yogi Berra was right, too. Maybe he didn't really utter the Yogism at the top of this column, though it is commonly attributed to him. "I really didn't say everything I said," he once said. (And he really did say that.)
Either way, here in Buffalo, as another stadium controversy churns, it is déjà vu all over again, all over again.