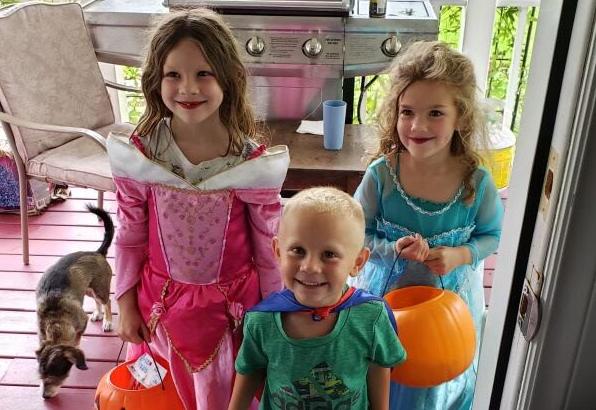 FORT ERIE, Ont. – How do you make up for lost time?
The answer, for one cross-border family, is to have the time of their lives.
Tom and Carol Cotton live in East Aurora. Their daughter, Kathy, and her family live in Fort Erie. The border shutdown kept the Cottons from their loved ones in Canada for 17 months. They missed the birthdays, the holidays, all of the everyday days.
So when the Canadian border opened to Americans – one month ago today – Tom, 80, and Carol, 78, raced over the Peace Bridge to the home Kathy shares with her husband, Steve Goodwin. It's next door to their son, Tom Goodwin, and his wife, Sarah, and their three kids: Rachel, 6, Amy, 5, and Phil, 3.
The twinned homes have expansive backyards that blend together in a fairyland of gardens and grass. This was the place, Kathy and Carol understood, to recapture some of what they had lost. Together they concocted a plan that amounted to speed-dating the calendar.
Kathy, 55, and Steve, 58, watched online via a traffic webcam as her parents' mobile home reached the bridge. Minutes later the camper pulled into their driveway. Soon they all shared hugs and tears and smiles.
That was Aug. 9, a Monday, and they celebrated Tom's 80th birthday from the week before. (He is a former supervisor of the Town of Aurora.) They had cake and candles and presents and sang a spirited rendition of "Happy Birthday."
All of that is as you might expect. But what came next is something the rest of us hadn't thought of: They began a daily celebration of the many mileposts they had missed.
Tuesday they had Easter. They dyed eggs and ate chocolate and had a joyous egg hunt in that blended backyard. For dinner they had ham and scalloped potatoes and dabbed their mouths with bunny napkins.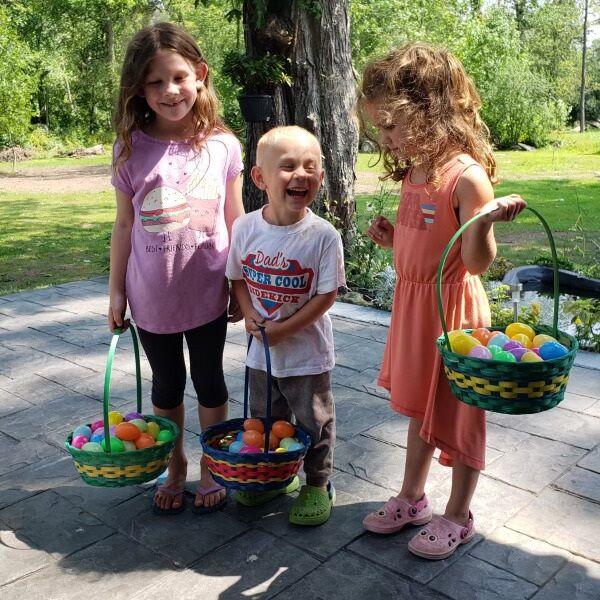 Wednesday they had a spaghetti dinner to represent all those everyday days they had lost. On Thursday, Tom and Carol had dinner out with more Fort Erie family. (Sarah Fokkens, daughter of Kathy and Steve, and her husband, Matt, have three kids – and the Cottons got to meet 7-month-old Isaac for the first time.)
Friday they had Halloween. Rachel was Elsa from "Frozen." Amy was a princess. And Phil was Superman. The kids knocked on the camper door for trick-or-treat, and their great-grandparents doled out candy.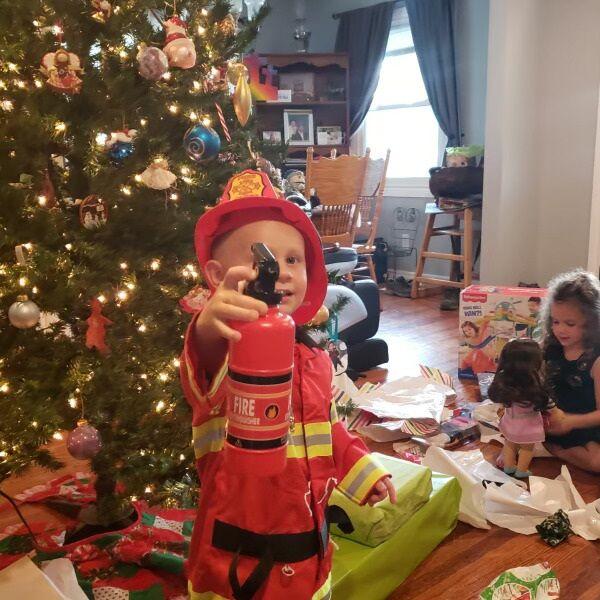 Saturday they had Thanksgiving with a big turkey dinner, including mashed potatoes and dressing and pumpkin pie. "The whole nine yards," Kathy says.
Sunday they had Christmas. Steve and Kathy always get a real tree for real Christmas; this wasn't possible in August. So Kathy had picked up an artificial tree for 10 bucks at a summer yard sale a couple of weeks earlier, and on that Sunday they trimmed the tree and put up a wreath and got out the Christmas dishes. Then the kids opened the presents that their great-grandmother had wrapped for them months earlier: American Girl dolls for Rachel and Amy, a firefighter suit and power-tool toys for Phil.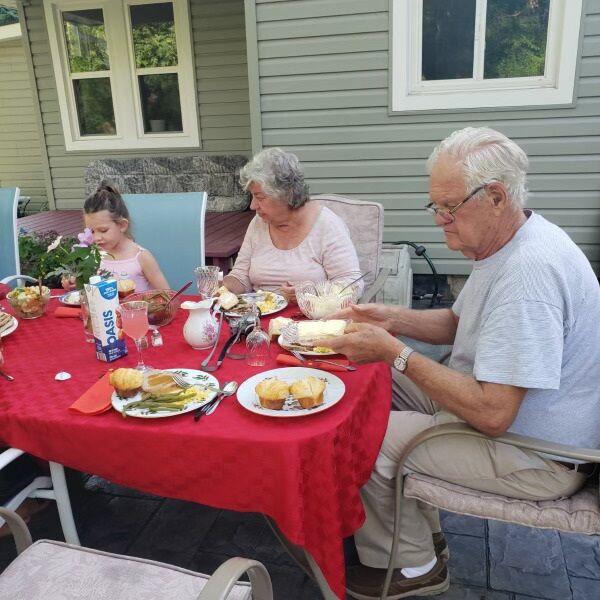 When you squeeze one year into one week, naturally you end it with New Year's Eve. So Monday they had a big bonfire. Phil wore his firefighter suit and pretended to douse the flames. The kids bebopped to music and waved sparklers in the dark. They didn't wait for midnight, though. Tom and Carol were going back home in the morning. It had been a big week, and everyone went to bed early.
They forgot to sing "Auld Lang Syne," the old Scottish song that means "Old Long Since" – or, more colloquially, "for old times' sake." They didn't have to sing it; they lived it. And rarely has the sentiment of it meant more.
This is because theirs was a reunion that almost never happened. Carol got Covid in March 2020, just as the lockdown began. She almost died. By the time she got home from Mercy Hospital, Tom had Covid, too. He had underlying heart issues and was sent to Buffalo General in tough shape.
"We didn't know if they were going to make it," Kathy says. "Here they were in hospitals 10 minutes away and I couldn't go see them. That was incredibly hard for me."
"We were treading water, and Kathy couldn't be there," Carol says. "And she is always there for us."
There's more: Kathy suffered a severe concussion from a fall during the lockdown. And Steve spent a month in the hospital in St. Catharines before lockdown with a bout of pancreatitis that almost killed him.
All this is why the family felt some sense of living on borrowed time as they made up for lost time with their rapid-fire recap of all those missed holidays.
We used the term "real Christmas" a few paragraphs ago. This was a mistake. Christmas in August was no less real than the one in December. In some ways it was even better. Christmas is gone only if you let it be.
Now about that Thanksgiving celebration: Was it in place of the American one that comes in November, or the Canadian one that comes in October?
Carol laughs. The answer, of course, is both.
"It was Thanksgiving Thanksgiving," she says.
It takes double the Thanksgivings to express the thanks the members of this cross-border family feel for their health – and, at long last, for their togetherness.
Lost time. Borrowed time. And the time of their lives.