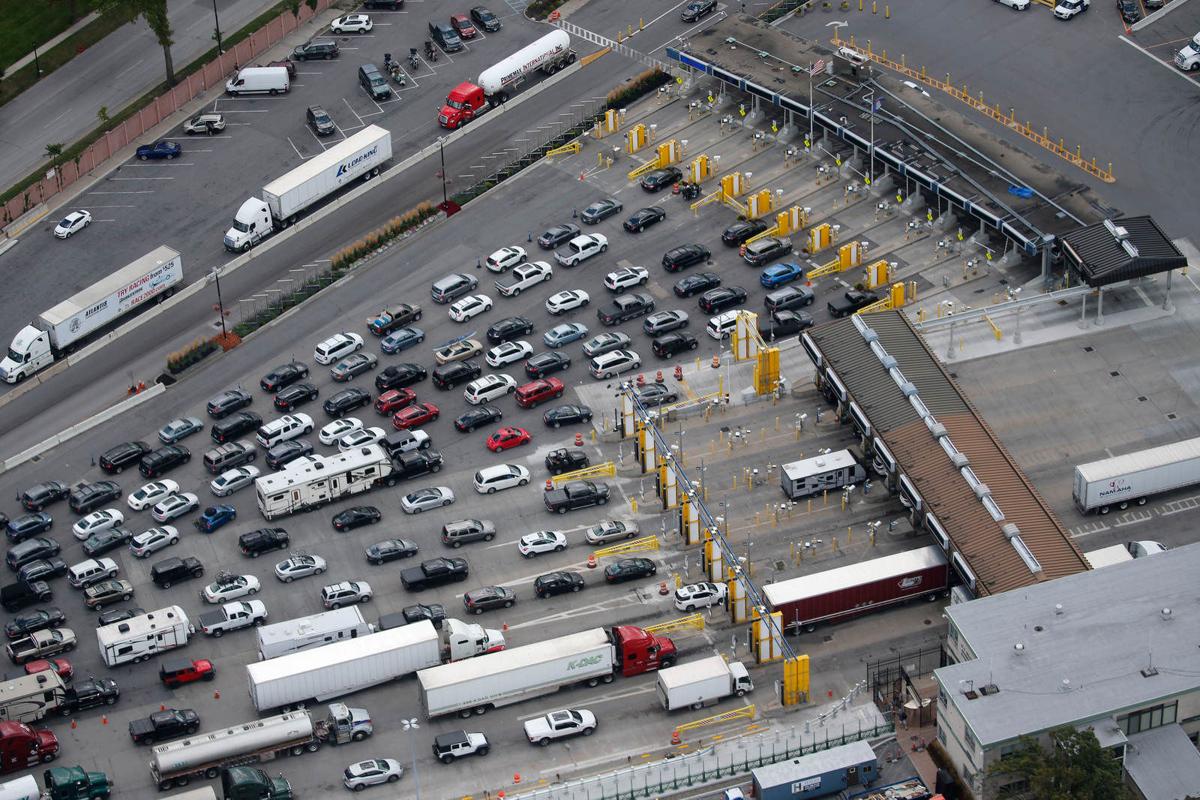 Don't cry for me, Argentina. No, wait: I mean Canada.
But is it OK if we shed a tear or two for thee?
The other day I wrote a column about missing Canada at the start of a second sad summer away. Lots of Buffalonians second that emotion. As Western New Yorkers, we love Southern Ontario. It is our birthright on the border.
But here's the part I hadn't quite thought through: The Peace Bridge offers two-way traffic. And it turns out that Ontarians miss us, too.
Sean Fitz-Gerald, a senior national writer for The Athletic Canada, tweeted a link to the lament – "a view from Buffalo," he called it – and wrote: "Me? I miss the Anchor Bar, the RiverWorks and the great old buildings in Buffalo."
Soon some of Fitz-Gerald's followers joined in to tell what they miss most about us. Honestly, it was a bit of a lovefest. Who knew?
"Most underrated city in America," wrote one tweeter from Toronto, who mentioned he took his family to Buffalo in February 2020, not long before the border closed. "The only not amazing thing about the weekend was the Sabres."
Canadians sometimes feel like the little brother in their relationship with the larger, louder United States. The dynamic is reversed around here, where Buffalonians sometimes feel similarly about our relationship with cosmopolitan Torontonians.
But as the Twitter bouquets kept coming, I began to feel a little like Sally Field when she won her Oscar: They miss us. They really miss us.
John Richardson, a Toronto bookseller, tweeted: "I can't tell you how much we miss Buffalo. Short-ish drive from TO and we'll go there just to have breakfast at the Lake Effect Diner. :) And Bisons baseball at the great ballpark is a must-do. And most beautiful city hall in North America. And the Frank Lloyd Wright buildings."
That one got some pushback from Steven Coady, whose Twitter avatar is a Toronto Argonauts logo: "Woah. That's a broad statement about City Hall. It's a beautiful old building, but MANY NA (North American) cities have gorgeous city hall buildings. Los Angeles, for one."
To which Richardson replied: "It's a masterpiece of Art Deco architecture. Besides, what's an Argo fan know? Oskeeweewee, baby."
That's a century-old cheer for the Hamilton Tiger-Cats, in case you didn't know.
Paul Wood does. He's an Argos historian who tweeted: "As Sean suggests, Buffalo is vastly underrated, architecture-wise. Some magnificent structures in its downtown."
And some great restaurants there, too. As Fitz-Gerald put it: "I feel the city doesn't get the credit it deserves for that."
Some of Fitz-Gerald's followers advised him to try the wings at Elmo's or Duff's. He didn't dispute their preferences.
"Full disclosure: I have a stronger attachment to the Anchor Bar because of cross-border trips we used to take when I was a kid," he wrote. "The Anchor Bar, and then a Sabres game. Warm memories, even in the dead of winter."
See? Ontarians are just like us: We each carry warm memories of the other place. And it is high time to start making new ones.
Jamie Bradburn is ready. He is a writer and researcher who specializes in Toronto and Ontario history.
"Seems like the sort of day to think about future cross-border trips," he tweeted. "Over lunch, my partner-in-crime and I imagine our next trips to Buffalo and Rochester. Like many other familiar places, COVID has made them seem … exotic? … and will make us embrace them even more whenever we visit."
Exotic Buffalo awaits. We miss you. You miss us.
Canada Day would make for a nice reopening, wouldn't it?