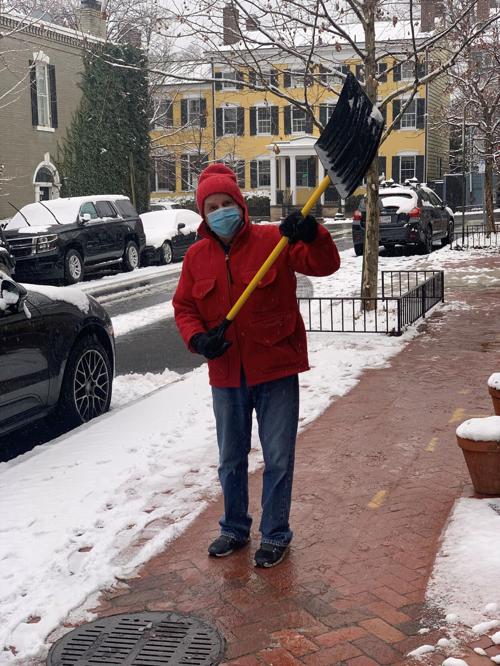 ARLINGTON, Va. – Washington got its first real snowfall of the season Sunday. For the Buffalo expats who live in these parts, snow always reminds us of home.
Buffalo and Washington share a great deal – from history (the Brits burned both in the War of 1812) to radial street plans (Joseph Ellicott's for Buffalo was modeled on Pierre L'Enfant's for Washington) to presidential obelisks (Buffalo's for William McKinley, Washington's for George Washington).
What Buffalo and Washington do not share, most of the time, is an affinity for frozen vapor. The snow that fell on greater Washington on Sunday did not fully cover the blades of grass in our Arlington backyard, which back home would hardly count as a snowfall at all.
And so, on Twitter, the gibes from Buffalonian-Washingtonians fell through the day, like so many snowflakes:
• Wolf Blitzer tweeted a smiling photo of himself with a shovel in one hand and a Starbucks cup in the other: "A near perfect Sunday. A little snow and a venti skim latte."
• Rich Luchette, communications director for Rhode Island Rep. David Cicilline: "My favorite part of any year is when Washington, DC, gets a light dusting of snow and shuts down for at least three days."
• Dave Levinthal, senior Washington correspondent for Business Insider, offered snow-fearing Washingtonians a few basics:
"Snow won't kill you. (Usually.)
Sometimes it seems like the only Washingtonians who understand the snow-is-fun part are the giant pandas at the National Zoo. Video of them sliding down slopes on their backs in their snowy enclave got 3 million views on the zoo's Twitter page.
President Biden tweeted a photo of himself walking outside, but under cover, at the snowy White House: "Grateful for the short commute on days like these."
Nothing to insult the locals there. Biden clearly learned from the first snowfall of President Obama's first term, in 2009, when Obama told reporters he was surprised that his daughters' school was closed: "My 7-year-old pointed out that you'd go outside for recess in weather like this. You wouldn't even stay indoors. We're going to have to apply some flinty Chicago toughness to this town."
Washingtonians took offense – what passed for controversy in that more innocent time – at the suggestion they did not possess the toughness of a Chicago-raised 7-year-old. It's the same idea behind the Buffalo tweets mentioned above, which translate roughly to this: Blitzer knows blizzards, and this ain't that.
Craig Wilson grew up in Orleans County. Now he lives in D.C.'s Georgetown neighborhood. He is a retired columnist in the Life section at USA Today, where he sometimes rhapsodized about his love of a good snowfall. He posted on Facebook in advance of this one: "Snowstorm coming … Can't wait!"
One friend left a comment asking if Wilson hires out or shovels for himself. His answer: "Hire out? Never. Always do my own. Actually, I do my block, good neighbor that I am."
To which Kathleen Parker, a Washington Post columnist who used to live next door, commented: "I miss looking out the window and seeing Craig shoveling snow from our steps and sidewalk. He's never happier."
Which is precisely the point: Snow always makes us expats happy, even if it makes the less flinty less happy.
That's Craig at the top of this story, wielding his shovel like Excalibur in the less-than-epic snowstorm that terrorized Washington this week.
Charles A. Brady, the late Canisius College English professor and Buffalo News book critic, believed that no one captured the epic nature of Buffalo snow better than Charles Burchfield, peerless laureate of Buffalo weather in all seasons. Brady, my father, wrote a poem in 1950 that dismissed the sampler scenes of skates and sleighs found in Currier and Ives lithographs, in favor of Burchfield's sturdier stuff:
But Buffalo winter is Burchfield: strong,
Homely, cold; and warm. A mittened worker
Bluing the air with his own gusty breath,
Stomping big feet in lusty polka time;
His mansard roof piled high with mounds of snow.
Dun houses spill a Burchfield spilth of amber,
Like golden Buffalo beer, upon the snow —
Real snow, not Hollywood cornflake variety;
Real snow for this broad-chested Northern city.
This fraud-tested Southern city doesn't know what to do with real snow. Washingtonians mostly just wait for it to melt. Think of it as their solar-powered snow-removal system.
If Buffalo tried that, the city would be snowed in until spring. But in Washington, it will all be gone before the week is out.
Turns out the only ones who love a good snowfall in Washington are expats. And pandas.