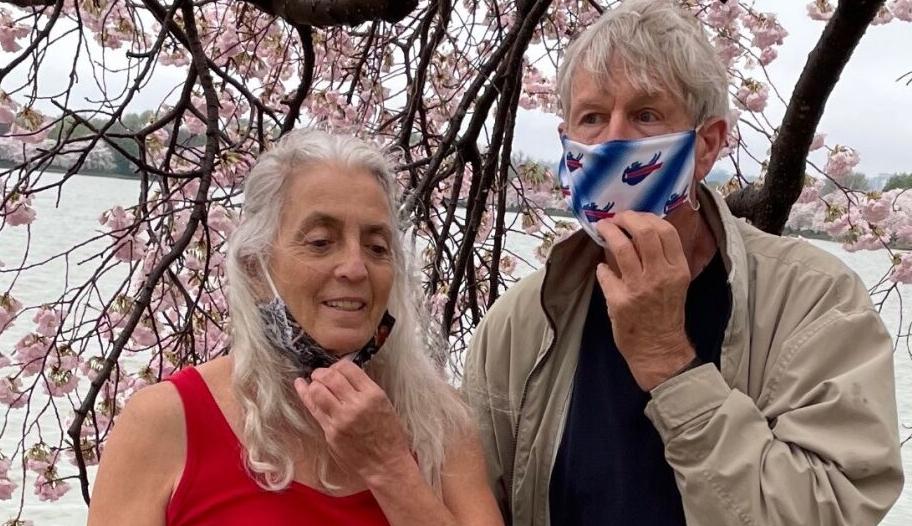 Washington loves few things more than its cherry blossoms. They are at peak bloom for only a short time each spring. This normally brings out crowds by the thousands – except for this spring, and last, when officials asked the populace to enjoy the blossoms virtually rather than in person.
The contours of the more recent request are as delicate as a blossom: The trees are not off-limits but will be if too many people come, which seems like a Catch-22 at peak bloom. Yes, you can visit the trees – but if you do, no one else can.
In Washington's Virginia suburbs, we awoke one recent day to a steady rain. This seemed an opportune moment to sneak off to see the blossoms. Who else would be there in such weather? So we set out for the Tidal Basin, the reservoir off the Potomac River, where the trees are. It turned out to be a good call: The masked visitors that morning numbered in the dozens, not the usual thousands.
As it happens, one particular pilgrim wore a Buffalo Bills mask. That's how these things often go. Even in a small crowd, there is bound to be someone from Western New York sporting something that advertises same.
We introduced ourselves to Peter Kyzmir. He is 70, grew up in Lockport, and lives now near Lisle, north of Binghamton, where he is retired from a career as a mail sorter for the U.S. Postal Service. He and his wife, Jackie, got their vaccines in February and then made end-of-March hotel reservations for Alexandria, Va., in hopes of catching the cherry blossoms.
"We had never seen them," Kyzmir says, "and it's something we always wanted to do."
The blossoms arrive at their own pace, so one never knows from year to year precisely when they will hit peak. As it turns out, the Kyzmirs guessed perfectly: Peak arrived on the same day they did.
Their original plan was to go to the Buffalo Cherry Blossom Festival last year. It has run each spring, since 2014, at the Japanese Garden behind the Buffalo History Museum. But last year organizers asked people to see the blossoms virtually, so the Kyzmirs decided not to go. (This year the event is scheduled April 26 to May 1 and will once again be virtual.)
Buffalo's Japanese Garden is a gift from Kanazawa, our sister city in Japan. The original trees in Washington were a gift of the people of Japan to the people of the United States. Presidents with Buffalo pedigrees play a part in this history. Grover Cleveland was president when Eliza Scidmore – first female writer, photographer and trustee for National Geographic magazine – petitioned to have cherry trees planted at the Tidal Basin. Teddy Roosevelt was in favor of it when he was in office.
The first set of 2,000 trees arrived in 1909, just after T.R.'s term. But they were beset by insect pests, so government entomologists burned the trees in a huge bonfire on the National Mall. In 1912 came a second shipment, of 3,020 trees, this time all healthy. They quickly blossomed into a springtime tourist attraction.
"We are so glad we came," Kyzmir says. "They are beautiful."
He was wearing that Bills mask upside down, not as the international symbol of distress – that would be for the Sabres, he says – but simply because it fits better that way. He bought three Bills masks online in the months after the pandemic took hold, and wears one almost everywhere he goes.
"No matter where I am, someone will see it and say, 'Go Bills!' " Kyzmir says. "That's just the way it is."
He was a Bills season ticket holder in their Super Bowl heyday, when his father was still alive in Lockport. Even now Kyzmir comes home for at least one Bills game and one Sabres game every year – the most recent seasons excepted, of course. The drive from his house is an easy one: "I can be at the Anchor Bar in three hours and 15 minutes."
The lifespan of the cherry blossoms is longer than that, though sometimes it seems not by much. They are with us for a short while, and then they are gone with the wind. That's why, in a normal year, so many people come to see them. You will miss them if you wait.
They are, in this way, apropos emblems for our present pandemic moment – as flowering symbols of the beauty, and brevity, of life.