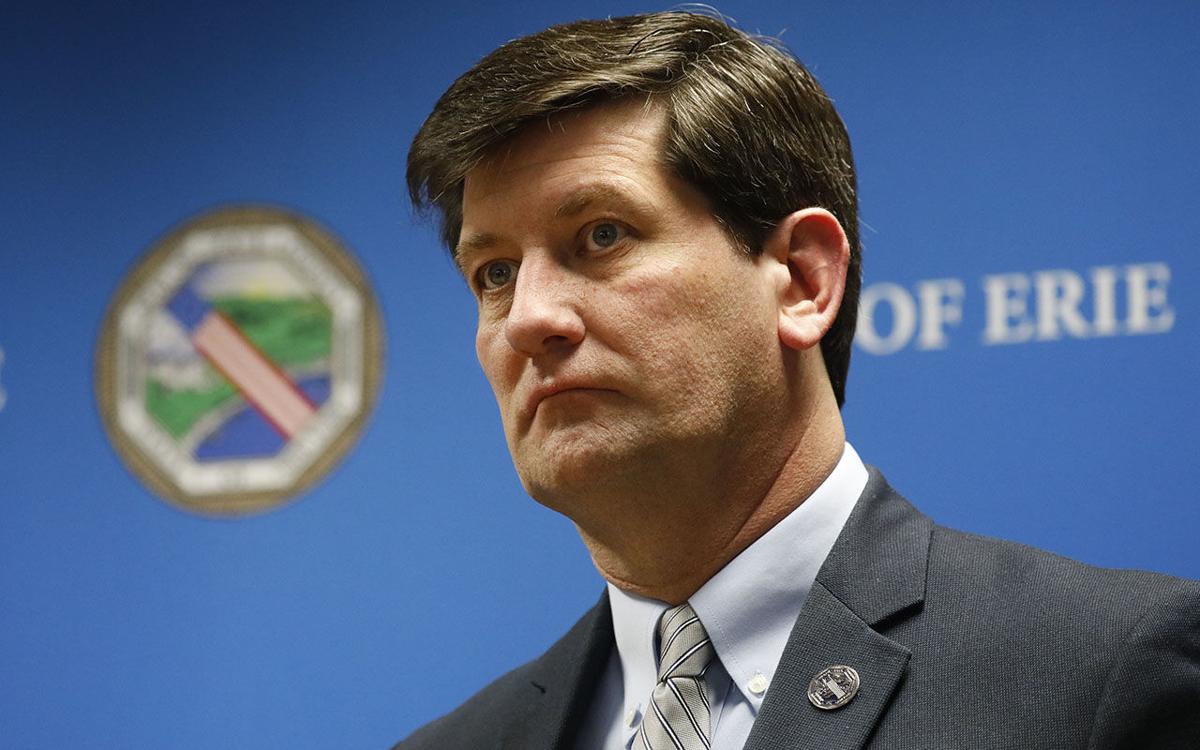 Most of the new confirmed cases of Covid-19 in Erie County came through community spread of the disease and did not involve individuals who have traveled, Erie County Mark Poloncarz said during a news conference Monday afternoon.
Thirty-two new cases of Covid-19 were announced Monday, bringing the county's total number of positive tests to 96. The latest updates on total cases came in two tweets from Poloncarz on Monday night.
Most, if not all, of the cases confirmed in the last few days were transmitted by community spread, Erie County Health Commissioner Dr. Gale Burstein said.
The bulk of the additional Erie County cases were announced by Gov. Andrew M. Cuomo during his news conference Monday morning and confirmed by county officials.
Monday's new batch of cases, 32, is the largest number announced in one day in Erie County to date. There were 18 announced on Friday.
As of Monday afternoon afternoon, 11 people in Erie County who have tested positive are in the hospital; two of those individuals are in an intensive care unit. Many of those who are hospitalized are in their 20s, 30s and 40s, Burstein said.
There are also 87 people in isolation, 351 people in quarantine and 176 people who have completed quarantine, she said Monday afternoon.
More than 800 county residents have been tested for Covid-19, Poloncarz said.
Niagara County officials announced Monday afternoon there have been three new cases of Covid-19, bringing the county's total number of cases to 12.
Poloncarz said the county has purchased 400,000 N95 masks from an international manufacturer for $1.1 million and expects the first shipment of the masks to arrive in 10 days.
Amherst and Buffalo continued to have the most cases. Amherst, which had 21 of the county's 64 cases as of Sunday night, had 10 cases added to its list Monday for a total of 31. Buffalo had eight additional cases and now has 27.
Other towns to see increases in cases Monday include West Seneca with three and Clarence and the Town of Tonawanda with two. Five towns had their totals increase by one: Cheektowaga, Grand Island, Hamburg, Lancaster and Orchard Park. The two cases at Wende Correctional Facility accounted for Alden's first two cases.
Poloncarz tweeted that more updates, and higher numbers, are to be expected.
"We are starting to get results from multiple testing sources," Poloncarz said, "so we expect the total to increase multiple times daily."
"Anywhere we leave our house, we could potentially come into contact with someone who is Covid-19 positive," Burstein said. "People have to act accordingly."
Poloncarz thanked the public for their cooperation with the restrictions that have been put in place by the county and state during the coronavirus pandemic.
"We expect Covid-19 to be in every community right now; just because you might not see it on our interactive map," Poloncarz said, referring to the county's online accounting of cases, "doesn't mean it's not right there right now. Covid-19 has been in Western New York for probably weeks now.
"Assume that it is in every community. You should assume that it is everywhere."
The county has not put together additional information regarding where individuals have traveled or visited because of the manpower involved in tracking such a high number of cases, but also because they expect the virus to be throughout Western New York's communities.
Burstein said Sunday that 11 coronavirus cases involve patients who have been hospitalized, three of which are in the intensive care unit.
"We are seeing a higher level of acuity as the disease progresses in our community," said Burstein.
Burstein said Sunday that 174 people have completed quarantine, while the county is currently following 293 contacts of those who have been infected.
Poloncarz said that more tests, which have been a struggle for Erie County as well as municipalities nationwide to procure, will be arriving from the Centers for Disease Control and Prevention this week.
"We are hoping for a large batch to come in on Tuesday," he said.
The county also expects to complete the tests on the current pending cases by Tuesday, Burstein said.
Burstein acknowledged the county would certainly like more tests, but she stressed that the community needs to practice social distancing and other measures to keep the spread of the virus down.
Poloncarz stressed that individuals who feel sick should contact their doctors and not go into work. He said he knew of at least one person who was feeling sick, still went into work, ultimately tested positive, and now the person's coworkers are now in quarantine.
The Buffalo News: Good Morning, Buffalo
The smart way to start your day. We sift through all the news to give you a concise, informative look at the top headlines and must-read stories every weekday.