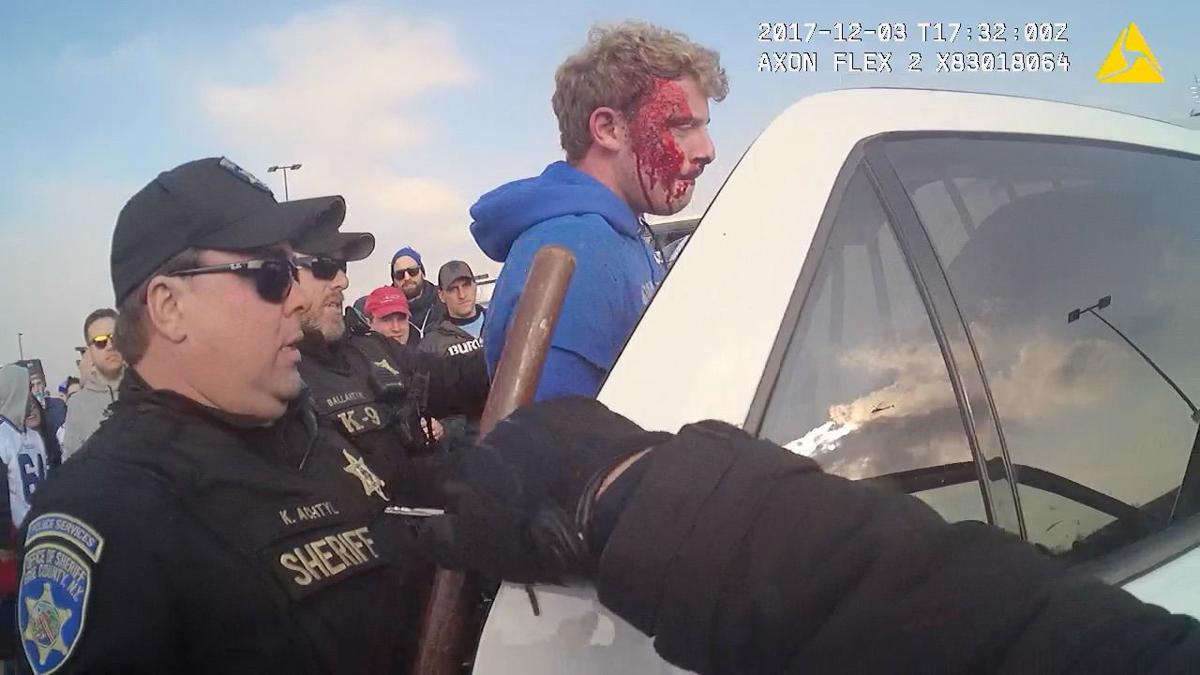 As Sheriff Timothy B. Howard explained and defended his agency's approach to internal discipline Thursday, an Erie County lawmaker asked why he sat in a courtroom two years ago and rooted for the acquittal of Deputy Kenneth P. Achtyl on charges linked to his pummeling of a Buffalo Bills fan.
The Orchard Park town justice will announce his punishment against Deputy Kenneth Achtyl on Thursday
But Howard bristled after Legislator Jeanne Vinal said he had been "rooting" for Achtyl and suggested he had displayed approval for a deputy who beat up a citizen "for the perception of disrespect."
Why, she wondered, did Howard think Achtyl acted appropriately when he left Nicholas Belsito with a broken nose, a concussion and a bloody face simply because Belsito had sworn at him?
Said Howard: "Why did you conclude that I was there to intimidate or root for acquittal? What basis do you have to draw that conclusion?"
He interrupted Vinal as she tried to answer, then dived in with his response, the first time he has publicly addressed the matter since 2019.
"My reason for being there was so that I myself could hear firsthand from all of the witnesses that were being called," he said.
"And all of the work that might have been done by my own internal affairs, I was hearing that done by a different set of professionals, both the defense attorneys as well as the prosecutors that asked the questions of all of the witnesses that were there, so I could make my own decision about what happened," he added.
A jury found Erie County Sheriff's Deputy Kenneth Achtyl guilty Friday of assaulting a Buffalo Bills fan two years ago in a bloody arrest outside New Era
No attorneys raised objections to his presence, nor did the judge, Howard said.
"I was there for nothing but the most honest and honorable of intentions,'' he added, "and that's to hear for myself what this case was all about."
Howard's Professional Standards unit, which was the focus of the Legislature's Public Safety Committee on Thursday, investigated Achtyl's conduct against Belsito outside New Era Field in December 2017 and took no action against him, Achtyl's defense lawyer said before the trial began.
Howard could recall no discipline his department gave Achtyl, though the deputy was suspended without pay while the criminal charges were pending. Howard said an arbitrator would likely have reinstated the deputy, with back pay, if he had been fired but then found not guilty.
"It seems like you kind of washed your hands and said let's see how it plays out," Vinal, D-Amherst, told Howard. She went on to say that the public expects police executives to root out officers who lack the temperament for law enforcement.
"We are looking more at fairness to the mothers of 20-year-olds who might want to go to a Bills game, without being assaulted by a police officer and not having the sheriff do anything about it," she said.
Said Howard: "I think they are probably more fearful about being assaulted by someone other than a police officer."
Erie County Sheriff's Office Deputy Daniel E. Zlotek was suspended for seven days in 2019 after he ran the license plate of a truck he saw parked in his girlfriend's driveway on a police computer and confronted the owner of the truck, then-Buffalo Bisons baseball player Anthony Alford. 
Now that New York lawmakers have allowed the public to see police disciplinary files, Erie County residents have learned of long-buried misconduct by Howard's deputies. A deputy used departmental resources to spy on a girlfriend; male corrections officers had sex with female inmates once they were freed; inmates alleged sexual contact with their guards on the inside, though internal investigators did not confirm those claims; a deputy in October wrecked his department-issued vehicle and faces a charge of driving while intoxicated.
The Democratic-controlled Legislature wanted to ask the Republican sheriff about those matters, and he was willing to answer their questions, but political clashes raised the temperature. At one point, Howard threatened to leave the teleconference. "If this isn't a two-way discussion, I'll end it right now," he said.
A few themes circled through the meeting:
• Howard and Undersheriff John W. Greenan, who supervises the Professional Standards team and helped the sheriff answer myriad detailed questions, said their hands are often tied by union contracts and by the likelihood that arbitrators will later temper the punishment. So they must levy penalties with one eye toward what an arbitrator might undo, they said.
• Firing a deputy and having them reinstated is often expensive because arbitrators will award back pay, with the overtime wages the deputy would have likely earned during that period. Meanwhile, the Sheriff's Office would have hired another employee to do the work of the fired employee or paid another overtime to do it.
The deputy was off duty but driving a department vehicle – an unmarked black pickup truck – when he went off Jewett Holmwood Road in Aurora, near the border of Orchard Park, about 8 p.m. Friday, said Scott Zylka, spokesman for the Sheriff's Office.
• While Howard and Greenan asserted they have leveled discipline many times, some legislators, including Legislature Chairwoman April Baskin of Buffalo, suggested the sheriff has gone too easy at times. For example, Baskin was surprised to learn that the deputy who wrecked his department-issued vehicle in October's off-duty crash, Aaron Naegely, has not been suspended but is on desk duty.
• Howard said any member of the public can file a complaint about his deputies, by email, telephone call or letter, and it will be investigated. He agreed it would be a good idea to post a complaint form on the Sheriff's Office website. He and Greenan vowed to do so within a couple of weeks.