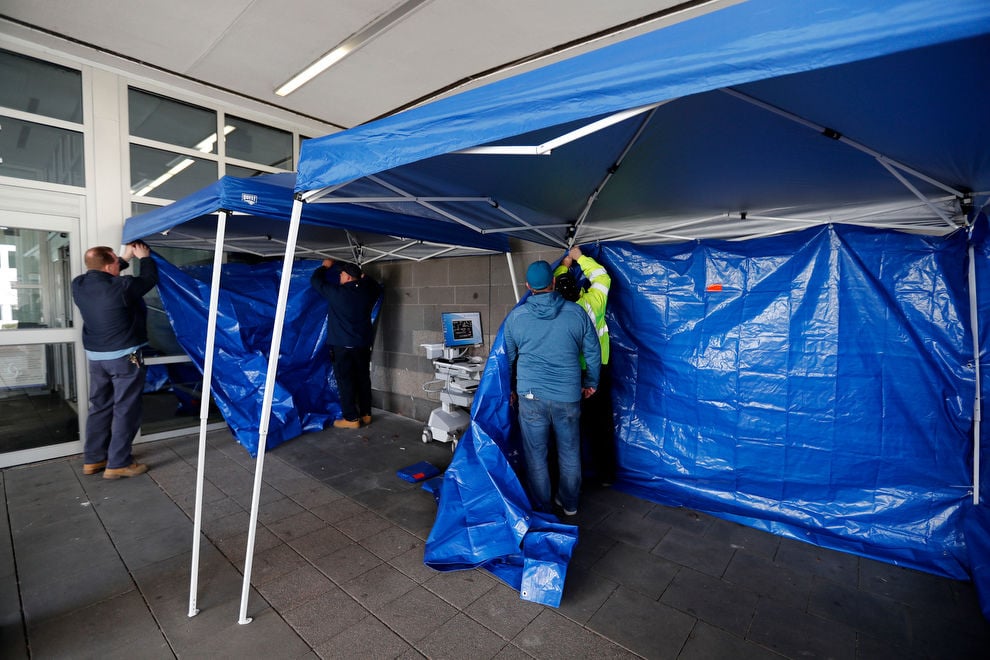 An eighth Erie County resident has died as the number of Covid-19 cases in Erie County grew to 463, Erie County officials said Monday.
Meanwhile, the number of confirmed cases in Niagara County grew by 13 Monday, with two 1-year-old infants among that county's 51 cases.
Allegany, Chautauqua and Genesee counties registered their first coronavirus deaths Monday.
In Allegany County, the fatality was identified as a person older than 60.
The Chautauqua County resident was a man in his 80s. He died in an Erie, Pa., hospital.
The Genesee County fatality was a patient older than 65.
During Erie County's daily pandemic briefing Monday, County Executive Mark Poloncarz was asked whether schools will remain closed beyond the previously announced date of April 20.
"We are going under the assumption internally in Erie County government that this community will still be shut down for the entire month of April," Poloncarz said.
It's possible the county does not see its peak of the Covid-19 outbreak until late April or early May, Poloncarz said.
The county executive said he believes school officials will re-evaluate the April 20 date about a week before.
Officials confirmed 560 Covid-19 cases in the eight counties of Western New York as of early Monday evening.
Forty-nine new Covid-19 cases in Erie County were announced, but county officials did not release further information about the county's latest death.
As of Monday afternoon, 53 people in the county who have been diagnosed with Covid-19 have recovered, while 402 people were in isolation. Poloncarz later Monday shared updated information on Twitter:
After receipt of final test results for day from all sources, there are 463 confirmed cases of #COVIDー19 in Erie Co. 402 residents are in isolation, 1,094 are in quarantine, and another 302 have completed Q. 102 persons are admitted to Erie Co. hospitals as of 3/29, 48 in ICU. pic.twitter.com/66ImjMunVE

— Mark Poloncarz (@markpoloncarz) March 31, 2020
The county received a shipment from the state of personal protective equipment – including "thousands" of masks, face shields, gloves and gowns, Poloncarz said.
An agreement between the county and the state outlines how to distribute the supplies, Poloncarz said.
"We know that this will not be enough to get us through, like, the next few weeks," Poloncarz said.
The county is working to obtain additional shipments, the county executive said.
"We should be able to get some more fairly soon," he said.
Half of what was delivered has been sent to Erie County Medical Center and hospitals run by Kaleida Health and Catholic Health. Twenty-five percent of the supplies will be sent to nursing homes, Poloncarz said, while 15% will be distributed to first responders. The last 10% will be sent to other health care providers, he said.
The county is not able to distribute these supplies to other providers or organizations, Poloncarz said.
Many needed medical supplies have been lacking locally, across the state and across the country.
The shipment of supplies is separate from an order the county announced it placed with an international manufacturer for 400,000 N95 masks for a purchase prices of $1.1 million.
When the purchase was announced last week, Poloncarz said he believed the first portion of the order may arrive in 10 days. Poloncarz said Monday the first delivery from that order, coming from Taiwan, won't arrive until April 10.
Health care providers seeking supplies from the county should make requests through the county's Department of Homeland Security and Emergency Services, Poloncarz said.
"If you haven't put a request in, you're not going to be part of the initial delivery," he said.
Gov. Andrew M. Cuomo said Monday that the number of people statewide who have died from Covid-19 has eclipsed 1,200.
In Niagara County, Niagara Falls and Wheatfield have the most cases, with 10 each, followed by North Tonawanda and the city and town of Lockport, each with six cases.
"The numbers in the higher density populations are increasing, and we're moving up to the lakeshore, Lake Ontario," said Niagara County Public Health Director Daniel J. Stapleton.
No one has been admitted to the former Inter-Community Memorial Hospital in Newfane, where the county set up a quarantine site for those whose home circumstances prevented them from being quarantined at home, Stapleton said.
Staff Reporter Dale Anderson contributed to this report.