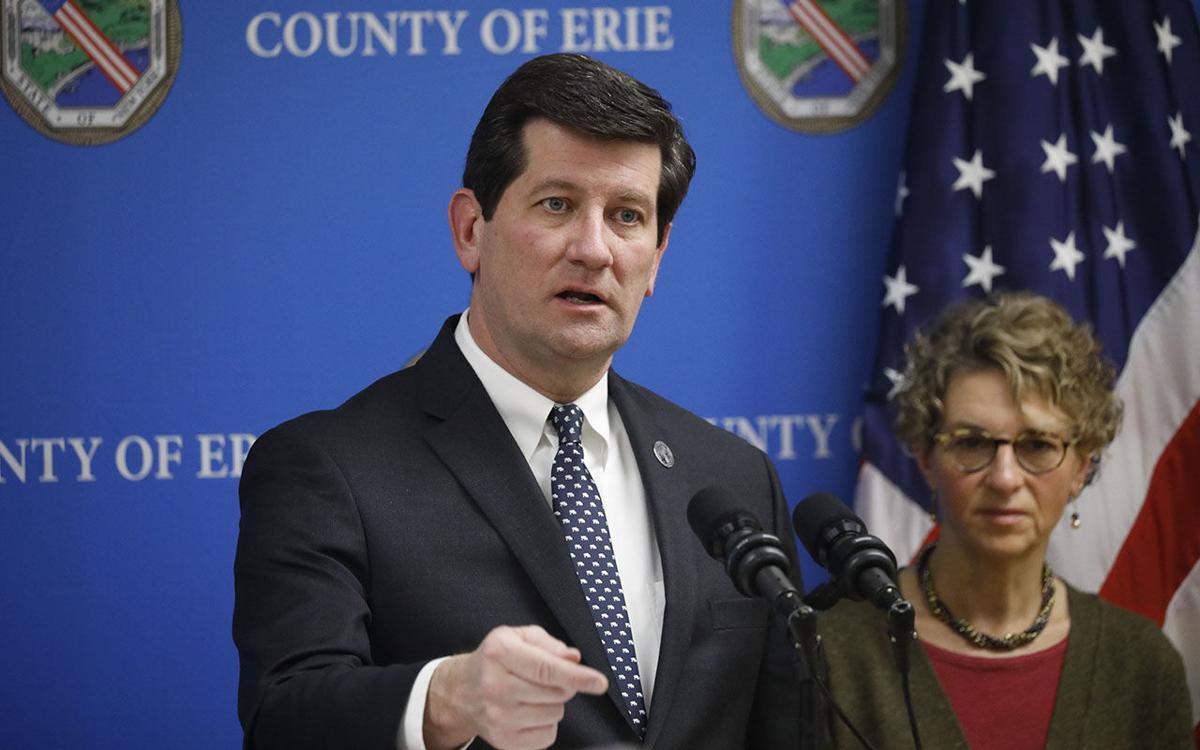 A new slide has appeared in the routine Covid-19 media briefings by Erie County Executive Mark Poloncarz. It is a list of the top 10 ZIP codes – led last week by 14212 – with the highest percentages of positive test results for Covid-19.
Now that the state has begun targeting "microclusters" of Covid-19 outbreaks at the neighborhood and ZIP code level, Erie County has started to also track that information and provide feedback to the state Department of Health about what communities may warrant a rollback of the state's reopening standards.
"We've been watching this for a number of weeks now," Poloncarz said Wednesday.
Because of the population density of Erie County and the City of Buffalo, outbreaks in particular ZIP codes that result in 2.5% or more individuals testing positive for the virus for 10 consecutive days are being flagged by the state and prompting conversations with local Health Department investigators about the source of the higher rates.
It is the county's job to report back to the state whether the higher percentage of confirmed cases in a given community deserves to labeled a hot spot by the state, or whether the higher numbers can be traced back to isolated sources, such as a particular event, facility or family gathering.
If rates cannot be traced back to particular, contained sources and are considered the result of broader community spread, those areas may be labeled yellow, orange or red zones and subject to new closure restrictions.
Currently, the ZIP code of greatest interest is 14212, which encompasses Buffalo's Broadway-Fillmore District between Sycamore and Peckham Streets and includes the Village of Sloan in Cheektowaga.
That ZIP code consistently has had positive testing percentages greater than 3% since late September. Positive tests for that community rose to 6.6% this past week, making it the ZIP code with the highest percentage of positive tests in Erie County.
Health Commissioner Dr. Gale Burstein, however, said those higher percentages can be traced back to a few interconnected families.
"More than half of those cases are associated with just a few households," she said. "There are just a few families that had bad luck, and they were larger families."
The other Top 10 ZIP codes – and their rates last week – were: 14222, 4.8%; 14228, 2.9%; 14051, 2.6%; 14213, 2.5%; 14059, 2.1%; 14207, 1.9%; 14220, 1.7%; 14075, 1.7%; and 14218, 1.6%.
New York State wants to take advantage of rapid testing technology to implement temporary shutdowns at the community level rather than entire regions.
In general, bringing testing down to the neighborhood or ZIP code level can lead to great fluctuation in positive test percentages from week to week since the number of tests performed in that community are so small. 
"If you're only testing 100 people, but you're testing two families of which there are 15 people in the two families and they all test positive, you're going to have an exceptionally high transmission rate and infection rate," Poloncarz said.
County leaders previously had been concerned about the 14213 ZIP code, which encompasses most of the West Side and Upper West Side of Buffalo, as well as SUNY Buffalo State. Those percentages had exceeded 5% in late September and early October, but have since fallen.
The 14222 ZIP code, which includes Buffalo's Elmwood Village, posted the second highest positive test percentage this past week at 4.8%, though the percentage was only 1.5% the week prior. 
Under the state's new microcluster strategy, hot spots would be tagged as yellow, orange or red zones. Red would represent the epicenter of an outbreak cluster and have the toughest restrictions. Only essential businesses could open. In-school instruction and mass gatherings would be banned. Restaurants would be limited to takeout and delivery.
The neighborhoods that immediately surround a red zone – as well as communities with elevated Covid-19 numbers that aren't as severe but require precautionary measures – would be labeled as orange and yellow zones.
"Micro-cluster" or "focus" zones target neighborhoods and communities with Covid-19 outbreak…
Under the least restrictive yellow-zone mandates, houses of worship are limited to half capacity, mass gatherings are limited to 25 people, and indoor and outdoor dining is limited to four people per table. Businesses are unaffected and schools may remain open, but schools must test 20% of students and staff for in-person instruction.
In related news, Poloncarz expressed ongoing concern about Western New York hospitalizations, pointing out that 53% of those hospitalized in the five-county region as of Monday came from outside of Erie County and mostly from Southern Tier counties. In addition, those hospitalizations do not reflect all area residents who are being hospitalized with serious Covid-19 infections, he said, because some of those residents are being transported to Erie, Pa., for treatment.
That hospitalization trend, which began over the past week, stands in stark contrast to prior weeks, when Erie County comprised the majority of cases.
"This is very concerning that we have seen higher numbers of hospitalizations in all of the other Western New York counties, as compared to Erie," he said.
There were 90 coronavirus patients in Western New York hospitals as of Tuesday, the highest total for the region since mid-June.  
The Western New York region, defined by the state for Covid-19 tracking purposes, includes Erie, Niagara, Allegany, Cattaraugus and Chautauqua counties.
The daily positivity test rate for Erie County, meanwhile, fell from 3% on Monday, based on county calculations, to 1.3% Tuesday. 
A total of 717 county residents have now died from the virus, including four new deaths over the past week. The past week also showed that 43% of all residents testing positive are under the age of 30.
New York State's overall coronavirus positive rate for Tuesday's testing was 1.5%, down from 1.78% for Monday's testing, Gov. Andrew M. Cuomo said Wednesday.
The microcluster areas the state has been focusing additional testing and tighter regulations on, which include downstate locations, as well as some in Steuben and Chemung counties along the Southern Tier, amounted to a rate of 3.8%. Areas outside those microclusters had a rate of 1.3%.
Cuomo cited New York's overall positive test rate as being the second-lowest in the country. The World Health Organization recommends a positive test rate of 5% or below.
The Western New York region had a daily positive test rate of 1.9% for Tuesday's testing, in which there were 130 positives among 6,751 tests, according to state data.
The region, which had a state-high 2.6% daily rate for Monday's tests, had its seven-day average rate remain at 1.6% for the second straight day. 
Tuesday's regional rate was driven largely by Cattaraugus County, which had 32 cases among 340 tests for a daily positive rate of 9.4%; that raised the county's seven-day average rate to 2.3%.
Fellow southern counties Chautauqua and Allegany also had high rates. 
Allegany had 19 cases from among 464 tests for a daily rate of 4.1% and a seven-day average of 4.5%. 
Chautauqua had 19 positives among 622 tests for a rate of 3.1%; its seven-day average is 1.6%.
Erie County, which drove Monday's high rate with more than 100 cases and a 2.7% rate, according to state data, had 50 cases from among 4,485 Tuesday tests for a 1.1% rate and a seven-day average rate of 1.4%.  
Niagara County had 10 cases among 840 tests for a 1.2% daily rate that matched its seven-day average. 
The Buffalo News: Good Morning, Buffalo
The smart way to start your day. We sift through all the news to give you a concise, informative look at the top headlines and must-read stories every weekday.