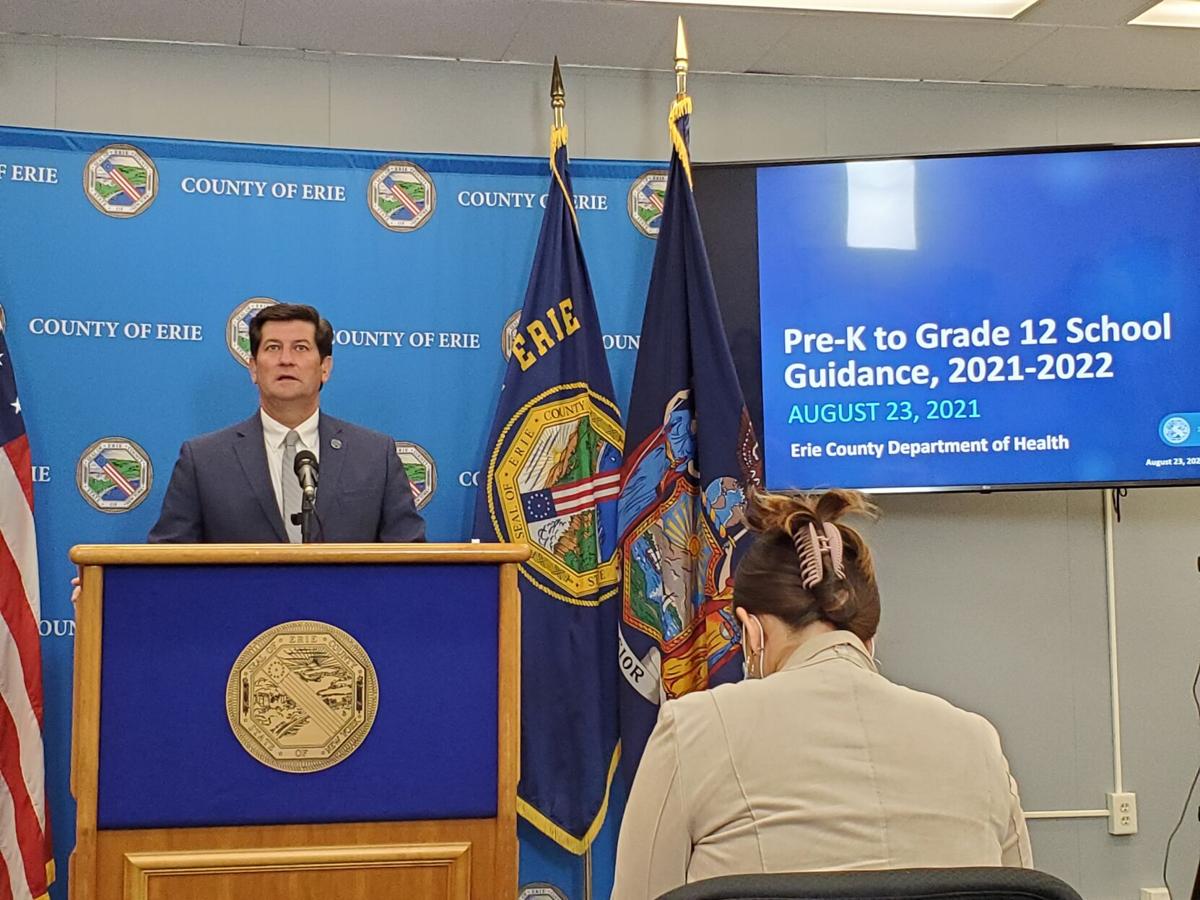 When the state Department of Health refused to issue reopening guidance for schools, Erie County Executive Mark Poloncarz said school leaders started calling him and asking the county to do it for the sake of consistency and clarity. 
So on Monday, Poloncarz and Health Commissioner Dr. Gale Burstein announced that all Erie County students and staff will be required to wear face masks when the school year starts. As part of a comprehensive guidance plan from the Erie County Health Department, in consultation with a focus group of representative education leaders, face mask requirements will apply to anyone age 2 and older.
"Our goal is to return all students to an in-school learning experience for every day of the school year," said Poloncarz, who stood with Burstein and school officials as he made the announcement.
He criticized the state Department of Health, which he said "abdicated its responsibility" to provide statewide guidance. The new guidance immediately applies to all public, private and charter schools and is built on guidance from the U.S. Centers for Disease Control and Prevention, he said. It may change as circumstances change.
He also pointed out that Lt. Gov. Kathy Hochul, who will officially begin her work as governor on Tuesday, may be issuing statewide guidance. She stated earlier this month that a school mask mandate is likely. 
Key among the county's new school reopening mandates is that everyone has to wear a mask inside schools and on buses. They are recommended, but not required, for outdoor activities. Mask breaks may be taken once an hour for about five minutes at a time. 
Among other school reopening requirements, Erie County will require:
• That schools implement physical distancing "to the extent possible," but the county places no mandated minimum distance requirement. This guideline was left flexible, based on conversations with school representatives, to ensure students are not excluded from in-person learning just to meet minimum distance requirements.
• Daily health screenings for school students, staff and visitors, including temperature and Covid-19 symptom checks upon entry.
• That moderate-to-high risk youth sports be paused for the entire team for 10 days if two members on a team test positive for the virus while considered infectious. This does not affect the students' and coaches' abilities to attend school or work. The new sports guidance is less restrictive than last year's guidance.
• For in-person band, orchestra and chorus, those who sing or play wind instruments must be 6 feet apart for practices and lessons, and be 6 feet apart for performances "to the extent practicable."
• Students and staff who have a Covid-like illness must stay home, or will be sent home. They may return to school if they test negative for the virus (at-home Covid tests not accepted), have a note with an alternate diagnosis from a medical provider, or 10 days have passed since the onset of symptoms.  
The county is distinguishing between those who have been vaccinated and those who haven't, when it comes to potential Covid-19 exposure.
Anyone considered a close contact of an infected individual is exempt from quarantine if they have been vaccinated, but should get tested for Covid-19 within three to five days. Close contacts who are not vaccinated must quarantine for 10 days and would be subject to additional Covid-19 testing.
In addition, anyone on a school team who is unvaccinated is barred from participating in school sports activities and practices for 10 days if a single player tests positive while infectious. But all other members of the team may continue to participate in sports activities if they are fully vaccinated unless a second member of the team tests positive.
The majority of parents understand the need for mask-wearing and the need to keep others safe, Poloncarz said. The county mask-wearing guidance is not optional. 
"Those parents who refuse to have their children masked in school, they're just not going to be allowed in school," he said. "If they so choose, they can home-school their children. They have that option."
Standing in support of the new guidelines and mandates outlined by Poloncarz and Burstein, were Erie 1 BOCES Superintendent Lynn Fusco; Dr. Dennis Kuo, Buffalo Public Schools medical director; Erie 2 BOCES Superintendent David O'Rourke; and Hamburg Central Schools Superintendent Michael Cornell, president of the Erie-Niagara School Superintendents Association.
"We have clarity around the path forward," Cornell said. "And we have flexibility in terms of how we operationalize certain aspects of it, like physical distancing and the like. That's important as we ride the rest of this out."
The plan is endorsed by the New York chapter of the American Academy of Pediatrics and the Buffalo Pediatric Society.
Some residents, parents and anti-mask groups object to mask requirements, stating that the new directives impinge on parent rights and children's rights to education. Some have also expressed concern that the mask mandate applies to children as young as 2, and that some children have medical issues that make mask wearing impossible. Many have threatened legal action against schools requiring mask wearing.
But school leaders have been increasingly opting for mask-wearing requirements as the Delta variant has led to Erie County once again being labeled a community of "high transmission," based on CDC standards, and children under the age of 12 still have no access to a Covid-19 vaccine.
The county's guidance permits mask-wearing exemptions for medical reasons, a sticking point for many considering legal action. Schools may require written proof of a medical or physical condition from a licensed medical provider before providing an exception.
Poloncarz said that parents opposed to mask wearing represent a vocal-but-small minority. Far more parents are willing to do what it takes to ensure students can safely return to school full-time. He also said parents and anti-mask groups who want to sue the county over its latest school mandates are free to do so.
"They can sue us," he said. "You'll waste your money if you do that."
Cornell pointed out that the last time students had 180-days of full, in-person classroom instruction was in 2018-19. That can't continue, he said. 
"When you do something like this, it doesn't represent the absence of disagreement," he said. "It's the result of what happens when you push through those things. You end up in a spot where everybody can say, 'OK, this is the right thing to do for our kids.' And again, it represents the all-in thinking around getting our kids in school for 180 days this year. Every kid. Nothing is more important than that."
Read the Erie County school reopening guidance here: