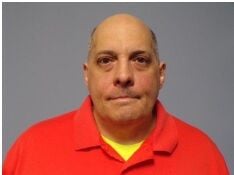 An Erie County man alleges in a recent Child Victims Act lawsuit that he was molested decades ago by a police officer assigned to advise students on personal safety, including the need to be wary of strangers.
The man, now in his 40s, says the officer victimized him in the early 1990s, when he was a student with Genesee Valley BOCES, which serves Genesee, Livingston, Steuben and Wyoming counties.
The suit filed Friday identifies Christopher Ferrara, a former staff member with the Wyoming County Sheriff's Department's "Officer Bill" program, as the molester.
Ferrara, who also was an officer with the Warsaw Police Department, was charged with first-degree sexual abuse in January 1992, when he was 25. The initial charge stemmed from Ferrara's conduct with a 10-year-old boy, who was not a BOCES student.
He pleaded guilty in 1993 to a felony count of attempted sexual abuse and served four years in state prison, court records show. His conviction was upheld on appeal.
Ferrara, according to the state's sex-offender registry, is 54 and living in Orleans County. Efforts to reach him Sunday by phone and email were unsuccessful.
The Child Victims Act, which temporarily waives the statute of limitations on decades-old abuses, has unleashed hundreds of lawsuits against major institutions in New York, especially the Catholic Church, schools and nonprofits that cater to children, such as the Boy Scouts. But the complaint filed days ago appears to be the first locally to stem from the actions of an officer assigned to work with students.
However, while it is rare for police to molest their students, it's not unheard of. In 2015, The Buffalo News compiled a database of more than 700 instances of police sexual misconduct from around the country. Around 5% of the cases involved officers assigned to work with young people – school resource officers, DARE officers and Explorer post advisers, for example.
The Warsaw police chief in 1992, William Blythe, told The News at the time that Ferrara had come to the department after working as an officer in Florida and immediately expressed an interest in counseling youths. With the arrest, state police set out to determine if Ferrara had molested others. His entry on the sex-offender registry notes a second victim, a 14-year-old boy, in addition to the 10-year-old.
The plaintiff in the recently filed lawsuit – identified in the document as PB-33 – says Ferrara befriended him and sexually abused him "on multiple occasions" when he was a seventh- and eighth-grade student at Genesee Valley BOCES from 1990 to 1992. PB-33 says he suffered physical and psychological injuries as a result of the abuse.
The lawsuit names as defendants the Wyoming County Sheriff's Office, Genesee Valle BOCES and their modern-day leaders, Sheriff Gregory J. Rudolph and Superintendent Kevin MacDonald. The defendants failed in their duty to protect students, the lawsuit says.