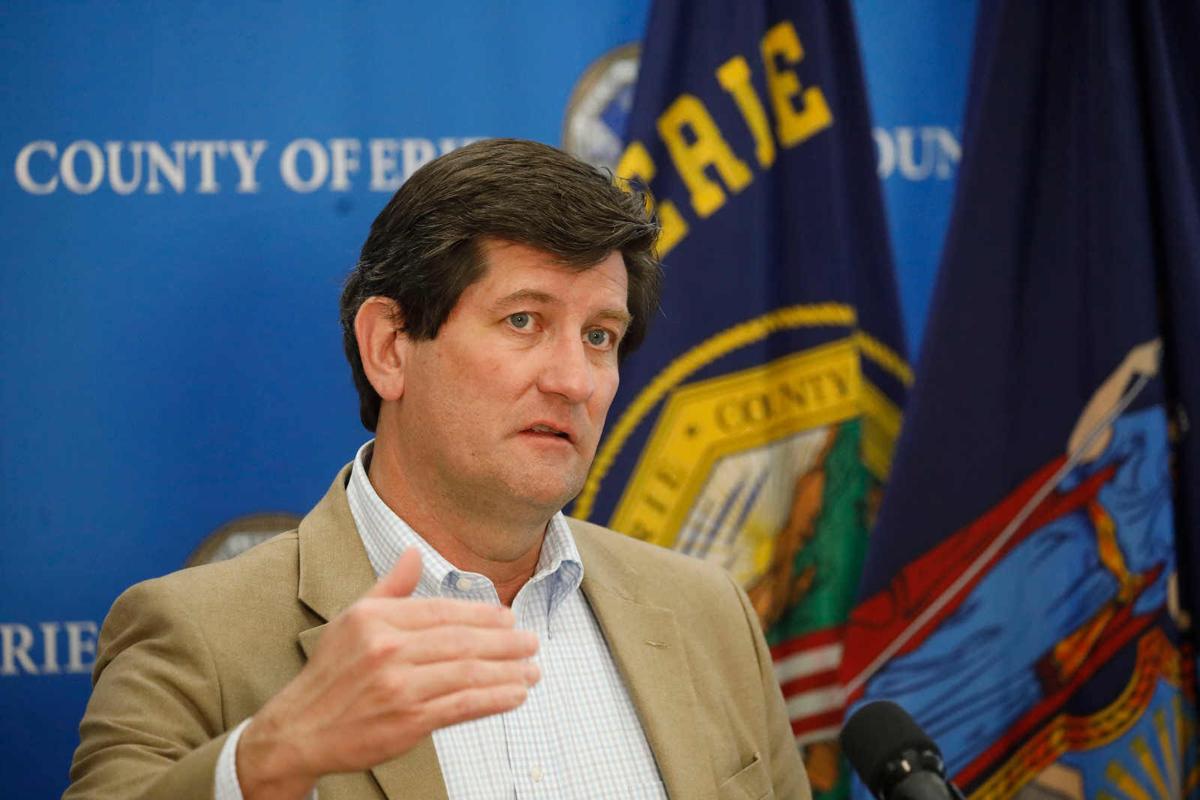 The issue of health disparities in Buffalo and Erie County is an old one. But the question of what to do about it keeps getting new answers.
The latest answer is the creation of a new Erie County Office of Health Equity, which will expand the county Health Department with an additional nine full-time jobs. Those salaries will initially be covered by federal American Rescue Plan dollars but will result in future recurring costs.
County Executive Mark Poloncarz called the new Office of Health Equity a necessary expansion of the area's African American Health Equity Task Force. He pointed to that group's role, along with community partners, in successfully shrinking the racial disparity in Covid-19 deaths that were occurring in the spring of last year. 
"We're not going to just say, OK, Covid's done now, or almost done, and we can just ignore these disparities, because they exist, and they need to be addressed," he said.
While Covid-19 drew renewed attention to the local health disparities issue, the nature of the disparity has been known for a long time. Erie County fares worse on many state and national averages when it comes to premature deaths, lack of preventative care and childhood poverty among African American residents.
Erie County, as a whole, isn't very healthy to begin with, ranking in the "lower middle" range of counties in New York, according to the County Health Rankings and Roadmaps program, developed by the University of Wisconsin Population Health Institute.
U.S. News and World Report gave Erie County an overall community health score of 53, on a 100-point scale. But for health equity, the score dropped to 22, due to the racial gap in pollution exposure and premature deaths.
As previously reported, African American children in the county are nearly five times as likely as white children to live in poverty. Almost half of them do.
Black children in the county are twice as likely to die before they turn 18 and more than twice as likely to die within a year after birth, while Black girls are 2 1/2 times more likely than whites to give birth in their late teens, the County Health Rankings report shows.
And the neighborhood you live in may matter more than any natural predisposition to illness, according to the report and many public health leaders.
Several local groups already exist to grapple with the issue. That includes the local African American Health Equity Task Force and the University at Buffalo Community Health Equity Research Institute, which launched in December 2019. 
The Rev. Kinzer Pointer, one of the conveners of the African American Health Equity Task Force, said the East Side and parts of the lower and upper West Side are among the worst off. 
Dr. Timothy Murphy, director of UB's Health Equity Research Institute, said only five or six ZIP codes in Buffalo account for much of the bad outcomes for Erie County. Without them, the county's ranking wouldn't be near the bottom, like it is now, when comes to matters of health equity.
When Covid-19 struck, the task force worked with Erie County Medical Center and other partners to set up neighborhood-specific testing sites and worked to provide distressed neighborhoods access to nutritious food. As the disparity in Covid-related deaths began to shrink, the task force and its partners received both credit and attention.
In April, Erie County Legislature Chairwoman April Baskin announced, as part of her legislative package, that she intended to push forward a law creating the Office of Health Equity. Poloncarz said he and Baskin were like-minded in the desire to address this issue in a larger and more permanent way. 
"We asked the Health Department to come up with what they felt they needed to create a health equity office," he said. "There are partners in the community that we'll be working with."
Baskin said she will be submitting a local law to the County Legislature on Thursday to amend the county charter to make the Office of Health Equity a permanent county office. 
When the American Rescue Plan money became available, Poloncarz agreed to devote a chunk of it to personnel devoted to addressing the health gap.
The office also will have a separate advisory board, comprising experts on minority health, who can provide insight and recommendations to the members of the new health equity director. While the county allocated $3 million to the African American Health Equity Task Force last year, Baskin said outsourcing the action plan to address health disparities isn't a permanent solution.
"We cannot be sending millions of dollars to agencies to handle decades of injsutice and barriers that have been created when it comes to addressing inequities with minority and underrepresented communities," Baskin said. "The county has to play a partnership role."
Pointer said that even though other groups exist, the problem is still big enough to require more dedicated resources.
"We need a robust approach," he said. "It can't just be the regular business of public health. There needs to be a deliberative effort to do this work. It kind of needs an all-hands-on-deck approach."
With the addition of a director, project coordinator, health educator and other positions, the new office's payroll will exceed $300,000 in new salaries that will eventually be part of the county's recurring costs.
Some question whether a new office with nine positions and a yet-undetermined plan for addressing health equity issues is capable of fulfilling its mission. County officials said they have not hired anyone yet, and Health Department representatives offered no comment about how the office would work. 
"I think it's a pretty big step to create this massive expansion of the Health Department, when we don't even know what it's for," said Erie County Minority Leader Joseph Lorigo. "Furthermore, it begs the question of whether Erie County was applying public health unfairly over the last decade. What's the office going to actually do?"
Whatever the plan is, it has to be a collective plan, said Murphy, a distinguished professor at the Jacobs School of Medicine and Biomedical Sciences.
He pointed to the UB institute's role in gathering the research from across all disciplines at the university to apply to the problem, which encompasses many social determinants of health, such as poverty, education, safety, healthy food access and deteriorated neighborhoods.
"We've got to figure out what works and what doesn't work," he said.
Similarly, he said, the county's new Office of Health Equity can't work in isolation. It needs to be invested in the community, bringing outside people with a stake in the issue to the table to develop new ideas and plans, he said.
"Involve them early on," he said, "not after it's already designed."