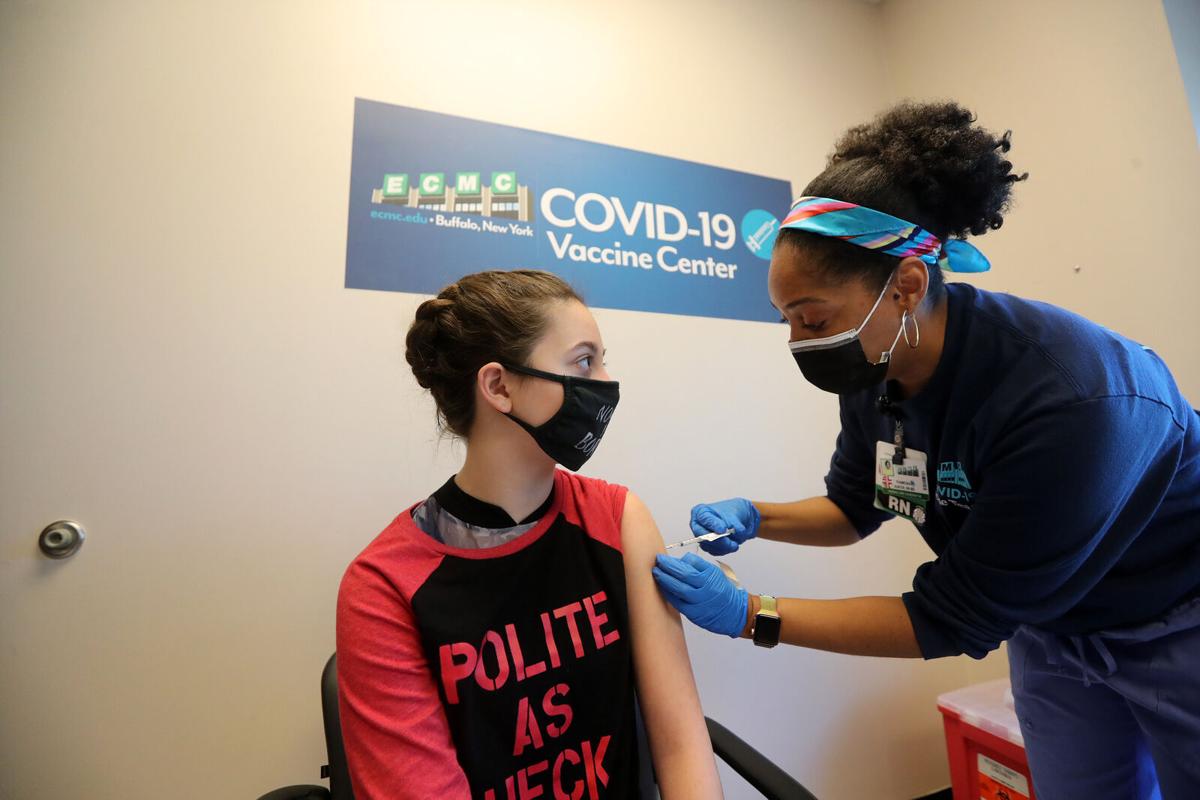 The positive impact of the Covid-19 vaccine in Erie County is evident when you look at the ages of people who are testing positive now.
A new pop-up Covid-19 vaccination clinic is scheduled to open Friday at the Northwest Commu…
Unlike the early days of the health crisis, when it was older adults and seniors who were testing positive most often – or even months later in early spring, when it was adults in their 20s and 30s who tested positive in the greatest numbers – the group most at risk now are those in the 10 to 19 age group.
Last week, 35 children and teens in this age range tested positive for the virus – more than any other age group, according to data released Tuesday by the Erie County Health Department.
Another 17 children under the age of 10 also tested positive.
Compare that against only six positive cases among those in the 70s, and another six cases among those who are 80 and older. Seniors have the highest vaccination rate of any age group, and the lowest positive case numbers.
The county has had months to beat the drum for adults to be vaccinated. Seniors now have had half a year to access the Covid-19 vaccine supply.
But the Pfizer vaccine was only cleared for use in children as young as 12 four weeks ago. And that vaccine requires two doses for full immunity.
Even then, however, the overall numbers of Erie County residents testing positive have fallen dramatically for all age ranges. Instead of positive weekly cases being measured in the hundreds, as they once were, they are now being measured in the dozens.
In early May, more than 1,000 county residents a week were still testing positive for the virus. Last week, that number had plummeted to 178. That amounts to only 19 new cases for every 100,000 county residents.
From 11 a.m. to 3 p.m. Sunday at Savoy, Forty Thieves and Mr. Goodbar, those who receive a vaccine will receive a mimosa in a complimentary champagne flute.  
Positive test percentages have fallen every week for eight consecutive weeks, the Health Department said. The only age groups with a positive test percentage over 1% were those ages 0-9 and those ages 10-19.
But there are bright spots for these age groups, too.
The county was aware of only 46 positive cases among school-age children last week, the lowest total since October.
Covid-19 related deaths have not fallen at a similarly swift rate.
The county has so far recorded 64 deaths for May, which is lower than the number of deaths in April, but still higher than the death total in March and higher than the monthly death totals for last summer.