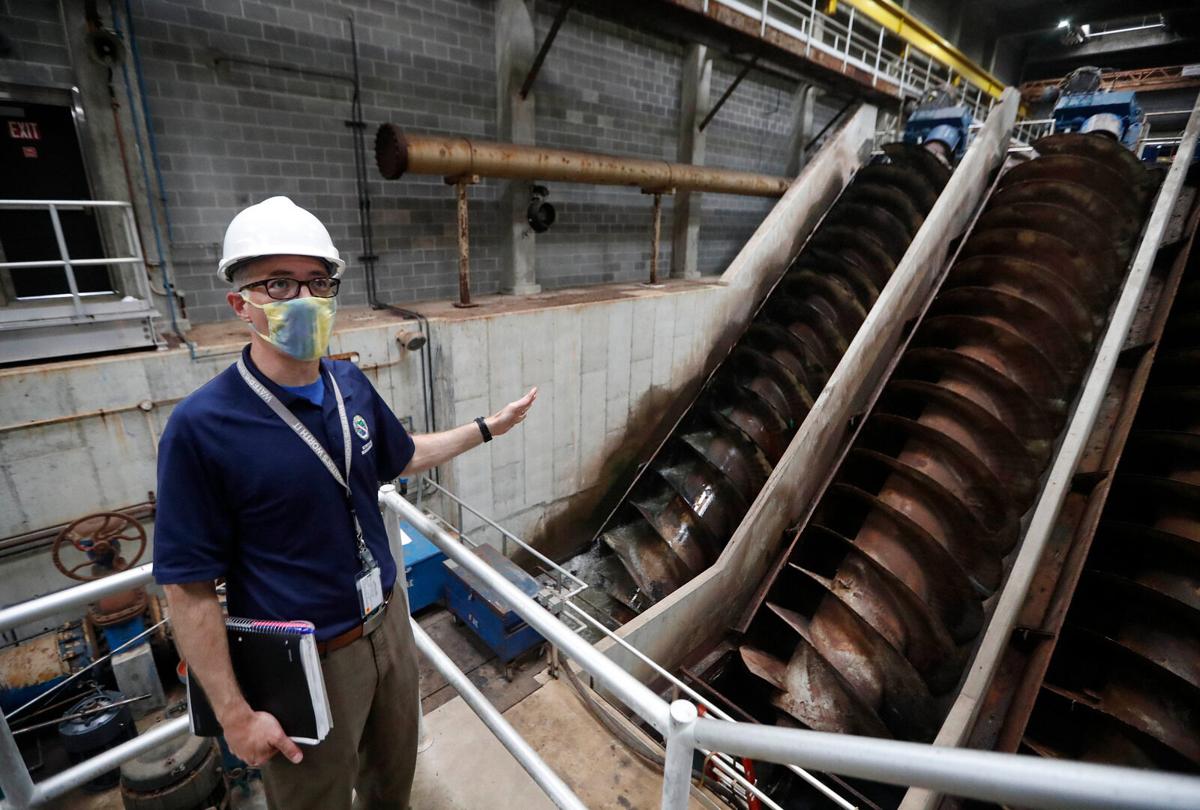 When it comes to expensive government projects, certain things are all but guaranteed to stir the ire or the curiosity of the citizenry. Highway repairs. Recreational opportunities. Constructing or razing public buildings.
Passions seem to ebb, however, when the subject is sewer systems.
But because of their importance, Erie County is preparing to spend $32.7 million of its first batch of American Rescue Plan money on county sewer system improvements, more than any other infrastructure spending category. The reason is simple if not paradoxical: The boring old sewers hardly anyone thinks about are a matter of life and death.
"To be blunt, people live longer because of sewers," said Joseph Fiegl, the county's deputy commissioner of sewerage management, in his address to the Erie County Legislature last month. He noted that they are a complex network of pipes, pumping stations and treatment plants that serve as the key to clean water, healthy rivers and lakes, and the elimination of waterborne diseases for many living things, including people.
"Our lakes and our waterways have advanced past their horrible conditions over the last century because of this infrastructure," he said. "Sewers are needed for businesses to develop and to grow."
The county has roughly 1,100 lines of sewer pipe, nearly enough to stretch from Buffalo to Disney World, he said. Typically, the only thing the public associates with these sewer lines are toilets and manhole covers. But while these pipes are designed to last decades, eventually they need to be repaired and replaced.
Meanwhile, roughly 100 county pumping stations keep sewage streams moving in the right direction when gravity alone can't do the job. Six county treatment plants clean and disinfect wastewater before returning the water to local rivers, creeks and Lake Erie. That doesn't count the additional sewer systems run by individual cities and towns.
All these things have moving parts that need to be repaired and replaced over time for human and environmental safety and efficiency, he said.
So when the engineers in the county's sewer division learned that sewer systems qualified for American Rescue Plan funds, they got excited.
"These are things that are critical for society," said Fiegl, an environmental engineer. "We all hear the poop jokes and things like that. You can't get into this business without enjoying that a little bit, but we get into this because we understand the importance of this industry."
In June, Erie County Executive Mark Poloncarz broadly introduced the county's priorities for the use of this year's $89 million in American Rescue Plan dollars, plus $34 million more in state money, in his RENEW Plan, which stands for Reinvest in Erie's Neighborhoods and Employ our Workforce. Money for sewer upgrades accounts for more than a quarter of all this spending.
Some of that money needs to go to Hamburg and the county's largest treatment plant near Woodlawn Beach.
The sound of 200-horsepower motors and rushing water fill a cavernous room where giant, spiral screw pumps elevate water to its highest point in that facility. Foul, slate gray water travels up an open screw pump on one side, bringing with it untreated sewage from an initial screening chamber in preparation for movement through a series of biological, physical and chemical cleaning and disinfecting processes.
On the other side, a similar screw pump takes the cleaned and disinfected water and raises it one last time for travel through a discharge pipe that pours the cleaned, clear water a few thousand feet into Lake Erie.
Four other screw pumps wait on standby for use in major water events or to cover for any pump out of service in this 24-hour operation, which covers the sewer needs of roughly 85,000 people. Prior to discharge, all the water is disinfected with sodium hypochlorite.
Upgrading this pumping, disinfection and discharge system alone carries a price tag of roughly $20 million in American Rescue Plan money, Fiegl said. 
But deciding where money should be prioritized on sewer system upgrades depends on several factors. They include:
• The likelihood of failure in some part of the system and the severity of consequences for that failure. Is the fix worth the amount of money and engineering time required?
• Upgrades required to meet tighter regulatory standards. Does money need to be spent to meet the state's Department of Environmental Conservation permit requirements?
For instance, while the Southtowns treatment facility has a disinfection system that works fine, the state has lowered the amount of residual chlorine that can be left in treated water before it's discharged. That means the county needs to either build another holding tank to give chlorine more time to dissipate, or it must invest in a new UV disinfection system, Fiegl said. Federal stimulus funds will be used to cover one cost or the other.
• Efficiency considerations. Can money be spent to improve sewer system efficiency and save energy?
• The ability to estimate, design and execute a sewer project before the expiration of federal stimulus funds. This American Rescue Plan money must be earmarked by the end of 2024 and spent by the end of 2026.
"That may sound like a lot of time, but some projects have a two-plus year construction period," Fiegl said.
The second phase of upgrades for the Southtowns treatment facility, for example, would upgrade and expand the aerators and clarifiers used for solids breakdown and sewage cleaning. But that phase is likely to cost at least $80 million and take much longer than federal stimulus money deadlines will allow, Fiegl said.
Planned sewer improvements
Developing realistic estimates for some sewer system upgrades is difficult because the Covid-19 pandemic has disrupted so many supply chains. But Fiegl said his office is ready to go with $6.8 million in investments to repair sewer lines and manhole covers.
That money will be used to rehabilitate 160,000 lineal feet of pipe in in Cheektowaga, Lackawanna, Evans, Eden and Hamburg. To improve sewer flow and capacity in these deteriorating pipes without digging up and excavating an entire roadway, the county will insert and inflate a cloth-like liner that is cured from the inside to seal and smooth out the interior pipeline.
In addition to these sewer line repairs, which should last at least 50 years, the county intends to spend money to:
• Rehabilitate digesters that break down waste solids at the Lackawanna treatment plant.
• Install a UV disinfection system at the Big Sister Creek treatment plant in Evans to neutralize germs and replace blowers – essentially large fans – that introduce air to sewage and enable bacteria to break down waste.
• Replace emergency, backup generations at county pumping stations.
"We have a huge list of projects that we're going to advance," he said.
While the biggest chunk of money is going to upgrade the Southtowns treatment facility near Woodlawn Beach, Fiegl cautioned these changes many not have a significant impact on water pollution levels at the beach that result in occasional closings. Of the five sources of potential bacteria that enter the water near the beach, he said, four have nothing to do with the output from the treatment plant.
Nevertheless, he said, improvements to the Southtowns facility may help.
"We're doing our part," he said.