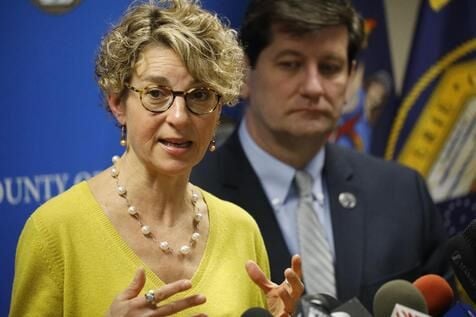 Erie County has publicly identified three nursing homes with recent surges in Covid-19 cases, including Autumn View Health Care Facility in Hamburg, where 51 residents tested positive last week, the largest outbreak among nursing homes in the region since October.
County Health Commissioner Dr. Gale R. Burstein revealed in a letter to Erie County legislators this week that Autumn View, Elderwood at Grand Island and Greenfield Health and Rehabilitation Center in Lancaster had infections rates of 5% or more for the week ending Nov. 14.
Autumn View had 51 cases, Elderwood had five cases and Greenfield had 12 cases, according to Burstein's letter.
It was the first time county officials publicly identified a nursing home outbreak since the Legislature passed a resolution Nov. 5 ordering the release of the names of any nursing homes in the county that had an infection rate of at least 5%.
County officials previously cited federal privacy regulations as the reason they didn't disclose an outbreak at Comprehensive Rehabilitation and Nursing Center in October that prompted federal officials to send a "strike team" to the facility. Over a two-week period, 61 residents and 17 staff members tested positive for Covid-19, more than any other nursing home in the state during that time.
The Buffalo News first identified the outbreak at Comprehensive Rehabilitation on Oct. 22, based on federal data posted at the Centers for Medicare and Medicaid Services website.
While other counties in Western New York have been publicly identifying nursing home outbreaks for some time, Burstein and Erie County Executive Mark C. Poloncarz had maintained that Erie County would do so only if there was a reasonable risk of exposure to the general public. Legislators called for more transparency and unanimously adopted a resolution demanding that Erie County publicly release information on nursing home outbreaks.
A spokeswoman for McGuire Group, owner and operator of Autumn View, said that 54 residents of the Hamburg facility tested positive for coronavirus over the past three weeks and were transferred to Harris Hill Nursing Facility in Lancaster, which McGuire in May converted into a Covid-19 only facility. Two of those residents died, said Dawn Harsch, the spokeswoman. Nineteen of the residents with Covid-19 recovered and have returned to Autumn View.
Harsch said 18 of Autumn View's 320 staff also tested positive the week ending Nov. 14 and were quarantined at home.
"Autumn View has treated and released more than 850 rehabilitation patients from the five-star facility since March," Harsch said in an email. "As the region's number of cases increases, it's logical to expect that a busy rehab facility with multiple patients accepted, treated and released would find more cases as well."
Harsch said state health inspectors made an unannounced visit to Autumn View on Nov. 10 and found no issues with the facility.
Another McGuire Group nursing home, Garden Gate Health Care Facility in Cheektowaga, also had 22 residents test positive last week. Burstein, however, did not include Garden Gate in her letter. Garden Gate has 186 beds, which would mean nearly 12% of residents tested positive.
Burstein did say in her letter that the she was providing the information with several caveats, including that some data might include "persistent positives" from residents who continue to test positive for Covid-19 for an extended period.
Chuck Hayes confirmed that Elderwood at Grand Island had five residents last week test positive and one resident this week. The Grand Island facility has 90 beds.
"There was a resident who was diagnosed yesterday," said Hayes, a spokesman for Elderwood, which operates nine nursing homes in Western New York.
Hayes said Elderwood regularly updates families on the status of Covid-19 cases in its facilities.
"Anytime, there is a new case within a facility, every family is notified of that new case," he said.
A voice message left for the director of the Greenfield Health and Rehab Center was not returned.
Visits to nursing homes located in "orange zones" of Erie County were suspended beginning Friday, under new state restrictions aimed at limiting further spread of coronavirus within geographic areas with high positive test rates.