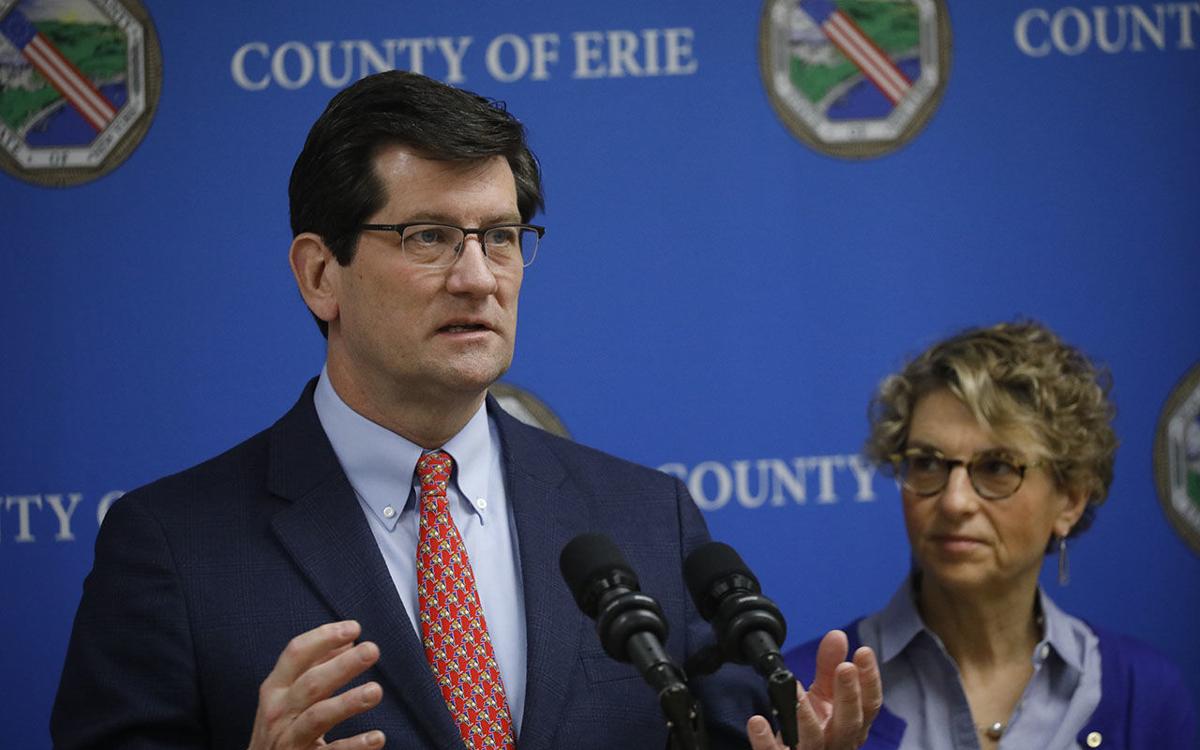 Two weeks after Buffalo and its surrounding suburbs were designated an "orange zone" that shut down schools, gyms and hair salons and banned indoor dining, the rate of new confirmed cases of Covid-19 has begun to level off.
Hospitalizations are a different story.
Erie County officials said Wednesday that without further changes in behavior – even with orange zone restrictions in place – the number of people hospitalized in Western New York for the virus could more than triple by late January. That could occur even if, as expected, some New Yorkers begin getting vaccinated to prevent the virus this month.
Avoiding that scenario might take a shutdown of all nonessential businesses, like what the state experienced earlier this year, they said.
"We are trying to avoid a shutdown ... and the best way to do that is to reduce the spread of the coronavirus to stop this pandemic from growing," Erie County Executive Mark Poloncarz told reporters Wednesday in a video news conference.
The grim news came as some of the first concrete plans about Covid-19 vaccine distribution were announced.
New York State will receive 170,000 doses within just a couple of weeks and Erie County is preparing to appoint a "vaccine czar" to oversee the distribution process locally.
Hospitalizations in Western New York are of particular concern to local leaders. As of Monday, 432 patients were admitted to Western New York's hospitals for Covid-19, according to Poloncarz. During this summer, that number was down to just a couple dozen patients.
But over the last three weeks, the five-county Western New York region's increase in hospitalizations has reached 262%, the largest increase in the state, Gov. Andrew M. Cuomo pointed out Wednesday.
Projections about hospitalizations in Western New York indicate that without a dramatic change in behavior, there could be 1,400 patients in the region's hospitals by late January. A shutdown would bring about a steep decrease, according to the analysis by Dr. Peter Winkelstein, executive director of the University at Buffalo's Institute for Healthcare Informatics, who has been working with his team to try and forecast the impact of higher cases on hospital admissions.
The rising number of hospitalizations will translate to more deaths, Poloncarz said, and that has prompted conversations about readying cold storage trailers to hold bodies, should hospital morgues run out of space. During the spring, the county had two such trailers ready but they were never used, he said. Last week, county officials also began talking about the possibility of converting the Buffalo Niagara Convention Center into a field hospital to hold more patients, if necessary.
To bring down hospitalization numbers and to stop the further spread of the virus, County Health Commissioner Dr. Gale Burstein said it will take more aggressive actions by the public – not just wearing masks, but also avoiding gatherings with people outside the household and not going into stores.
"Don't invite people over at a house for a Bills game. Don't go out to other people's houses for dinner or to play cards," she said.
Up to a third of local cases in the top 10 ZIP codes for Erie County can be attributed to "family spread," Poloncarz said.
"We're not telling you necessarily to wear a mask in your house when you're with your family but you need to understand if you're out in public, and you're around other people who don't wear masks, there's a chance you could catch it and then spread it to your own family members," he said.
Covid is appearing throughout Erie County, with new hot spots identified in Wales as well as the Black Rock/Riverside neighborhoods of Buffalo, Poloncarz said.
"There's consistent and persistent community spread in the entire region," he said.
At a Wednesday briefing with media, both Poloncarz and Burstein acknowledged that even some Health Department employees are under quarantine due to Covid-19.
"The Erie County Health Department, and I think all departments in the county, have experienced some staff falling ill with Covid-19," Dr. Burstein said. "I mean, it's pervasive in our community and so it would be not unexpected."
"We do not believe that there's any risk to the general public," Poloncarz said.
Health department "inspection operations are continuing; any staff who are in isolation or quarantine are excluded from the work setting until their isolation/quarantine period ends," said Health Department spokeswoman Kara Kane in an emailed statement.
But there is potential for good news coming soon. New York State's first doses of a coronavirus vaccine are expected to arrive in the state in the next couple of weeks, Cuomo said Wednesday.
Cuomo said 170,000 doses are expected by Dec. 15, pending safety approvals.
The governor tempered news of those first doses with what he views as the challenges to administering the vaccine while also stressing that the state needs to surmount rising Covid-19 cases that are poised to stress the state's hospitals.
"The bad news is we have another mountain to climb," Cuomo said of rising rates and hospitalizations during this holiday season. "The good news is the goal line is in sight. The goal line is a vaccine that we administer, that people accept."
Cuomo says the initial 170,000 vaccine doses and an expected additional 40,000 Moderna vaccines coming in December would be able to cover the first priority population for the vaccine: the state's nursing home population of residents and workers.
Health care workers would follow nursing homes/long-term care patients and workers, Cuomo and staff said.
Those numbers would be altered, Cuomo and state officials said, depending on how many people refused the vaccine, something the governor said he is trying to avoid as much as possible.
"You can't mandate that somebody takes the vaccine," Cuomo said. "We're not mandating; I don't think it would be successful" due to court challenges.
"We're trying to do it the other way, show that it's safe," the governor said, saying that the state is planning vaccine public awareness campaigns.
News staff reporter Sandra Tan contributed to this report.