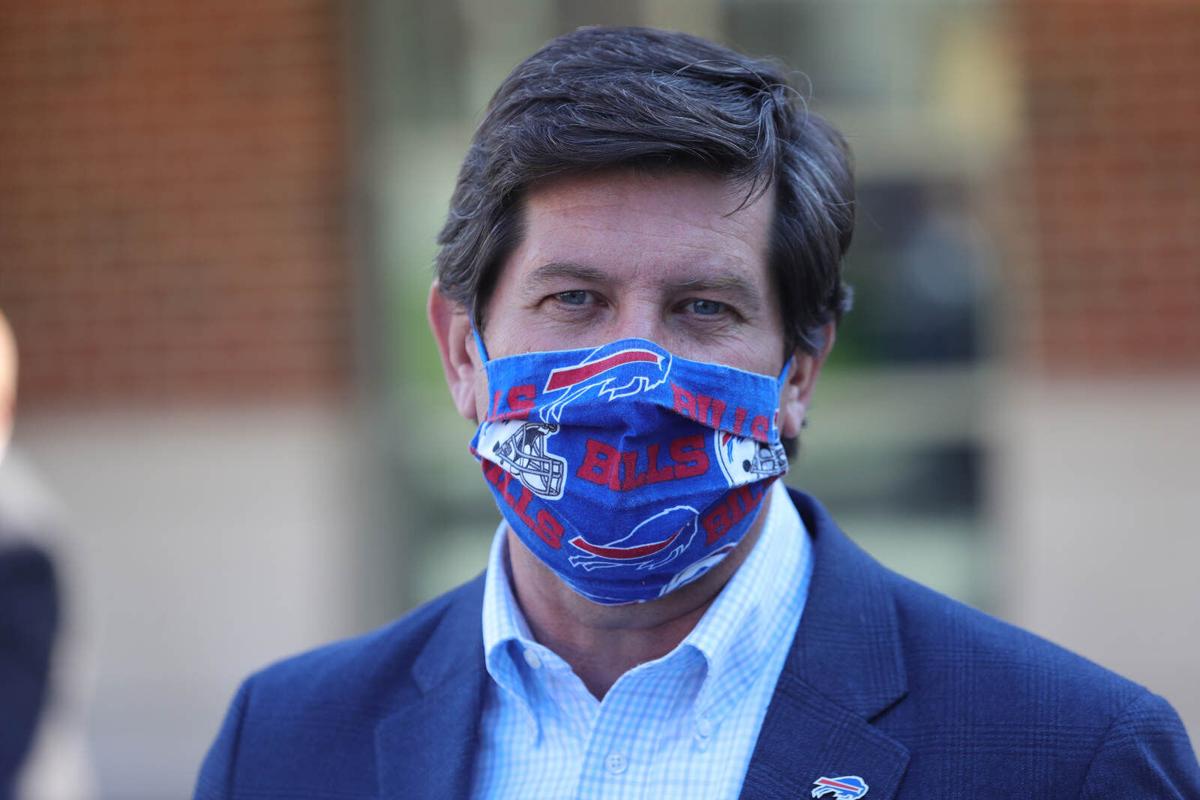 With 198 new cases Friday, Erie County has crossed the threshold from "substantial" to "high" transmission of Covid-19.
The county Health Department said on Twitter Saturday that Erie County now has 101 cases per 100,000 residents. According to the U.S. Centers for Disease Control and Prevention, 100 cases and up is considered high transmission.
However, the county had not pegged any automatic policy changes to the high category. County Executive Mark C. Poloncarz retweeted the Health Department statistics without announcing anything new.
Since July 31, everyone entering a county facility is required to wear a mask regardless of vaccination status.
"We are still strongly encouraging people who are eligible to complete the primary vaccine series, to seek a diagnostic Covid test if they have an Covid symptoms or are a close contact, and to follow other public health recommendations to reduce the risk of Covid transmission," Health Department spokeswoman Kara Kane said in an email.
Elsewhere in Western New York, only Genesee County had a high transmission rate Friday, according to the CDC map.
The region had the third-lowest positive test rate in the state on Friday at 3.36%; only New York City and the Southern Tier had lower rates.
Gov. Andrew M. Cuomo announced late Saturday afternoon that 54,431 vaccine doses were administered statewide on Friday and 18 deaths were recorded, including two in Erie County and one each in Chautauqua and Niagara counties.
The seven-day statewide positive test rate is 3.12%.
Nationally, the number of daily Covid-related deaths numbered between 400 and 500 at the start of the week and has surpassed 1,000 each on Thursday and Friday as the Delta variant continues to proliferate, according to the World Covid Tracker, which includes data compiled by Johns Hopkins University and The New York Times. Southern states with low vaccination rates have been particularly hard hit.
The late-week numbers are less than half of what the U.S. experienced in deaths during many of the first few months of the pandemic and one-fourth of losses during the worst of the pandemic late last year and early this year.
The Western New York Covid-19 Working Group on Saturday reported that 95% of those who have died recently in Erie County were unvaccinated. Its members strongly recommended everyone wear a mask indoors unless with loved ones and close friends, as well as outdoors at large gatherings.
Most recent vaccinated hospitalized patients were immunocompromised or had more than one chronic health condition, said Dr. John Sellick Jr., a Working Group member and epidemiologist and infectious diseases physician who oversees infection prevention at Kaleida Health and the Buffalo Veterans Affairs Western New York Health System.
"The Delta variant is as transmissible as chicken pox," the group of doctors, infectious disease control specialists and public health leaders said in a statement. "Covid-19 vaccines provide good protection against moderate to severe disease, hospitalization, and death from the Delta variant. ...
"It is still possible to get a Covid-19 infection after a vaccine. This does not mean the vaccine isn't working."