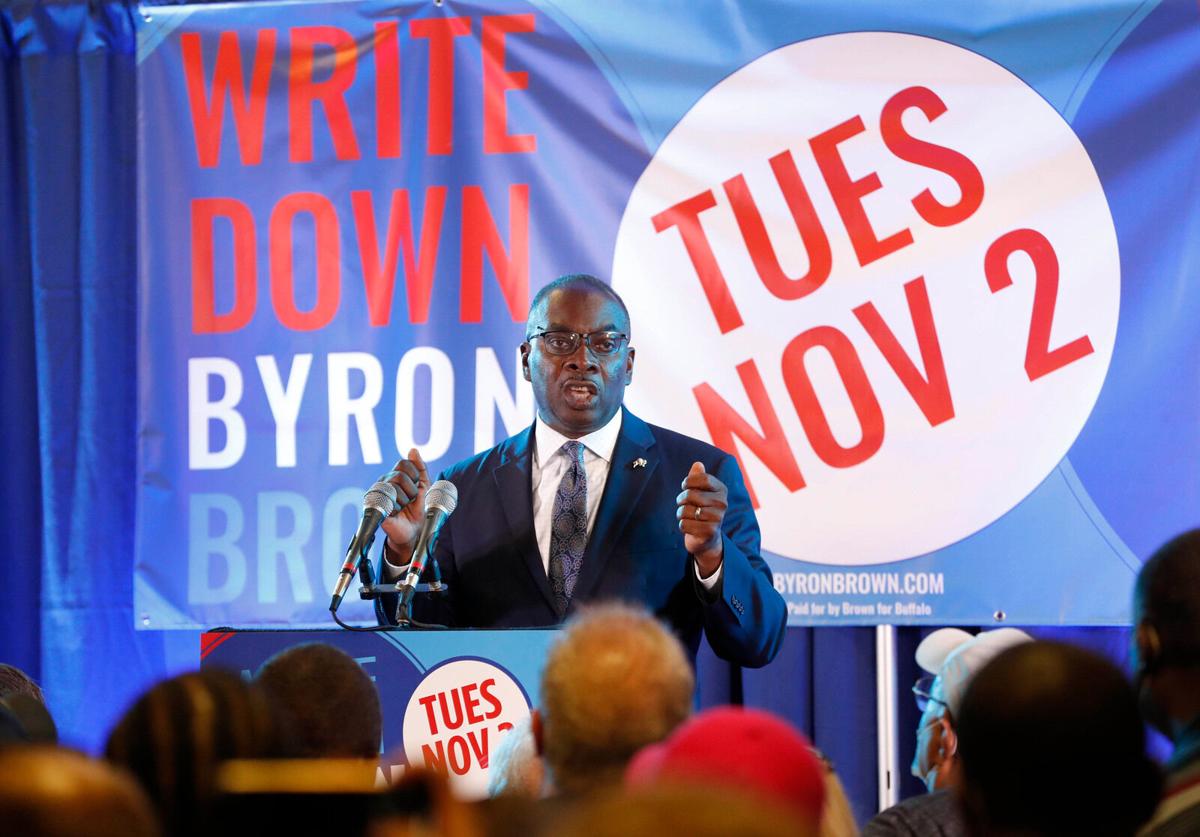 Byron Brown's status on the November ballot for mayor of Buffalo remains unclear as Erie County elections commissioners voted Tuesday to appeal a federal court ruling granting him an independent line.
Mohr, however, nixed an appeal of State Supreme Court Justice Paul B. Wojtaszek's companion ruling. He cited the need for consistent "impartiality" by the board.
After Brown's loss in the June Democratic primary to challenger India B. Walton, he announced a write-in campaign to hold onto the mayor's office. An independent line would be the only way his name appears on the ballot.
The commissioners' appeal of the federal ruling now piggybacks a simultaneous appeal filed Tuesday by the Walton campaign, which is also appealing the state judge's ruling.
Brown's campaign has disputed a petition filing deadline set earlier this year by the State Legislature requiring independent nominating petitions for political office to be filed no later than 23 weeks before a general election.
On the Sinatra ruling, Zellner and Mohr agreed that the confusion over ballot deadlines, and the possibility of others seeking a new ballot line in coming days, could result in "chaos" as officials seek to meet a Thursday deadline for printing military and absentee ballots.
"This is precedent setting for future boards by those challenging any date," Mohr said. "This would be administratively untenable."
Elections officials noted that Brown remains on the ballot until an appeals court rules otherwise, while the Walton campaign said it will challenge the Wojtaszek ruling in the Appellate Division of State Supreme Court, guaranteeing further scrutiny of both decisions despite the board decision to pass on the state case.
The unusual hearing held at board headquarters on West Eagle Street drew about 10 Walton supporters and none for the mayor, all imploring the board to appeal both rulings. Several returned to the basic premise that Walton won the June Democratic primary and Brown lost. They said election law held that Brown missed his opportunity to file petitions for his new Buffalo Party, and that he should continue to rely on his write-in campaign that is unprecedented by a major candidate.
"Election law can be manipulated for a desired outcome," said Joan Simmons, a Walton supporter. "This is a miscarriage of justice and a misapplication of election law."
Attorneys invoked the Supreme Court's Anderson v. Celebrezze ruling nearly 38 years ago in arguing that New York's early petition deadline discriminated against Brown's independent run for mayor. 
She was referring to the Brown campaign's reliance on a 1983 U.S. Supreme Court decision in arguing that New York's early petition deadlines discriminated against any independent effort and harmed voters. Betty Jean Grant, former chairwoman of the Erie County Legislature and a Walton supporter, said that as former chairman of the New York State Democratic Party, Brown should have been well aware of filing deadlines for ballot qualification.
"If we don't respect deadlines, we're no better than Russia or other countries that flaunt the laws enacted by duly elected bodies," she said.
In addition, several other Walton supporters sought a reversal of Sinatra's ruling because of the close relationship of his developer brother – Nick Sinatra – to the mayor and connection to building projects in the city.
But neither commissioner cited Sinatra's refusal to recuse himself from the case as a basis for an appeal. Instead, Zellner pointed to the 2020 adjustments in voting deadlines enacted amid the Covid-19 pandemic. The Friday decisions, he said, now place an "undue burden" on the Board of Elections and open the door to others seeking to join the mayoral ballot.
"In fact, we have already been contacted by individuals who say they are planning to submit independent petitions of their own, since the validity of standing deadlines has been called into question," Zellner said. "The potential, present and future, in these precedents for creating confusion for candidates and voters, as well as chaos that could bring our operations to a halt for prolonged periods, is of great concern to me and, I believe, many members of the public."
In the meantime, the Walton campaign ensured more court action on the independent line question by filing its own appeal with the Second Circuit of the U.S. Court of Appeals in New York City and the Appellate Division of State Supreme Court, which it said is expected to be reviewed on Sept. 16 in Rochester. Walton also did not cite any conflict of interest on Sinatra's part as the basis for its challenge to his ruling, but instead cited questions of law.
She told The Buffalo News that she remains confident that her legal team will prevail, labeling the entire Brown challenge an effort to drain the campaign of needed resources.
"Any person who has watched this race would agree that he is not an independent candidate and should not be given an independent line, and our campaign, our legal team, believe that we have legal recourse to challenge this in the appellate courts," she said.
Her campaign, meanwhile, claimed "voters have raised serious concerns about Judge Sinatra's refusal to recuse himself, especially in light of past financial contributions that he or his former law firm may have made to Brown's campaigns, as well as the close and long-standing relationship between his brother – real estate developer Nick Sinatra – and Brown," the campaign said. "But the basis of both the state and federal appeals is that the judges incorrectly applied the governing law."
Brown spokesman Conor Hurley said the campaign remains "confident that the rulings of two judges will be upheld."
"Regardless of the outcome, we believe voters will support Mayor Brown in the general election," he said.
Zellner said his office hopes that the Second Circuit will expeditiously review the appeals filed Tuesday as printing deadlines loom. And Mohr added that board efforts to seek participation by the state attorney general to defend the state laws proved unsuccessful, putting the financial burden for the appeal process on Erie County.