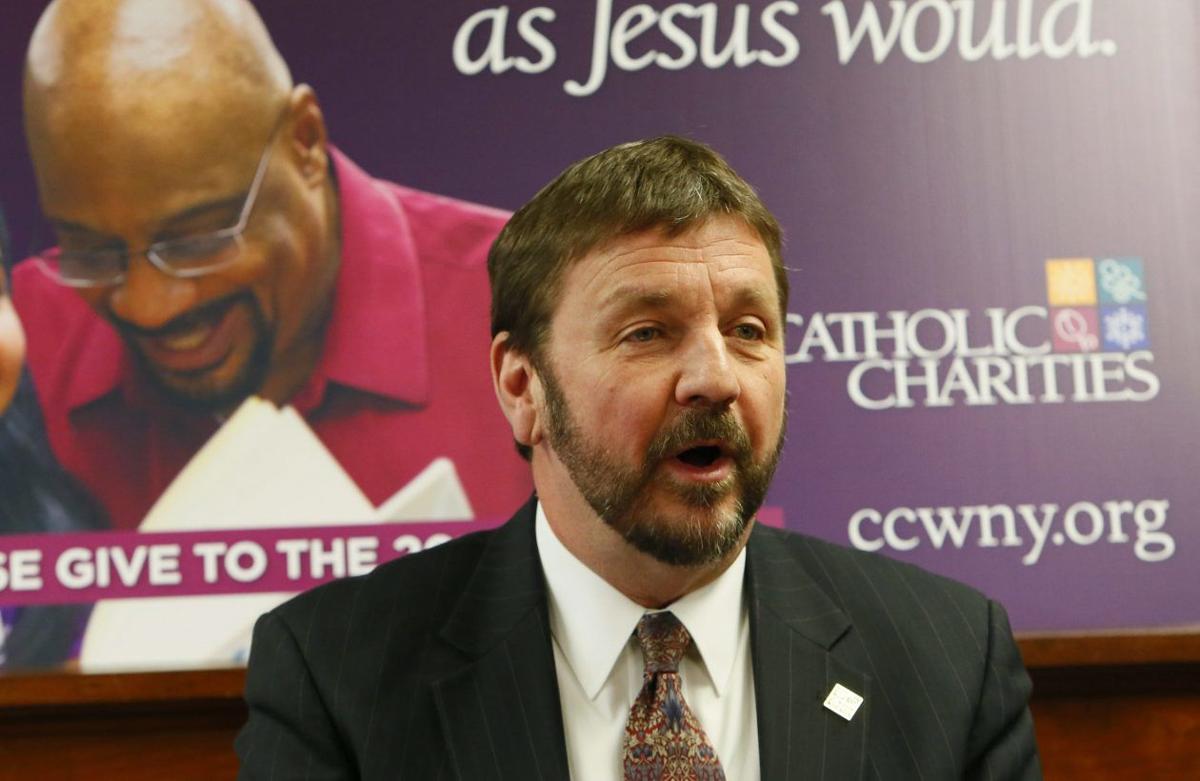 Catholic Charities of Buffalo's announcement on Thursday that it is ending its foster care and adoption program sent shock waves through the region.
One day later, program employees, gay adoptive couples, legal experts, elected officials and organizations that offer similar services wrestled with the wide-ranging ramifications of the decision.
The latest developments include:
Program employees are shattered by the move, according to one who spoke to The News, and feel Catholic Charities is turning its back on the foster children monitored by the agency's caseworkers. She said employees always told prospective parents the agency did not discriminate and they were never informed of any ban on same-sex couples.
Catholic Charities foster children will stay with their families, who must find a new foster agency to work with, and prospective adoptive parents will have to start that process over again with another organization.
Erie County Executive Mark Poloncarz is blasting the move, saying the county received no advance warning and calling on Bishop Richard J. Malone of the Catholic Diocese of Buffalo to reverse the decision.
Catholic Charities of Rochester, which provides foster care and adoption services, and Baker Victory Services of Lackawanna, which provides foster care, said they are reviewing their own policies following this announcement.
Prominent companies and institutions represented on the board addressed the presence of their employees.
And gay and lesbian adoptive couples reacted in pain to the news and decried one of the explanations provided by Catholic Charities officials – that children are best raised by a husband and wife.
"They clearly don't know one gay couple that has a child," said Shaun Doyle, a North Buffalo resident who adopted a son, now 3, through Adoption STAR with his husband, Eric Leonberger. "My son, his life is so full of love and affection."
For Catholic Charities and the diocese, however, the decision was a matter of faith and principle.
"We're a Catholic organization, so we have to practice what we do consistent with the teaching of the church," Dennis C. Walczyk, the chief executive officer of Catholic Charities, said Thursday.
Catholic Charities revealed its decision to end its foster care and adoption program late Thursday, following a special meeting of its Board of Trustees and a later meeting with foster families and others involved in the program.
The move came after a gay couple applied for approval as an adoptive or foster adoptive couple. While state law bars discrimination based on sexual orientation, the Catholic Church doesn't recognize same-sex marriage and agency executives said they could not accept a same-sex couple as parents.
For that reason, the agency opted to close down the program, which has 34 children in care in 24 of its foster homes and which arranges an average of five adoptions each year.
"It is with deep sadness we acknowledge that the legacy of the high quality, exceptional services which our staff provides to children and families through foster care and adoption will be lost," Walczyk said in a statement announcing the decision.
An employee in the program, who spoke to The News on condition of anonymity, said a married gay man attended an informational session in July to learn more about adopting through Catholic Charities.
Within the next day or two, coincidentally, a woman overheard the couple talking about their plans and informed her husband, who sent an email to Malone and Walczyk raising strong objections to the possibility of Catholic Charities accepting gay parents, the employee said.
At that point, administrators told program employees that, if the couple does go through with its application, leaders at Catholic Charities and the diocese will have to address it.
This was the first time, the employee said, that people who worked in the foster care and adoption program heard any concerns about same-sex parents. They were under the impression that the agency adhered to state and county nondiscrimination requirements, and they supported this position, she said.
"We are aware of the state regulations, and we follow them. It wasn't until this married couple applied that it conflicted with Catholic teaching," said Rose Caldwell, a Catholic Charities spokeswoman.
After the couple formally applied at the end of July, the employee said, they called repeatedly to find out if and when they would move into the next stage of the approval process. Agency officials took their time in weighing their options, but they ultimately turned down the couple and the bishop opted to shut down the program.
Walczyk met with one of the men early this week to inform him, the employee said, and called an emergency meeting for Tuesday afternoon when employees learned the program would end.
"Most of us were crying. Most of us have been crying since then," she said.
The decision has extensive ramifications.
The children can remain with their foster families but the families will have to find new agencies to work with.
The Catholic Charities employee said this will hurt foster children who already have had so many adults drop out of their lives. She said the agency's caseworkers have in some cases spent several years with the same children.
"We get invited to their birthdays, their graduations," the employee said.
The people seeking to adopt through Catholic Charities have more limited options now. The only other agency that arranges private adoptions of infants in this area is Amherst-based Adoption STAR.
And agency officials told the eight employees in the foster care and adoption program that their jobs will be eliminated by the end of this year, the employee said, though they are encouraged to apply for other vacant positions within Catholic Charities.
Marie Cannon, the commissioner of the county's Department of Social Services, said officials there did not receive advance notice of the Catholic Charities decision. County officials instead learned of the development from a Buffalo News reporter Thursday afternoon, and Walczyk confirmed it later in the day.
Cannon said the county had no idea that Catholic Charities refused to accept same-sex couples as parents. She said the county's contract with its foster agencies has language barring discrimination based on sexual orientation, matching state law.
Poloncarz on Friday issued a statement objecting to the decision and saying it goes against Pope Francis' public position that gays and lesbians should be welcomed into the church.
"If a loving LGBTQ couple is willing to open up their home to a child and offer that child the love the child so desperately deserves, who are we to judge?" Poloncarz wrote, using a line that Pope Francis made famous. Caldwell did not immediately have a response late Friday.
The Catholic Charities Board of Trustees includes officials with several prominent area institutions and employers, including the University at Buffalo, M&T Bank, National Grid and BlueCross BlueShield of Western New York.
In statements, UB and the companies emphasized that respect for diversity is one of their core values but said their employees are encouraged to serve the community and to serve on boards of nonprofits.
National Grid spokesman David Bertola, for example, said Miguel Santos, a company consumer advocate, serves on the Catholic Charities board in his capacity as a private citizen. However, the agency's website lists the employers of Santos and the other board members.
BlueCross BlueShield spokeswoman Amber Ciesiulka said the insurer "is reviewing that organization's most recent announcement and carefully examining all its ramifications." Julie R. Snyder, the company's vice president for corporate relations, is on the board.
UB has two officers on Catholic Charities' board.
"Catholic Charities does tremendous work supporting 10,000's of people in need in our community. That should not be overlooked," said Christina Orsi, associate vice president for economic development, adding that she does not represent UB on the board and that she did not attend Thursday's board meeting.
Will other Catholic organizations follow suit?
The Catholic Family Center, part of Catholic Charities of Rochester, said it is reviewing its policies but would not say whether it currently accepts – or bans – same-sex parents.
Baker Victory Services stopped arranging adoptions in 2014 but still provides foster care. Spokesman John Pitts said the agency is reviewing its policies but, similarly, would not detail what those policies are.
Catholic Charities and any other agency that refuses to accept a prospective parent based on sexual orientation is in violation of state law that covers education, employment, housing, public accommodations and other areas, said Michael Boucai, an associate law professor at UB who studies gender and sexuality legal issues.
There are exceptions, however. One is the federal Church Act, which allows hospitals that receive federal funding to refuse to perform abortions, Boucai said in an email.
"There are no such exemptions at either the federal or state level with respect to adoption and foster services," he said.
The state Office of Children and Family Services said it has not received any complaints from prospective parents turned away by Catholic Charities because of their sexual orientation.
Adoption STAR welcomes people of all faiths, sexual orientations, races and backgrounds, said associate director Michael Hill.
Doyle and Leonberger worked through the agency to adopt their son, Jackson. The couple was in the delivery room for his birth and maintain contact with his birth mother.
Doyle was raised Catholic and his parents are dedicated donors to Catholic Charities but he now belongs to the Unitarian Universalist Church. He bristled at the agency's contention that children are better off in a heterosexual home.
In fact, research shows that there is no difference whether parents are straight or LGBTQ, Hill said. That's been the experience of Adoption STAR, as well, he said.
Hill said the agency, which handles between 50 and 80 adoptions annually, would welcome anyone who Catholic Charities can no longer serve.