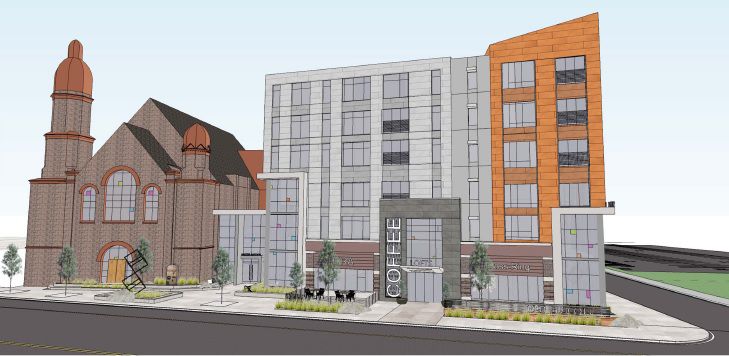 With its new six-story retail and medical office building now open next to Our Lady of Lourdes Church, Ellicott Development Co. is moving ahead with its next venture on the larger site - an eight -story hotel and parking ramp.
The Buffalo-based developer is proposing to construct the 320,000-square-foot building on a 1.17-acre surface parking lot at 11 St. Paul St., between Main and Ellicott streets. That's across St. Paul from the project Ellicott just completed at 1091 Main St., including the renovated former church.
Plans by Kideney Architects call for 14,000 square feet of ground-floor retail space, five levels of parking for 560 vehicles, and a 103-room extended-stay hotel on the top three floors. The hotel would be flagged as Element by Westin, a Marriott International brand with 85 facilities worldwide - including 58 in the United States.
Tom Fox, Ellicott's director of development, said the total cost of the project is still being finalized, but an earlier version filed with the Buffalo Planning Board last year carried a $30 million price tag.
That nine-story version featured 104 hotel rooms, 12,000 square feet of retail space and 431 parking spaces, with one parking level partially below grade in the basement. But it was on the same side of the street as the medical building, and included a connection between them. That project required no variances from the Green Code.
This one, however, needs two variances for corner side yard setback and coverage, as well as for building height. The proposed building would be 99 feet, 4 inches tall, while the Green Code's formula for the site caps the height at 82 feet, 6 inches.
"We believe the variances being requested are justified because it allows the building to fit into character of the existing and future vision of the Buffalo Niagara Medical Campus," Fox said in a letter to the zoning board.
Fox said the developer is hoping for completion in early 2022.