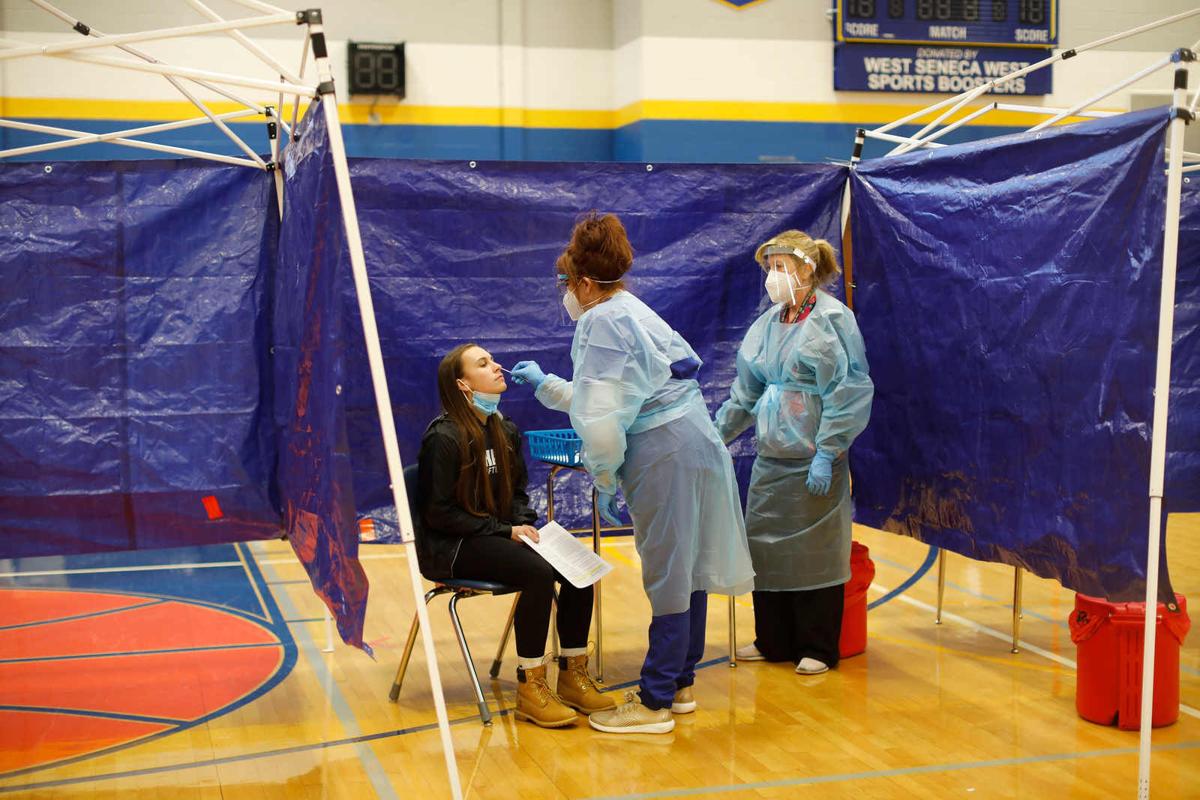 Parents have been saying it for weeks: Too many healthy kids are being forced to quarantine when someone in school tests positive for Covid-19.
And now some superintendents have reached the same conclusion. 
Superintendents in Erie and Niagara counties have compiled data from their Covid-19 numbers, and the numbers show that an overwhelming number of students on quarantine are healthy and could be in school but for the state's quarantine rules. They say healthy students could stay in school if close contacts were tested instead of quarantined.
That's why more superintendents are pushing for the "test to stay" model, being used successfully in several other states, including Massachusetts and Utah. When someone in school tests positive, instead of quarantining the close contacts, they are given daily rapid tests. If they are negative, they stay in school. 
"This is the easiest thing the state can do," said Tarja Parssinen of Western New York Education Alliance, which endorses the program and is tracking quarantine rates at some schools. "At this point, we really shouldn't be quarantining."
The conversation happening around quarantines and testing is leading to broader questions being asked not only by school leaders but by parents: What has to happen for pandemic-era restrictions to come to an end? When will something resembling "normal" return to schools?
"My biggest thing is, and no one can answer this, is what's the contingency plan?" asked Rachel Gullo of Clarence, whose son was quarantined despite no positive tests for Covid-19. "What's the fade plan? What do cases need to be, what do vaccination rates need to be for us to loosen these restrictions on the children?"
That answer remains elusive. But local data confirm what school leaders have been saying for more than a year: Exposure in school rarely results in infection in school.
Close to 2,500 students in 30 school districts in Erie and Niagara counties were put on quarantine from Sept. 1 through Oct. 10, according to Michael Cornell, the Hamburg superintendent who heads the Erie Niagara School Superintendents Association.
And since schools are notified of those students testing positive to make sure they do not attend school until the infection is gone, they know how many of those students are considered "close contacts" of a positive case also tested positive: about 1.5%
"For every 100 kids we quarantine, 98 or 99 of them had to stay home unnecessarily," Cornell told The Buffalo News Editorial Board last week. "If we know that is the case, what are we doing about it? And the answer can't be nothing."
And the issue of children living with different rules inside of school and out remains.
"As soon as these kids walk off campus, the masks are being dropped, they're out playing, they're having sleepovers, they're having parties, and so to assume that's happening here in school with mitigations we currently have in place, I question that," said Cleveland Hill Superintendent Jon MacSwan.
New York State requires that close contacts of an infected person quarantine for 10 days unless they are vaccinated. Those who are fully vaccinated do not need to quarantine.
Gullo does not want to go through that again. Her 10-year-old son, who has autism and epilepsy, came in contact with an adult at his special education school who had tested positive and he had to quarantine.
"It was horrible," she said, adding: "The regression was just unreal."
He can't do virtual learning because too much screen time aggravates his epilepsy, she said. 
"For him, in person in school is the only and best option," Gullo said.
An over the counter test showed he did not have the coronavirus. Seven days into the quarantine he got a runny nose. He tested negative again, but the school would not let him return until he had no symptoms, so his quarantine ended up being two weeks.
"We still haven't recovered from that loss," Gullo said.
Although the response to the pandemic has proven divisive, with debate raging about masks and vaccination, there is wide agreement among superintendents and parents after a year and a half of interrupted schooling, the last thing students need is to be out of school again. Most children would miss five to seven days of school, depending on when they were exposed and when the weekend or other days off fell.
Testing would help ensure that would not happen, said Grand Island Superintendent Brian Graham. He said his district had 40 positive cases between Sept. 1 and mid-October, resulting in the quarantine of 148 students.
"If we had a test and stay program in place, all of them could have come to school every day instead of being home for 10 days," Graham said. 
Then there's the case of the student who goes to the nurse with a sore throat or stuffy nose. 
"We can't test them. We are obligated to send them home for 10 days until they get a test or a doctor's note or a negative Covid test," MacSwan said.
Then it could become an issue of equity of education. Some families may not be able to take time off from work or get a babysitter for the children, or may have trouble affording the test. That child could be out of school longer than a child in another family.
Local officials would need some clarity from New York State that the test to stay program is allowed, and some guidance on how to implement it, Cornell said. 
But parents also want to know when the extraordinary measures, like quarantines and wearing face masks, will end, Cornell said. 
"They want to know there's a data-based, science-based off-ramp," he said. "We signed up for masks for now, not masks forever."