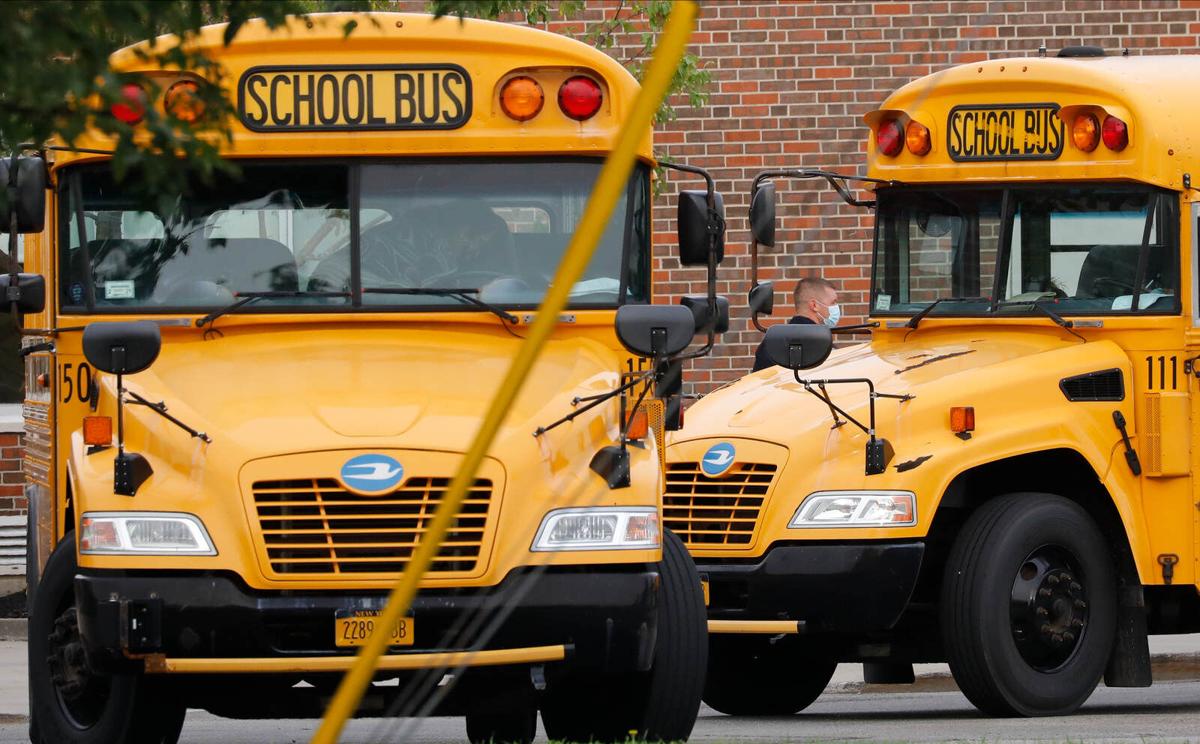 Elementary school students in the Williamsville School District will have the option of returning to the classroom in person five days a week, starting April 26, barring a significant uptick in local Covid-19 cases.
The district is among the first in the region to unveil specifics related to increasing in-person instruction in the wake of the state's announcement late last week that it was loosening social distancing requirements to 3 feet.
"Thanks to our proactive planning over the last few weeks, we are prepared for these changes and are moving quickly within each of our buildings to allow for increased capacity for full-time, in-person instruction," Acting Superintendent John McKenna wrote in a letter to parents.
Williamsville parents have been asked to complete a survey by noon Wednesday indicating whether they will opt for fully in-person or remote instruction for their children for the rest of the school year.
Many other local districts also are in the midst of surveying parents, but most have not announced a date for expanding in-person instruction or released other details.
Nearly $400 million is headed to local public schools under the American Rescue Plan. That's an average of $2,870 per student in Erie and Niagara counties. Some districts, though, will receive only about one-tenth that much.
In some schools, officials have signaled preliminary plans but are waiting to learn more from parents before they pin down specifics.
North Tonawanda, for example, is likely to expand in-person instruction either the last week of April or the first week of May, Superintendent Gregory Woytila said in a recent video update.
Students in North Tonawanda will be given the option of attending school in person four days a week, with Wednesdays remaining remote.
"There'll be a remote option, so you don't have to come if you don't feel safe," Woytila said, "and if you do come, it'll be four days."
Before schools can pin down specifics of how they will expand in-person instruction, they generally need more definitive numbers regarding how many students will opt to attend in person and how many will choose to be fully remote.
It looks like elementary school students have the best chance of returning to the classroom five days a week before the school year ends.
Staffing could be affected. In Williamsville, some elementary school students might end up with a different teacher, McKenna told parents.
"It is possible that a change in teacher may occur for any students whether they remain in-person, remote or switch models," he wrote. 
Schools also need to know how many children will need to ride a bus to school so that they can have enough buses and drivers in place.
Although distancing requirements have dropped to 3 feet in elementary classrooms, students will still be required to maintain 6 feet of distance from classmates in other areas, including during meals. In many schools, students have been eating lunch in their classrooms. When more students are in the buildings, schools will need to find other options.
In Williamsville, for now, the hybrid option for students in middle and high school will remain as is, with in-person instruction two days a week. When Covid-19 rates drop to an acceptable level, the district will offer them the option of attending in-person four days a week, McKenna said.
The state Health Department guidance says schools can reduce student distancing in elementary, middle and high schools to 3 feet in counties with low, moderate and substantial transmission of Covid-19.
High transmission rate locally
The CDC recommends that schools and local health departments consider the number of new Covid-19 cases and the percentage of positive tests when deciding whether to require 3 feet or 6 feet of social distancing.
Erie County has had 356 new cases per 100,000 people in the past seven days; anything over 100 new cases per 100,000 within a week is considered a "high" rate of transmission. In Niagara County, there have been 331 new cases per 100,000 people in the past week.
Both Erie and Niagara counties have a "substantial" percentage of positive tests in the past seven days, with both around 9.5%. Anything above 10% is considered a "high" positivity rate.
The week before most schools went on spring break, the positivity rate in Erie County among age groups under 18 ranged from 9.5% to 12.2%, according to the Erie County Health Department.
The department is encouraging anyone who traveled outside the area during the break to "strongly consider" getting a Covid-19 test five to seven days after returning.