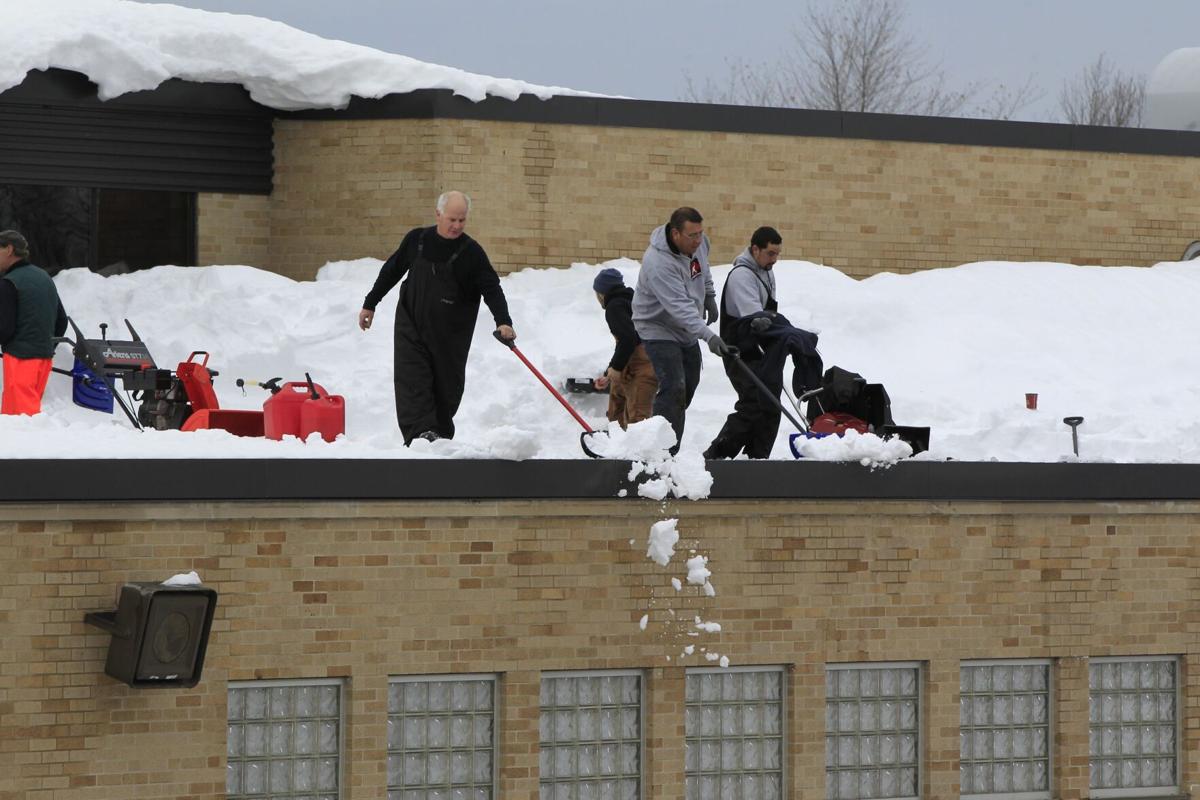 Digging out area schools buried under 5 to 7 feet of snow was no small feat during last month's storm. But it was the school roofs that caused the most angst.
Workers shoveled snow – or used snowblowers – to redistribute drifts on top of buildings. And school districts brought in professional architects and engineers to help assess the roofs after the state Education Department cautioned school officials to carefully check conditions before allowing students to return.
But all of the work and precautions raise a basic question: Why do so many schools have flat roofs in the first place, especially in a snow-prone area like Buffalo?
The answer is a mix of practicality and cost. Modern schools tend to be flat-roof buildings to allow for sprawling hallways full of classrooms.
"Flat roofs are basically the least expensive because you're spanning a long way," said Paul McDonnell, a licensed architect and director of facilities planning, design and construction for the Buffalo Public Schools. "If you were to put a sloped roof in, think about how big the slope would have to be."
Building codes also require roofs to handle most extreme weather events for a given region. A building in Western New York, for example, must be designed to withstand more pressure from snow than a building on Long Island.
Local school roofs, it turned out, held up quite well during the storm. Many districts reported only minor leaks in areas they already knew were weak and only minimal damage to buildings.
Work on school roofs after the storm was as much about clearing drains that keep melting snow from backing up into buildings as it was about reducing the weight of snow on the roof.
But some structural engineers were also concerned that drifts of snow could have placed more pressure on roofs than the roofs were designed to handle.
In Lake Shore, for example, the school district's insurance carrier recommended that some snowdrifts be redistributed as a precaution, said Lake Shore Superintendent James Przepasniak. A crew of about 60 people worked to move snow from the four district buildings that have flat roofs before students returned last week. Three other schools in the district, where flat roofs have been replaced by peaked structures, did not need the same attention, he said.
"These flat roofs, because of the water that sits on them, the snow, the freezing, the thawing, they just don't last in this weather environment," Przepasniak said. "And so we continually have to maintain them, either patching or replacing them, and it is a costly venture."
While replacing and repairing flat school roofs can require expensive capital projects, their design and construction is often the most economical.
Susan Matzat, a senior structural engineer for LaBella Associates, said other factors also make flat roofs popular in schools. Duct work and lighting can more easily be hung from a flat-roof structure, and mechanical equipment is often located on the top of a building.
"Obviously, it's easier to access that equipment if the roof is flat," said Matzat, who has worked on school construction projects throughout Western New York.
Building design, she said, is often a balance between economics and aesthetics. But she noted that the state Education Department closely regulates school construction and reviews designs before schools are built or expanded.
"If snow is the only factor, than I'm sure you would have a lot more different designs," Matzat said. "I tend to think of the Swiss. They build very steep roofs. Well, there's a reason for that."
School buildings constructed more than a century ago had different concerns. The Buffalo Public Schools buildings that house Lafayette and City Honors both have multiple stories and smaller footprints than their modern counterparts. They also have sloped roofs on the original sections that don't collect much snow.
"You think about schools now, they're basically big boxes to be more efficient with space," McDonnell said. "Back in the day, structures didn't span as much space and they were more concerned about using classical styles, blending into the neighborhoods."
It was one of the newest roofs in Buffalo Public Schools that had school officials most concerned during the storm.
The 2003 renovation of Discovery School 67 on Abbott Road enclosed an open courtyard with a Teflon-coated fabric roof to create a three-story, sun-lit space for the school library and cafeteria. While the tensile roof is pitched, officials watched it closely during the storm because of its fabric material.
"The snow just rolled right off of it," McDonnell said. "It never stuck."
Today's flat roofs are also covered with materials that are lighter and help handle snow better.
In Hamburg, the school district recently replaced old roofs with new ones that include synthetic rubber membranes and board insulation, said Hamburg School Board President David Yoviene.
"As a precaution, they still were shoveling snow and moving snow off those roofs, but for the most part, in my opinion, those roofs were never in danger," said Yoviene, whose work in the private sector included selling roofing materials for residential buildings.
Despite 5 to 7 feet of snow dumped on some local schools, there were no initial reports of major damage. Several schools did see roof leaks or minor flooding, including Southside Elementary in Buffalo, where clogged roof drains caused water to seep into the building.
School officials credited buildings and grounds crews – some that stayed during the storm – with safeguarding school buildings.
Lancaster Superintendent Michael J. Vallely said at least one of his employees rode a snowmobile to work. In several districts, facilities workers stayed overnight to keep watch on building boilers and potential leaks.
"We had minor things like grass that needs to be replanted. We had a couple leaks here and there," Vallely said. "Every one of our buildings was checked by three cadres of architects and structural engineers."
Still, school officials will continue to grapple with the impact of the storm as the school year goes on. Some of the hardest-hit school districts used up their annual snow day allotment, and school administrators plan to tally the cost of overtime, private contractors and shared resources with the hopes of getting federal reimbursement.
"In all reality, trying to just be prepared to be open took an almost insurmountable amount of man hours and equipment," said Depew Superintendent Jeffrey R. Rabey.
Northtowns districts largely spared by the storm sent help to schools in the Southtowns. Crews worked overtime to clear snow, and some districts hired private contractors to provide heavy equipment.
While roofs were one of the biggest concerns for school officials, it was the buses that, in many cases, took the most work.
With fleets of parked buses covered with snow, workers had to start clearing lots by hand-shoveling between the vehicles and raking snow from bus roofs. In Lake Shore, employees shoveled out 80 buses so that students could return to school last week. Other districts saw similar feats.
"Think about digging out one car and multiply that by twice the size, times 80," Przepasniak said.