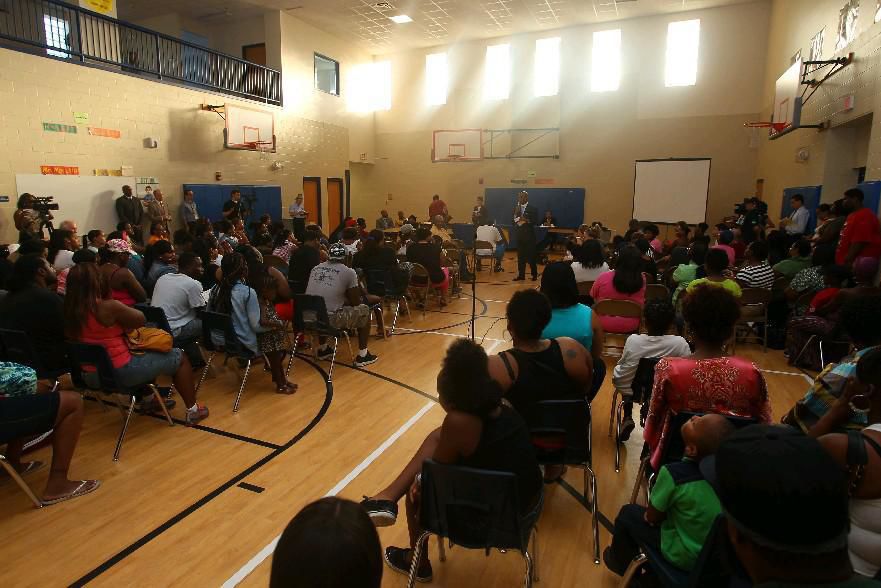 When Pinnacle Charter School was forced to close its doors in 2013, the school had as much as $3 million in the bank.
Charters are independently run but publicly funded, so when they close they are supposed to turn over any assets to the school district where their students reside.
Buffalo Public Schools finally received a check last November – for $262,000.
The school district, accounting for Pinnacle's debt, figured the charter on Ash Street spent at least $1.7 million, maybe more, after the school had already closed.
"We don't know," said Geoffrey Pritchard, chief financial officer for Buffalo schools. "We weren't able to find out everything that was paid for."
The school district is now raising the issue with state lawmakers in Albany, where Superintendent Kriner Cash brought it to their attention during recent state budget hearings.
Since 2013, state law requires closed charters to return assets to the home school district, but officials in Buffalo said the law lacks teeth to guarantee that it happens. That's a concern, given the  recent closures of other charters.
Oracle Charter School closed last year.
Aloma D. Johnson Charter School on Jewett Parkway recently announced that it will close at the end of the school year.
Community Charter School closed five years ago and the district has yet to receive any money.
Cash, meanwhile, is requesting legislation that says when charters close an independent receiver must be appointed to "audit and ensure that public assets are protected and returned to the district of residence so they can be utilized to support the children."
As an example, the district pieced together this financial picture at Pinnacle:
Pinnacle closed in August 2013 after losing a year-long court battle trying to prevent the state from shutting it down for poor academic performance.
As of June 2013, a financial audit showed Pinnacle had $3 million in cash and was owed $400,000, Pritchard said. That was offset by $1.2 million in liabilities. The district estimated Pinnacle had at least $2 million in cash after its final year of operation.
But by September 2016, three years after the school had closed, a financial statement of net assets showed the cash balance had dwindled to about $900,000, Pritchard said. By now, the school also owed $700,000 more, mostly for severance payments that Pinnacle's board of trustees approved for teachers.
In fact, the Buffalo school district voiced its objection to the severance, because the payments weren't contractually required at the time of closure. But the disbursement was ultimately approved by the court as part of the charter's dissolution plan.
That left more than $200,000 that was returned to the district, Pritchard said.
It's not clear what happened to the rest of the roughly $2 million, he said.
"We just have no idea what they did with it," Pritchard said. "They have the checkbook, they got to make the decisions what they paid for."
Dennis Horrigan, the former chief executive officer of Catholic Medical Partners, served on Pinnacle's board of trustees. He couldn't recall the specifics of Pinnacle's finances, but said the school's dissolution was done by the book.
Even all of the school furnishings and equipment, valued at about $125,000, were left behind when the school district took over for a year after the charter was shut down by the state.
"We complied with the dissolution plan and everything we did was either approved by the state attorney general or the Board of Regents," Horrigan said. "So it was done by the letter of the law."
Charters are public schools, but are run independently by their founders – often educators or parents – to provide families with an alternative to "traditional" public schools. In turn, the home district pays the charter schools for each student they enroll, a growing point of contention in Buffalo where payments to charters climbed to more than $118 million last year along with the rise in charter enrollment.
Once a charter closes, the district wants the state to establish a model similar to what's used in the banking industry when a bank is shut down.
"As soon as it's known that these schools are going to close, there needs to be someone independent in place to look over every check that they cut and every contract they sign," Pritchard said. "There's just no incentive for them to return the money back to the public school district – and these are all public dollars."
Prior to the state law in 2013 – when a charter in Buffalo sought to disburse its assets to other local charters upon dissolving – there were really no rules to ensure money was returned to school districts, said Assemblyman Sean Ryan, a Buffalo Democrat.
Still, Ryan, who serves on the Assembly's education committee, was surprised to find little financial accountability upon a charter's closing.
During the recent budget hearings, Ryan said he raised his concerns with State Education Commissioner MaryEllen Elia, who acknowledged the problem.
It's not just in Buffalo, Ryan said. As charter schools around the state are maturing, some are missing the academic mark and being closed with a significant amount of assets to their name, he said.
"When they started they didn't have a shutdown mechanism in place, because they weren't thinking that far ahead," Ryan said.
Ryan said he will work with the commissioner's office to draft legislation that puts tighter fiscal controls on charters that have been shut down – like Pinnacle.
"They're not the only ones," Ryan said. "There's also a big question mark about Community Charter School. They've been closed for four years and haven't submitted a dissolution plan to the State Education Department yet. When they closed, they had $4.5 million in assets. Where is that money?"
Be the first to know
Get local news delivered to your inbox!