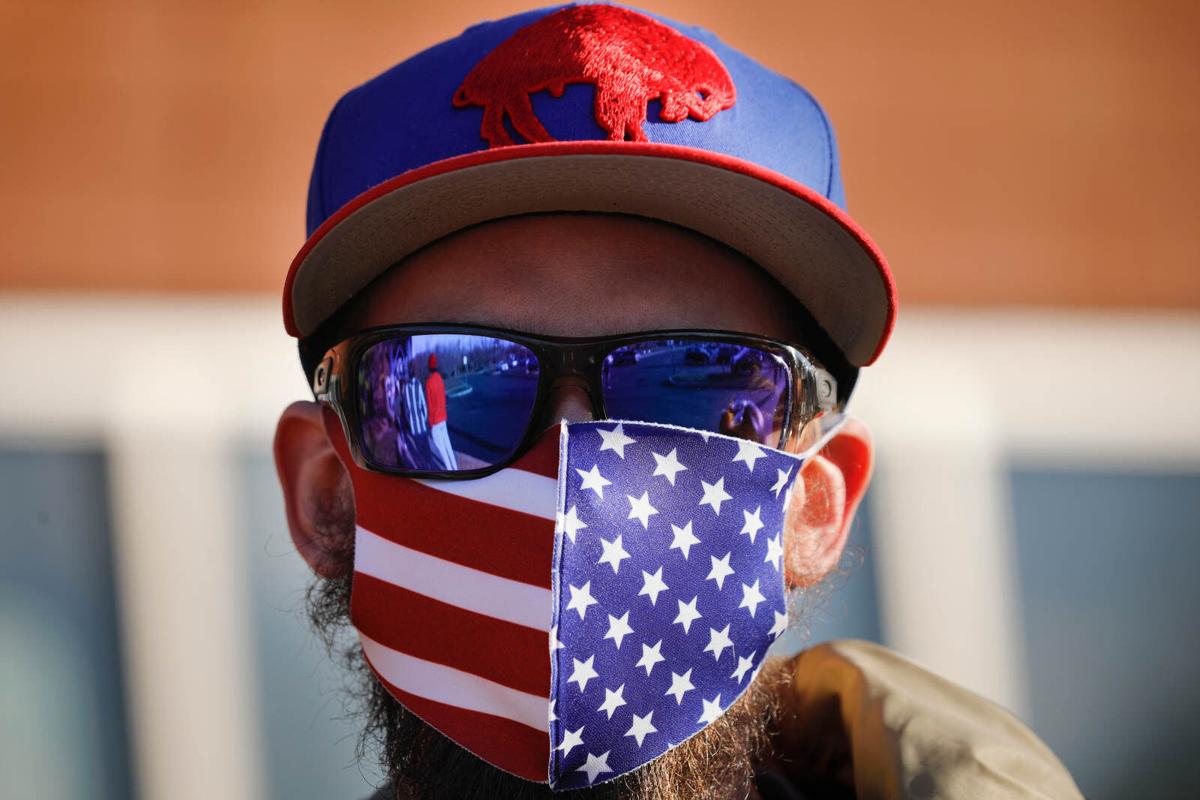 That continues to be the question in the wake of an announcement Thursday by the U.S. Centers for Disease Control and Prevention advising Americans who are fully vaccinated against Covid-19 that they could stop wearing masks or maintaining social distance in most settings, indoors and outdoors.
When that advice becomes practical in New York depends largely on Gov. Andrew M. Cuomo, who said nothing about the watershed CDC announcement Friday and on Thursday offered only that the new guidance was under review.
Erie County Executive Mark Poloncarz said he spoke Thursday with state Department of Health officials urging them to complete an "expeditious review" of the CDC guidelines and align the state's regulations with the CDC's recommendations. While the state is reviewing the CDC guidance, Poloncarz said he doesn't know how long it will take.
"I'm hopeful it's very soon so that everybody knows what the ground rules are," he said.
While New Yorkers wait to hear how the twists and turns of the pandemic are about to change their lives – again – these are some of the most pressing questions and answers.
Should I actually take my mask off, just because I can? Or should I leave it on? What's my individual responsibility?
The best approach here is to blend science with social responsibility.
The science is straightforward: If you're fully vaccinated and have a healthy immune system, you have done what you can to protect yourself and others. Your chances of getting infected or spreading Covid-19 to another vaccinated person are exceedingly low. So from an epidemiological standpoint, go ahead. Drop that mask. Don't feel bad about it.
If only it were that simple.
Have you ever forgotten your mask, walked into a store and gotten dirty looks? No CDC guidance will make that social dynamic disappear. Masks have become such a staple of life that it can be strange or disconcerting to see people without them. Try starting slow by removing your mask when you're in the spacious, breezy outdoors, where there's less risk of transmission to anyone – vaccinated or not. "It is a time you can be without a mask," said Dr. Cindy Prins, a University of Florida epidemiologist, told The News in an interview last month.
When you're indoors, try taking off the mask – if allowed – when you're not too close to other people. Once you get closer, consider putting it on – for now – until people get accustomed to the change.
As for unvaccinated people pretending they are vaccinated? There's little you can do about it, but know this: They are posing a risk to themselves, and others who are unmasked and unvaccinated, but not so much to you.
Does this mean I won't be asked to wear masks inside restaurants anymore?
No. Until New York State updates its guidelines about mask usage inside restaurants, many if not most operators will play it safe and keep rules the way they are. Namely, ask everyone to keep their mask on when not seated. It's possible that some restaurants will try to go mask-free. Some operators are assuming that even without a specific all-clear from state authorities, enforcement won't be looking to make cases.
Tim Herzog, founder of Flying Bison Brewing Company, said the disconnect between the CDC and the state has been troublesome for his own business.
"Our first three customers that walked in at 4 o'clock came in with no mask on through the door," Herzog said Friday, recounting them saying, "Have you heard? We don't have to wear masks anymore!"
Herzog had to tell them that the mask-wearing rules still applied. He wants the state to update its guidance soon.
"People are pushing on us," he said. "And it's not my job to be the mask police, but it has been for the last year and a half."
– Andrew Z. Galarneau and Sandra Tan
This sounds like good news for movies and concerts. Can I go maskless there?
Representatives of local movie theaters including the Aurora Theatre, Dipson Theatres and North Park are staying with their current status until they hear new guidelines from the state. That means wearing masks at all times unless sitting eating/drinking in your seat, and keeping with the 6-foot social distancing mandate.
"Out of an abundance of caution, patrons are still required to wear masks in all public areas with foot traffic: the lobby, restrooms, and concessions area. Once patrons are seated and socially distanced, they may, of course, remove their mask," said Ray Barker, general manager of the North Park Theatre.
The same appears to be true for promoters and organizations that are still putting together their summer concert seasons. Artpark, which just announced concerts by Blackberry Smoke and Fitz and the Tantrums this week, won't make changes yet based on the CDC announcement.
"The CDC may say one thing, but we have to follow New York guidance on large-scale outdoor events," said Dave Wedekindt, Artpark's vice president of concerts and marketing. "Once new guidance come out, we will update."
How much will the new mask guidelines change what's happening in schools?
At this point, not at all.
Students and teachers in New York State have been required since September to wear a mask while in school, and the new CDC guidelines do not change that.
The federal guidelines released on Thursday indicate that people still need to follow state and local laws. In New York, the state Department of Health sets the rules for schools, and there has not been any indication so far that the state plans to make masks optional in schools.
Will this do anything to force the U.S. and Canada to open the border?
Rep. Brian Higgins hopes so. He wrote letters on Friday to President Biden and the Canadian ambassador to the U.S., urging the two governments to come to a deal to reopen the border by Memorial Day.
"The CDC's decision lifting the masking requirement for fully vaccinated Americans is an affirmation of the scientific fact on the power of vaccinations to crush COVID-19," Higgins said in the letter to Biden. "We cannot keep the border closed forever – families, loved ones, businesses, and communities along the northern border have sacrificed so much for the past year to get where we are. Now is the time for the Biden Administration to act in furtherance of the CDC guidance and work with the Government of Canada to finally open the border beginning Memorial Day."
Higgins, a Buffalo Democrat, said the border should be opened to additional classes of people starting on Memorial Day, with a full reopening by early July. And in an interview, Higgins said the border should be opened to vaccinated travelers.
Higgins has been pressing for months for a border reopening, only to meet with continuing resistance to the idea, particularly from Canada. Ontario Premier Doug Ford has sent multiple letters to Prime Minister Justin Trudeau, urging him to enact stricter border control measures, including a three-day hotel quarantine for the small number of people allowed to cross land borders.
Meanwhile, amid a continuing wave of Covid-19 infections, Ford this week extended the province's stay-at-home order to at least June 2 – which is beyond the May 21 scheduled expiration of the border closure, and a sign that Trudeau will be facing pressure to extend the border closure again. The closure has been extended on a monthly basis such March 2020.
How will stores handle it?
Major retailers haven't changed their mask policies yet, and have not indicated when or whether they will. Retailers such as Wegmans, Target, CVS, Walmart, Ulta Beauty and Macy's said they will keep their current mask and social distancing policies in place while they review the CDC guidance and await direction from local and state officials.
Since last year, retailers such as Target, Walmart, Home Depot, Dollar General and Walgreens have required customers to wear masks in stores; even when there is no state or local mandate to do so.
Wegmans has not ejected or denied entry to customers who won't wear masks – even when local law required it. Wegmans was fined by the health board in Cayuga County earlier this year for not complying with a law that requires stores to do so. When a maskless customer entered a store, it was Wegmans' policy to offer the shopper a free mask and leave it at that. Most customers voluntarily followed the safety guidelines, and it wasn't worth putting employees in danger confronting the few people who didn't, the company said.
Wegmans' hesitancy to force the issue with customers shows what a thorny issue mask enforcement can be. It is likely to get more complicated with the latest changes in CDC guidance.
Will I still have to wear a mask indoors at the office?
There's no universal answer for this. 
Companies are adhering to their own policies when it comes to wearing masks inside of workplaces, just as they are with other practices like physical distancing and one-direction staircases.
Even with the latest CDC guidelines, employers will decide how to proceed with requiring masks on their own premises. Employers are trying to make their workers feel as safe as possible in the workplace, especially if workers are just now returning to the office after a long time away.