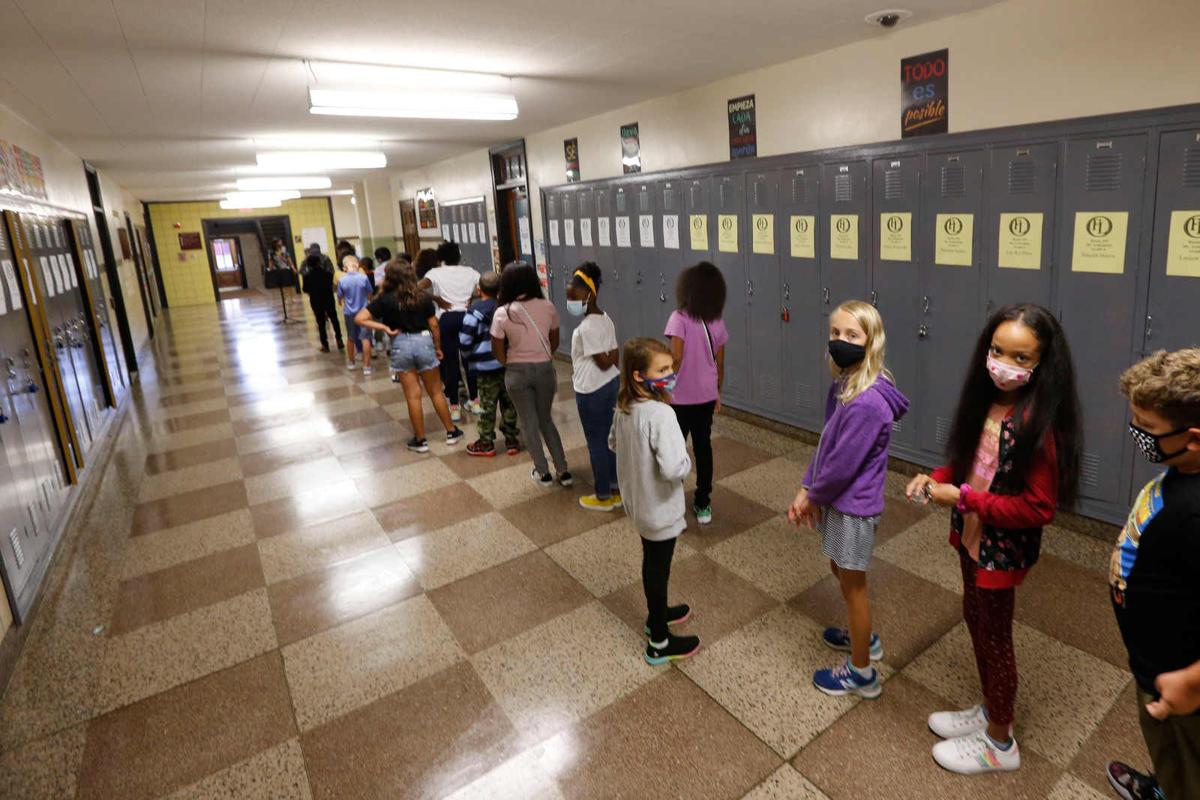 Mayoral candidate India Walton wants City Hall to send more money to the Buffalo Public Schools.
She points to how much Rochester spends on schools as evidence that Buffalo can afford to do more, and sees a sales tax-sharing model that Rochester once used as a possible way for Buffalo to boost its financial support to schools.
"I support that because it is disappointing to me that Buffalo is not investing more in our public schools," Walton said.
Establishing a dedicated line of funding from the city to the school district, one separate from the general fund, is among several planks in the "Building Healthy Communities" policy agenda she unveiled last week. 
Nearly $71 million, or 7.3% of the Buffalo district's $972.5 million general fund, comes from the City of Buffalo. More than $119 million, or 14.2% of the Rochester school district's $840.3 million general fund, comes from the City of Rochester. 
There are reasons for that disparity, including state law, and the Brown administration and school officials in both districts caution that any comparison of the cities' financial support should include spending outside the general fund and sales tax-sharing arrangements for an apple-to-apples comparison.
Still, the scope of Buffalo's support of the school district figures to be a campaign issue leading up to the November general election. Indeed, it already has played a pivotal role. Walton's stance earned her an important endorsement from the Buffalo Teachers Federation – a union that represents more than 3,800 teachers – and contributed to her surprising victory over four-term incumbent Mayor Byron W. Brown in the June 22 Democratic primary.
Brown does not support the funding model Walton has touted, pointing out the city has increased its payments to the district since he took office 2006. The Buffalo district already receives a share of the county sales tax – as do all districts – and receives "a significant" chunk of the city's property tax revenue, he said.
"Sales tax money is dedicated now," Brown said. "Almost 50% of our property tax levy goes to the Buffalo Public Schools. Experience and knowing how the government works is critically important." 
Where the money comes from
The increased sales tax sharing Walton promotes is based on a model that Rochester once followed.
Decades ago, when Rochester's schools were in dire need of additional funding, the Monroe County Legislature and City of Rochester created the Morin-Ryan Act, which gave the Rochester City School District a portion of the city's annual increase in sales tax revenue, said Adam Urbanski, president of the Rochester Teachers Association for 40 years.
But that tax-sharing agreement no longer applies in Rochester. Instead, the city started providing an annual allocation, called a "maintenance of effort," eliminating distinctions between various revenue sources. The city has provided $119.1 million annually since 2005. By mandate, Rochester cannot give the schools less money.
Currently, sales tax collected in Monroe County goes to the county government, the City of Rochester, and suburban school districts, towns and villages. None of it goes to the Rochester school district, said district spokesman Brendan O'Riordan.
Under a plan Walton and the Buffalo Teachers Federation support, Buffalo would allocate a percentage of its annual increase in sales tax revenue directly to the Buffalo Public Schools, which, unlike the Rochester district, would also continue to receive its own portion of sales tax revenue from Erie County.
For decades, the local share of sales tax in Erie County has been shared among local governments and school districts – including the City of Buffalo and the Buffalo Public Schools – under a 30-year-old formula, said city officials. This has provided $48 million to $52 million to the district annually, said Donna J. Estrich, the city's finance director. 
Geoffrey Pritchard, the school district's chief financial officer, said the sales tax revenue that the Buffalo district receives comes directly from the county – not the city.
Like Rochester, Buffalo pays a "mandated maintenance of effort" allocation to the school district. For many years the Buffalo Public Schools pressed the city for more money. In 2017 the city increased the allocation by a half million dollars to $70.8 million, breaking a pattern of flat city funding. By mandate, it cannot provide less than that amount.
Still, most of the money sent to the Buffalo and Rochester school districts comes from New York State.
'Education over punishment'
Walton sees increased school spending as more than just an education issue. It would reduce crime and boost job prospects, she said.
"I acknowledge the separation and limitations of the office of the mayor from the Board of Ed," Walton said. "But I think that as the leader of a city like Buffalo, there's a certain amount of influence that you have and that it is the responsibility of the mayor to prioritize education over punishment. Because we know that when schools are properly funded, when education is a priority and when students feel valued and have a sense of pride in their community, we'll see a natural reduction in crime and an increase in career and college readiness."
She called the Rochester model "far from ideal." But Buffalo could adopt parts of it to "follow incrementally and slowly," she said.
In addition to support from the Buffalo Teachers Federation, Walton has garnered support from others in the education community. She was endorsed last month by a majority of the nine-member Buffalo School Board, including East District Board Member Kathy Evans-Brown; Hope Jay, who represents the North District; Jennifer Mecozzi, the West District board member; and At-Large Board Members Ann Rivera and Lawrence Scott.
City provides extra resources  
Brown does not support the funding model Walton talks about.
His administration has increased the allocation to schools since he took office in 2006. And the city provides additional resources to the district beyond its annual allocation of $70.8 million directly to the schools and the $48 million to $52 million a year to the district through the sales tax agreement.
Administration officials noted the city has provided millions to Buffalo Public Schools students through efforts like the Say Yes scholarship and support program, the mayor's Reading Rules summer reading challenge, and the Mayor's Summer Youth Employment Program. According to their tally, that indirect support of schools includes: 
$2.9 million this year for the Mayor Brown's Summer Youth Internship and Employment Program.
$200,000 annually to Say Yes Buffalo starting in 2012 that increased to $500,000 beginning in the 2017-18 fiscal year.
$25,000 to Say Yes in 2020-21 and $30,000 in 2021-22 for after-school programs and summer camp to prevent summer learning loss.
$150,000 annually for the Buffalo Peacemakers, who work to prevent conflicts among youth.
$80,000 annually for the Reading Rules program.
$1.5 million annually for school resource officers.
$300,000 for four years of BAK Tablets for students.
$967,307 for attendance teachers, social workers and music teachers when the district couldn't afford to fund those positions.