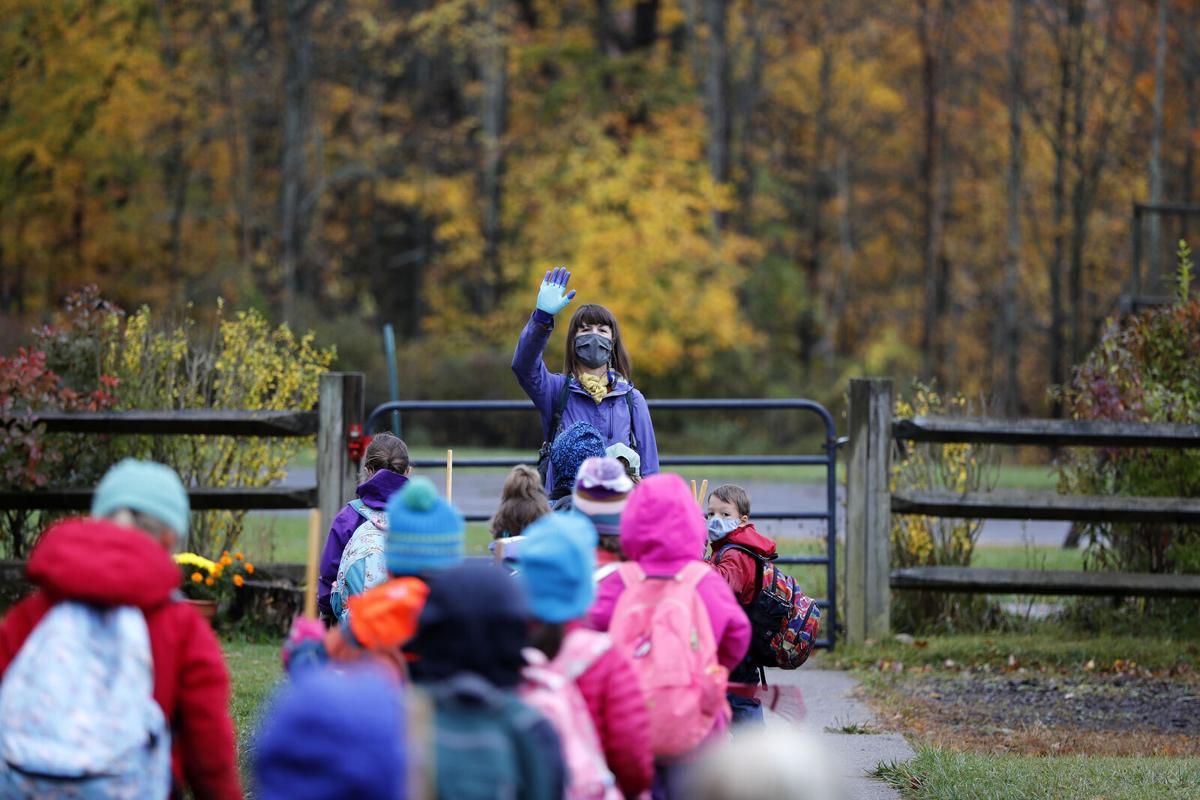 A dozen middle school students sat outside on folding chairs one recent morning with painting boards on their laps, drawing and doing "book work" surrounded by splashes of fall colors from the white pine, black spruce, crabapple and honey locust trees. 
Nearby, a teacher connected the rhythmic clapping of a shared fourth and fifth grade class to a math lesson.
A combined second and third grade class in the nearby woods studied the seasonal changes in trees.
Far from staring at computer screens or spaced apart in an indoor classroom, students at Aurora Waldorf School in West Falls immerse themselves in nature, with classes held outside most of the time. The school, a half hour's drive south of Buffalo, emphasizes outdoor education, movement and play. Its approach to learning in many ways fits the Covid moment.
"I feel like my children are being taken care of physically and the CDC measures are being implemented," said Erin Casciano, a parent of a kindergartner and fifth-grader. "But I also feel they are being taken care of emotionally."
"The best part is they are back five days a week," Jim Anderson said of his three children enrolled at Waldorf.
"We saw the impact it had on them socially in the spring not being around other kids, and the outside learning has been highly positive," Anderson added.
Because Waldorf already provided an outdoor-centered education, the transition to even more time outside was not hard, faculty and staff say. 
"It was already part of our culture," math teacher Meghan Gomez said.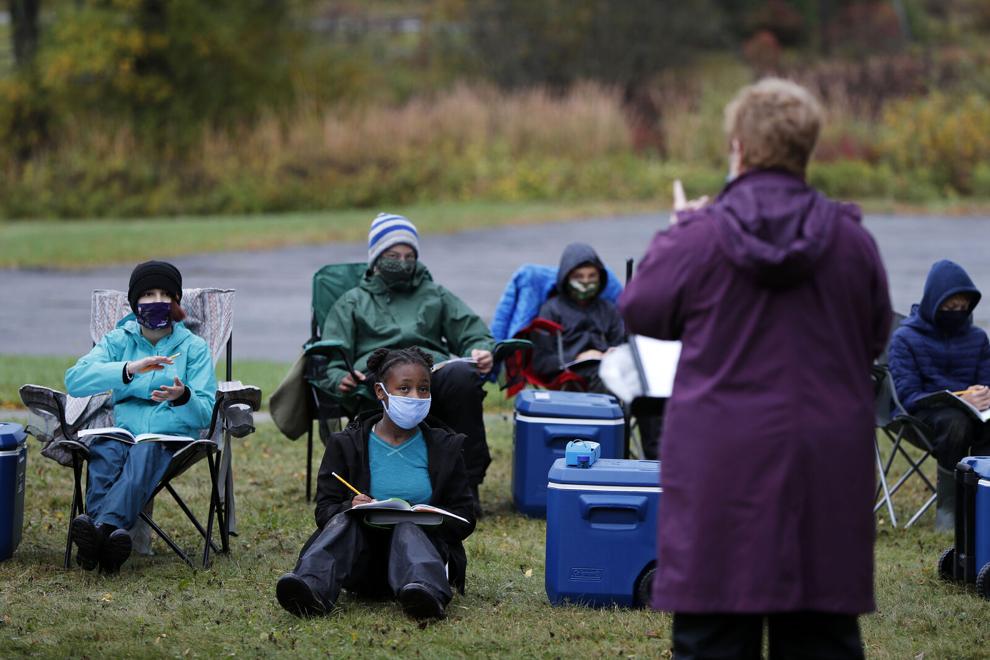 Anna Harp, the school administrator, said being outside and socializing during the pandemic has proved important to the students' mental and physical health, especially after the school had to abruptly switch to online learning last spring.
"What we're doing seems therapeutic and anxiety-reducing for the students," Harp said.
The approach at Aurora Waldorf School cannot be easily duplicated at other schools. Beyond its philosophical differences in education, Waldorf is independently run and not reined in by policies and procedures followed in public schools. And its small student body allows for flexibility that larger schools can't so easily achieve.
"We were really worried that our daughter would have to do virtual learning if things were locked down, and we are so grateful that the school can manage," said Beth Trimmer, a Waldorf parent with a daughter in kindergarten.
Students must wear masks indoors at all times, and they also wear them outdoors depending on the activity. Free play has given way to structured play during the school's two daily recesses to accommodate social distancing.
"The fact she can go to school and be there in person, and get exercise and fresh air, and have those friendships and connections is so important, especially for the younger kids," she said. 
Trimmer sympathizes with her friends with children in Washington, D.C., where she formerly lived.
"I see what my friends there are going through, and it's just a totally different situation," Trimmer said. "Zoom classes all day long for these kids. I'm sad for them."
Austrian scientist and thinker Rudolf Steiner founded the Waldorf school in Germany 101 years ago as the world coped with a pandemic. The first U.S. Waldorf school opened in 1928 in New York City.
The local Waldorf school began in a rented building in Orchard Park in 1991 but moved the following year into the former West Falls Elementary School building. The school's one-story brick building and 12 acres of mostly open space is surrounded by 30 acres of hills and woods that are part of a town park.
The pre-K to eighth grade school is small, with just 70 students, including some bused from Buffalo, though Harp expects the school's rolling admissions to rise through the school year.
Some families opted to home-school their children this fall because they feared the pandemic could force a return to online learning or for health issues, Harp said. She expects them to re-enroll their children when the pandemic recedes.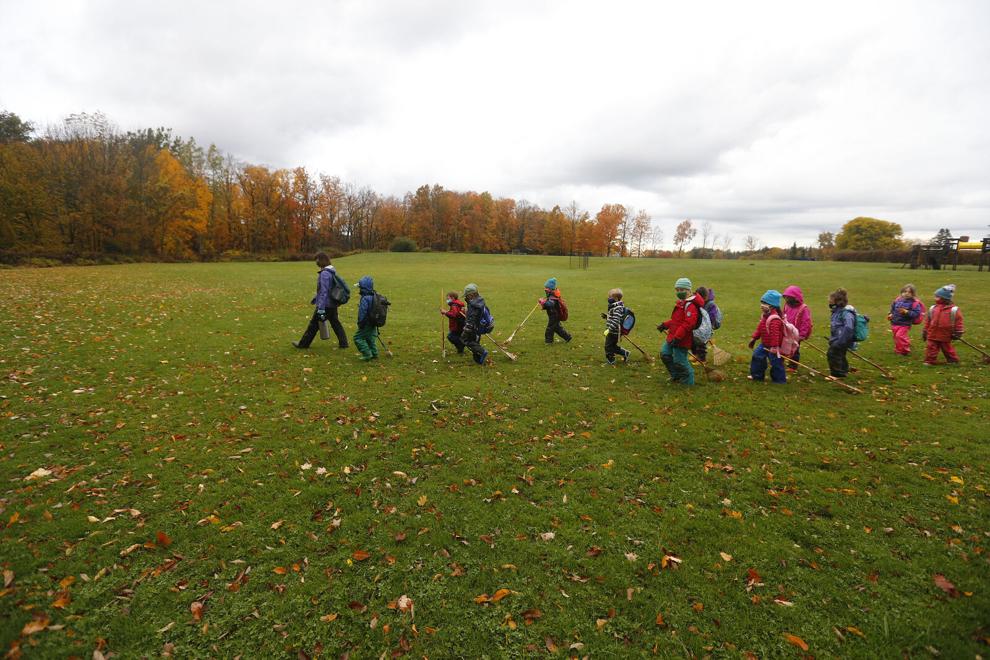 Three of the school's classes have waiting lists, due to the physical limitations of the indoor classrooms in complying with Covid-19 precautions, she said.
"We continue to get inquiries from families who want their children to spend more time outside and less time sitting in front of a computer," Harp said.
The Waldorf school strives to foster inner development, individual freedom, social responsibility and respect for others. 
"Childhood is to be honored and preserved," is one of the school's core beliefs.
Other philosophical underpinnings of a Waldorf education: Learning is not to be rushed. School can be a joyful place. Every child deserves to be outside every day. The arts are essential to our humanity. And education is more than just the exchange of facts and information. 
"We teach to all of the senses, not just the intellectual capacities," said Lisa Carrow, faculty chair.  "We believe in hands-on doing with practical applications, and that there is value to play and value to nature.
"We also believe that movement and the arts are as essential as the academics for a healthy education," she said. "So when we are looking at budget cuts, we don't look at the music program to go away and that sort of thing."
Carrow said the school seeks to bring to its students a sense of wonder.
"We create aha moments," she said. "These kids have that every day."
That includes an annual circus, where students perform as acrobats and gymnasts, and building shelters in the nearby woods.
"They're in these woods all the time," said Vicky Lucca, the admissions coordinator. "They know the trails better than the adults do."
Students typically start their mornings with recess. Last year, the school had only three days with recess held indoors. Unless it's pouring, thundering, extremely windy or frigid, they're outside.
As students go about their day, they lug around a moveable cooler on wheels. It contains their lunch and lesson books, while also serving as a makeshift desk, chair, cup holder or object to leapfrog over.
"We've always gone outside year-round," Harp said. "Our playground rules are if it's 0 degrees or below, then their time outside is restricted. 
"Everyone who comes to Waldorf knows they have to have good outdoor gear," Harp said.
Carrow said teachers don't force students to be out if they're too cold.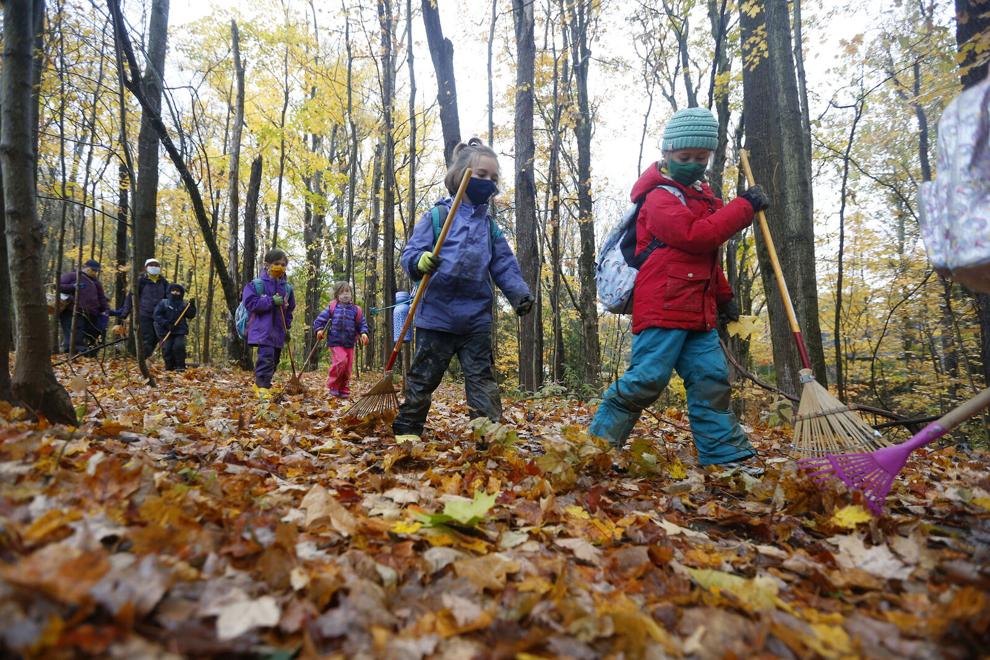 "But our kids are surefooted, hardy kids," Carrow said. "Being resilient and able to adapt to change is a capacity and a skill that's needed now."
The faculty has found that when students come inside they are more attentive and exhibit less antsy behavior.
Lucca said it could be a difficult transition for students who are not used to being outside or being wet in the morning. It's the norm at Waldorf.
Waldorf also makes winter fun.
The lower grades bundle up to use the sledding hill when there is enough snow, the upper grades go cross-country skiing and multiple grades work together to build an igloo.
"For our students it's just what we do – it's part of the community," she said.
Mark Sommer covers preservation, development, the waterfront, culture and more. He's also a former arts editor at The News.