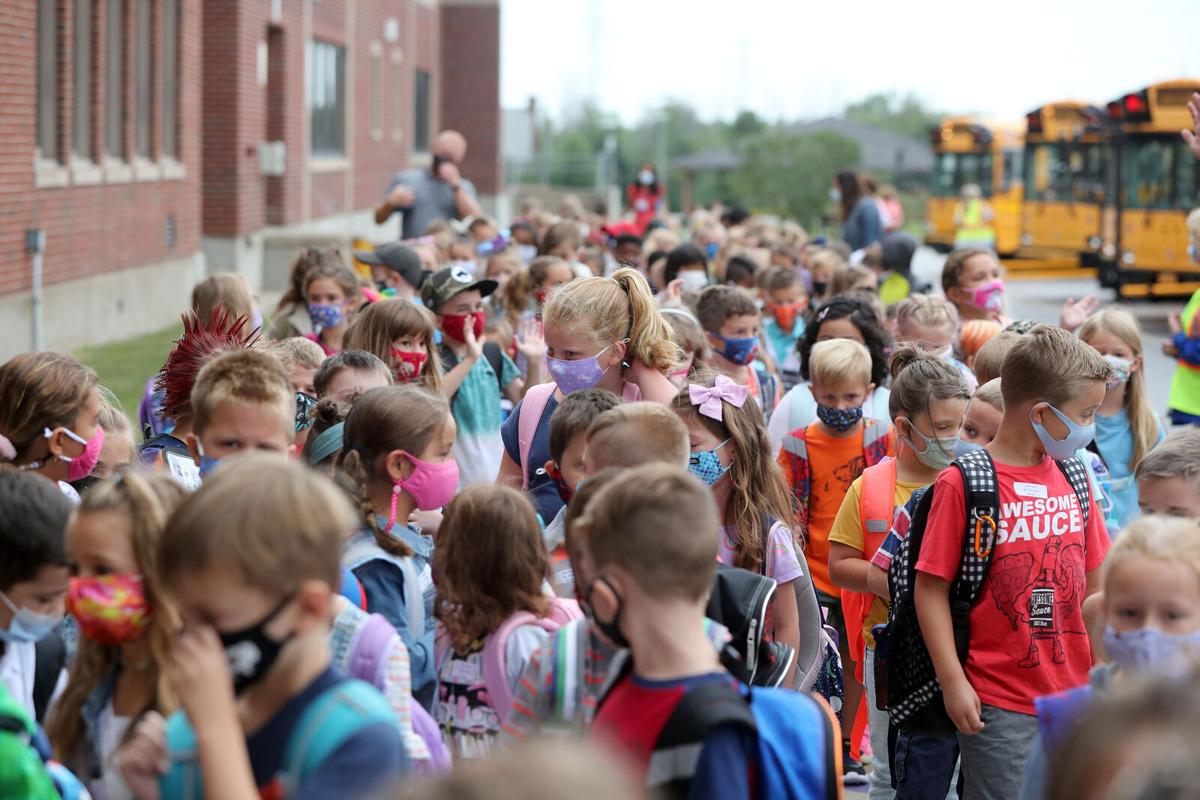 On the agenda Tuesday at the Orchard Park School Board meeting were typical agenda items: financial reports, signing off on personnel matters and accepting a donation from the booster club.
But some parents upset that their children are being required to wear masks in school had other ideas.
About 100 parents showed, far more than the usual crowd, and many refused to wear masks during the meeting.
That prompted the board members to leave the meeting for executive session, and they came back only when the parents agreed to put their face coverings back on.
Several got up to make public comments, several against the mask mandate, a couple in favor. And then the school board meeting went on.
Justice E. Jeannette Ogden rejected the school's request for a preliminary injunction against enforcement of the mask mandate. She set an Oct. 1 hearing for further arguments and will then decide whether to approve or dismiss the school's petition.
It was a slice of public education in the age of Covid-19. Most schools are back to full-time, in-person learning, but they continue to be battlefields in the war over how to fight the pandemic. Some meetings across the country have turned ugly, even violent. A few days ago, a Tennessee high school student was mocked at a meeting for talking about his grandmother, a teacher, who died of Covid-19. There are also reports that some school board members are quitting.
Tuesday's incident in Orchard Park didn't rise to that level. But emotions were strong and continue to be so. 
"Overall, I get it," Schools Superintendent David Lilleck said Wednesday in a phone interview with The Buffalo News. "This is a very emotional topic and time of life. Everyone is advocating for what they believe. That's how democracy works."
Gov. Kathy Hochul, on her first day in office, announced a universal mask mandate for all schools, public and private, in the state. Erie County is also requiring masks to be worn inside all school buildings and school buses.
The Centers for Disease Control and Prevention recommends universal mask usage in schools, regardless of vaccination status, with the goal of making sure children are in school full time and in person.
Key among the new school reopening mandates is that everyone has to wear a mask inside schools and on buses.
All school districts in the state, including Orchard Park, must follow the mandates from the state, Lilleck said.
Tuesday's meeting drew a larger than normal crowd, Lilleck said. He said about half of them took their masks off once they got inside the school auditorium.
Among them was Robert Dinero, who has four children in the district. Dinero, who owns a gym, has been an outspoken opponent of Covid-19 regulations, including the shutdowns of restaurants, bars and gyms, including his. A video of people at his gym yelling at health inspectors and sheriff's deputies went viral.
He was also part of a lawsuit forcing the Orchard Park school district to reopen full time last year.
Dinero said the majority of the crowd at the meeting was critical of the mask policy.
"They're dropping everything against Robby," said attorney Todd J. Aldinger, who along with Paul Cambria Jr. represented the Athletes Unleashed owner in the case. "I don't know how you can see this as anything but a total victory for Robby."
"The overwhelming majority of parents are in favor of being able to choose whether or not their child should be masked or not," Dinero said.
Dinero said his children are complying with the mask rules while at school.
"The kids shouldn't have to fight the battle. I've got to fight the battle for them," he said. 
With at least half the crowd unmasked, the board decided to go into executive session to determine what legal avenues they could take. They left the auditorium.
In the meantime, parents came to the conclusion that if they wanted to be heard, they would have to be masked, both Lilleck and Dinero said.
"There was a lot of emotion," Lilleck said. But it wasn't out of control, he added.
"Sometimes, we need to take a time out, set the ground rules. I do give the audience a lot of credit. They did comply ... and it was a really productive public comment period," he said.
Dinero criticized the school board members for leaving the auditorium, but also said the meeting remained civil.
Dinero said he is eager to see how a lawsuit filed by the Christian Central Academy in Williamsville plays out. The school is challenging the mask mandate. Dinero also predicted that parents who don't like the mask rules will continue to go to school board meetings to express their displeasure and board members who support the rules will face challenges at election time in May.