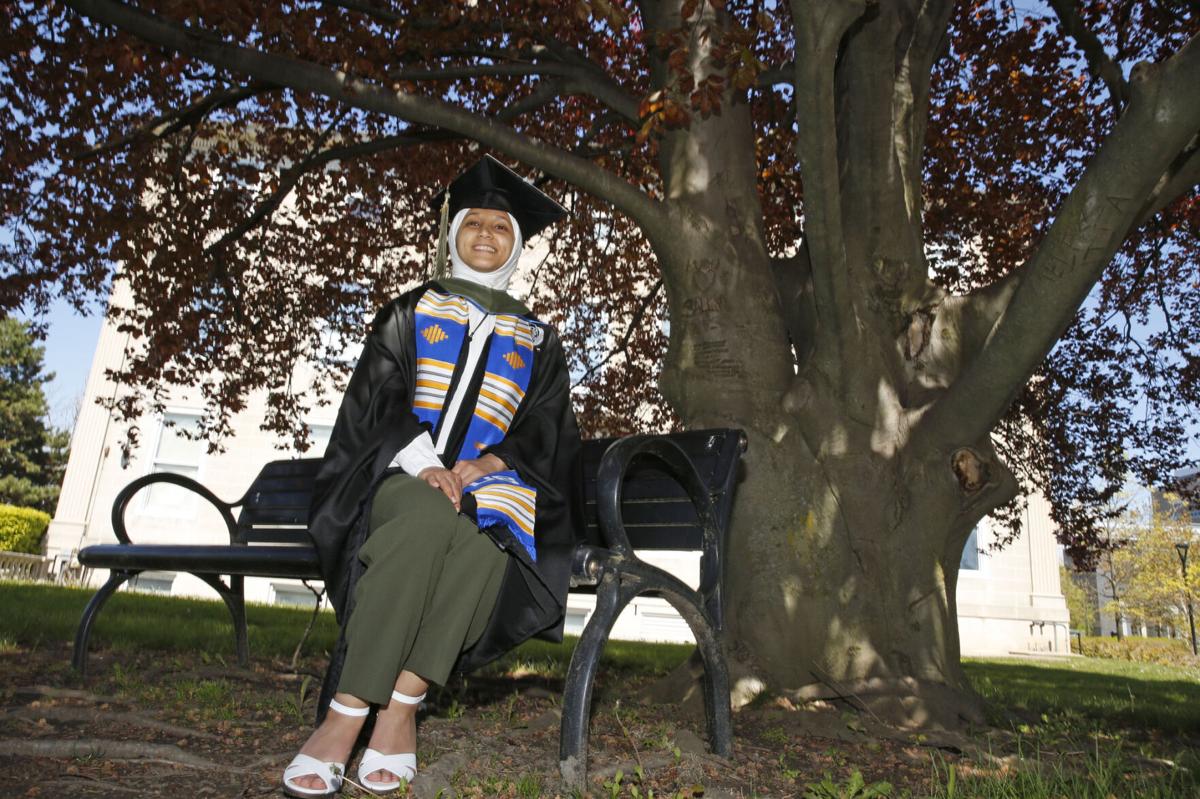 The number of international students attending the University at Buffalo and other area colleges sharply declined in 2020-21 due largely to the Covid-19 pandemic.
International student enrollment at the University at Buffalo in fall 2020 declined by 12% from the previous year to 5,203, the smallest number in more than a decade.
At least half the monies awarded to the colleges and universities will go to students as financial aid.
The slide cost the university $6 million in international student tuition revenues, although UB officials said federal aid from the Coronavirus Aid, Recovery, and Economic Security (CARES) Act and American Rescue Plan Act will cover those losses.
UB bucked enrollment trends at many colleges and universities during the pandemic by gaining more students overall in 2020-21, compared to the year before. But the percentage of those students who hail from other countries shrunk to 16%. Just five years ago, it was 21%.
UB officials are still bullish on bringing students from abroad to study in Western New York. They also acknowledged that the university probably hasn't felt the full impact of the pandemic.
"It's going to be tough," said Lee H. Melvin, vice provost for enrollment management at UB.
Freshman applications from potential international students – a key indicator of enrollment prospects for next semester – were down by 25% from a year ago, Melvin said.
Nonetheless, Melvin said he was "pleasantly surprised" by how many of UB's international students stayed in the United States or were able to get into the country to study during the pandemic.
University officials estimated that just 10% of UB's enrolled international students studied remotely from their home countries. The rest were in the U.S., taking many of their courses virtually.
Why international students stayed
Many students already have had at least one shot, despite having access to it only for the past few weeks, according to local higher education administrators.
Batool Nass worried she might not be able to return to finish her degree if she flew home to Saudi Arabia last spring, after UB shut down to limit spread of the novel coronavirus.
With a year of academic work remaining on an occupational therapy degree, she decided to stay in the U.S. and ride out the pandemic, separated from her family.
"I'm not ready to give up. I came all the way from Saudi Arabia to accomplish this goal," she said.
Nass, 24, said she was terrified by the prospect of contracting Covid-19 with none of her family around to help her. She also worried about not being able to help family members back home if any of them got sick. The first few months were the worst, she said.
"I tried not to leave my place. I tried to call my family constantly to make sure they're OK," she said. "It was scary because I didn't have anything to occupy my mind, other than sitting and listening to the daily news report."
Nass, who hopes to open her own occupational therapy office someday in Dammam, her hometown, is scheduled to finish clinical work toward her degree in June, about a month behind schedule because of the pandemic. She participated in commencement ceremonies Saturday, anyway, and is disappointed that her parents couldn't attend. Travel from Saudi Arabia to the U.S. doesn't resume until Monday.
Nass said she could understand international students holding off on enrolling at a U.S. college or university if they were to get mostly online classes.
"It takes away some of the valuable experience," she said.
Melvin said he understands, as well. He compared it to someone buying a new house and not being able to live in it right away. But, he added, "this is a temporary pause on being able to have that experience" in an American university.
Unwelcoming political climate
All state university students will be required to be vaccinated in order to return to the 64-campus system this fall, Gov. Andrew M. Cuomo announced Monday. 
The Institute of International Education, which uses State Department data to track international student enrollment at U.S. colleges and universities, has yet to release comprehensive data on the impact of the pandemic. But the organization reported in the fall that more than 40,000 international students had chosen to defer their schooling at an American institution until a future semester. IIE also estimated that international student enrollment for fall 2020 was down by 16% among all U.S. colleges and universities.
For many years, UB ranked among the top 25 universities in the country with the most international students, according to IIE.
But even prior to the pandemic, international enrollment was trending down at UB, which was not among the top 25 in the IIE's most recent "Open Doors" report using data from 2019-2020.
International student enrollment nationwide also was down by nearly 2% for 2019-20, before the pandemic. It was the first decline in many years, although it was not unexpected among many college and university administrators who expressed concern that political rhetoric and policy changes under former President Donald Trump would be interpreted globally as unwelcoming of immigrants and visiting foreigners.
Melvin said some of those factors, as well others, are still at play, in addition to the pandemic.
"The reports I'm receiving from our international admissions counselors shows me it's still very much a concern – the geopolitical environment that we had to manage the last couple of years," he said.
A recent spate of anti-Asian violence in parts of the U.S. also is causing some parents and students from countries such as China and South Korea to pause or reconsider their interest.
"We have to address that," Melvin said. "We are welcoming here. We have to explain that."
UB draws students from more than 100 countries, and administrators view having a robust population of students from outside the U.S. as vital to the educational experience on campus.
Melvin said UB had momentum toward growing international student enrollment again just prior to the pandemic, and he hopes that resumes as the university gets closer to being able to offer more of a pre-pandemic campus experience.
"We have to find ways to recover faster from any declines we experienced the last couple of years," he said.
In addition to the cultural diversity international students add to campuses, they also are a boon to college and university budgets because they pay full tuition rates and do not generally receive financial aid.
Niagara University: 20% drop
Other area colleges and universities also are trying to bring in more international students, even though the pandemic took a bite out of those efforts.
Niagara University had been adding international students year after year since 2014 and had about 400 prior to the pandemic. That number dropped by about 20% in the pandemic, said Deborah T. Curtis, vice president for international relations at Niagara University.
Some students had difficulty traveling to the U.S. Others experienced severe financial losses, Curtis said.
Curtis expects the situation to improve in the fall, but the university won't be able to get all of those students back in a single year.
Ultimately, the university aims to have 15% of the student population coming from other countries.
"We were on a very good growth projection, and so having a slow down during a pandemic is frustrating, but we're very optimistic for the future," she said.