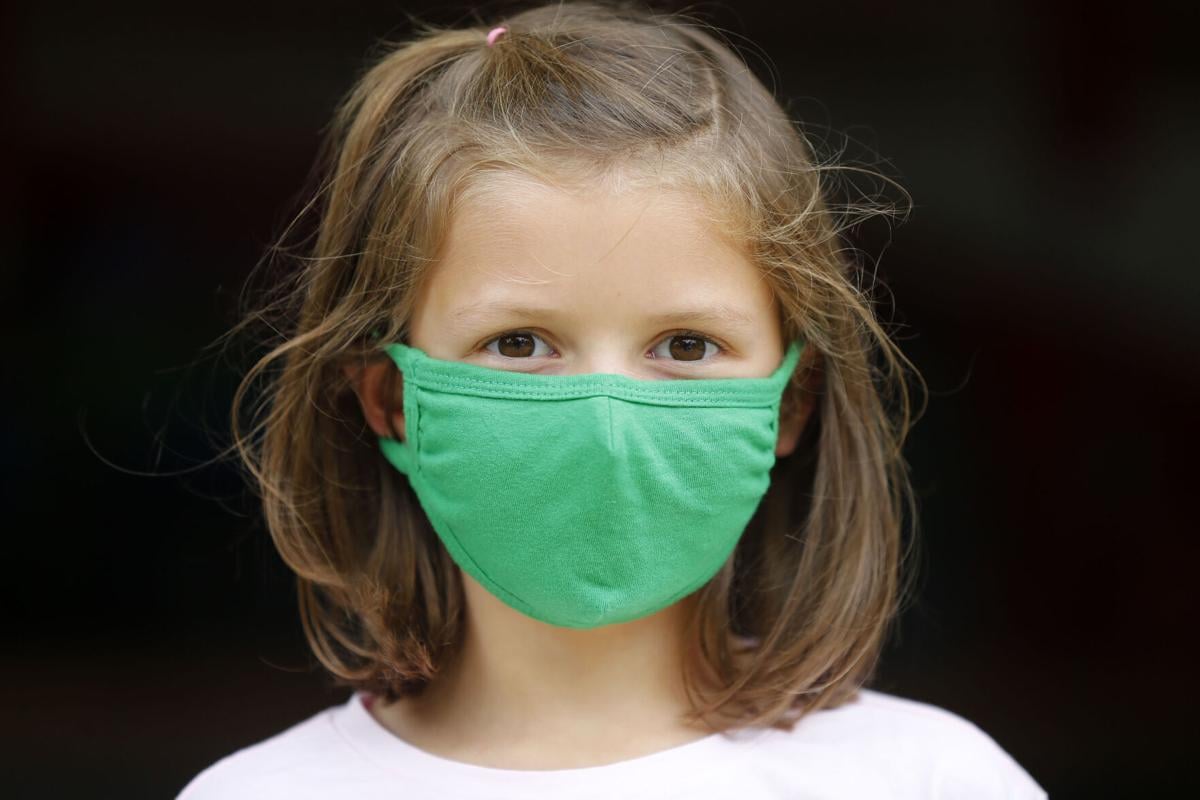 Back-to-school supply lists for children returning to classrooms this fall include something new: masks. While many kids have been wearing face masks and coverings this summer in stores, camps and other places, it's still a new concept in school settings – something that educators, parents and caregivers know all too well.
Some children adjust easily. Others face more of a struggle. Perhaps the masks make their noses itch. Or the loops hurt their ears. Maybe they want to trade their mask with one a friend is wearing – which, of course, is a big no.
But, like hand washing and social distancing, masks are part of the school day.
At Elmwood Franklin School, talk of the importance of wearing masks begins on Day One of the school year.
"One of the things we're telling our children is that by wearing a mask, we are taking care of each other. It's such an important message for all children," said Sarah Duddy, head of Lower School, which extends from 3-year-olds through fourth grade.
Below, some mask-wearing tips that can help with the transition:
• Let children choose their own masks. Make sure it's the right size for the child, good quality and fits properly; children's mask sizes are available.
While some schools may have restrictions on designs, younger kids will enjoy choosing their favorite color or pattern, such as rainbows, superheroes or even a tie-dye design they make at home.
"Once they start getting compliments on their masks they like it better," said Nanci Monaco, a licensed psychologist and associate professor of elementary education and education leadership at SUNY Buffalo State.
Occasionally there's a child where that doesn't work because it reminds the child that he or she has the mask on, she added.
• Practice. Have the children wear masks at home and raise the time period, Monaco said.
"Have them wear them while engaged in various activities – helping bake cookies or watching something on their iPads. Extend the time longer and longer, starting with five minutes," she said. The goal, she said, is to have the mask-wearing fade into the background as the child participates in a variety of activities.
Kathy Doody, associate professor in exceptional education at Buffalo State who works with children with autism and other disabilities, noted this: "We've had a lot of success where we find out what the child is interested in – particularly for kids with autism because they very often have something that's an intense interest," she said.
It might be something like Paw Patrol, Super Mario or the Muppets, so she then tries to find a series of videos with episodes in different lengths.
"So on Monday we watch a three-minute video with our mask on; and then on Tuesday it's a four-minute video, and then on Wednesday it's a five-minute video," Doody said.
If the child takes off the mask, the video is turned off. "It's really effective," said Doody, who co-facilitates a parent group that has an active closed Facebook page.
She also noted some kids get upset seeing people around them wearing masks because they look different; their faces are covered.
Again, go in small increments of time so the child gets used to seeing family members and others wearing masks, she said.
"What I often find is you start very slowly, two minutes, three minutes, four minutes – but once you get to a certain point, all of a sudden they are fine with it. You can go from five minutes to an hour in one jump," said Doody, who has a 23-year-old son, Kevin, with autism.
"It's a legitimate teaching practice called 'shaping' that has been in special education for years. I've had a lot of kids who wouldn't wear glasses. ... Now we're just applying it to masks," she said.
• Check to see what issue the child has with the mask. Sometimes it's as simple as the loops bothering the ears, Monaco said. This can be resolved by using a headband or extender band that has clips or buttons to fasten the ear loops, which takes the pressure off the backs of the ears. Check out Etsy or other websites.
"They are pretty lightweight and you can chill them so that they are cool. They do two things: They keep your face cool and they also keep the cloth mask out of your mouth so it doesn't press on your face. A lot of kids, particularly with disabilities, have sensory sensitivities and the mask scratching against their face is very uncomfortable and very aversive. So this is like a go-between, a barrier so that the mask doesn't directly hit your face," said Doody, who said sewing a couple stitches should hold it in place.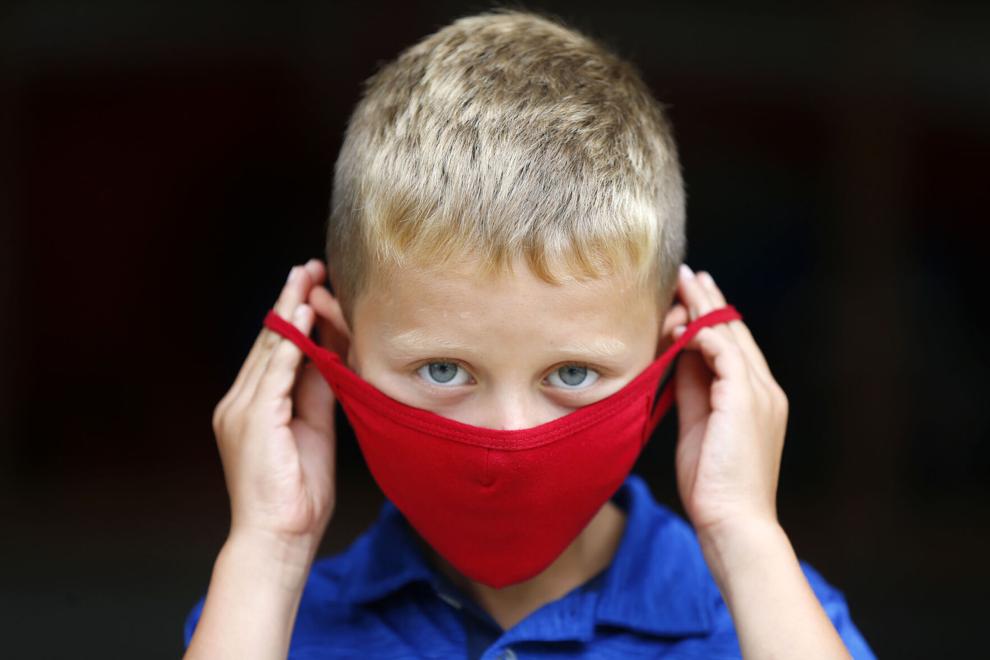 • Make use of children's books and other tools that help kids sort out their feelings during this pandemic, including concerns about mask wearing. Monaco and her husband, Dr. Mark Schachter, also a child psychologist, co-authored a children's book, "Covid Kids: Joy's Story of Coping in a Difficult Time," for example. The website also has resources for parents on how to help their children deal with the pandemic.
• Use mirrors, videos and photographs, Doody suggested. Let children get used to seeing themselves in a mask – especially ones they have picked out. They can also practice expressing themselves with their eyes.
• Have them teach someone else, like a younger child, how to wear a mask. You can even make them the star of a video. "That's putting them in a position of control. What didn't they like? How did they get over their fears? Some kids really like seeing themselves on a video," Monaco said.
Listen to 7-year-old Amelia Miller talk about her mask:
• Normalize face masks through play. Have a child put a mask on a doll or stuffed animal. If you sew your child's masks, you can even sew matching ones.
• Don't assume young children will fight the mask. Duddy said the adults learned something about the youngest campers during Elmwood Franklin's summer camp.
"One thing that camp taught us is that the younger the children, the easier it is. That's not what we expected. The older children push the boundaries and try to take it off. They will run around the playground and say, 'I'm hot; I'm taking it off.' The younger children are so resilient. They get used to new routines. They go about their business," she said.
Which is a good thing. "We feel that it's really important for the little ones to wear masks because it's the hardest for them to social distance," said Duddy, who has three children ages 3 to 8. She emphasizes the mask-wearing among this youngest group lets them engage in age-appropriate developmental play with the protection of a mask.
"The mask provides a safeguard when children are playing and may be closer than 6 feet apart," Duddy said.
"Of course, there are going to be many times in our day when we are enforcing that social distancing, but there also are going to be times when we just want them to play because now more than ever they all really need that," she said.