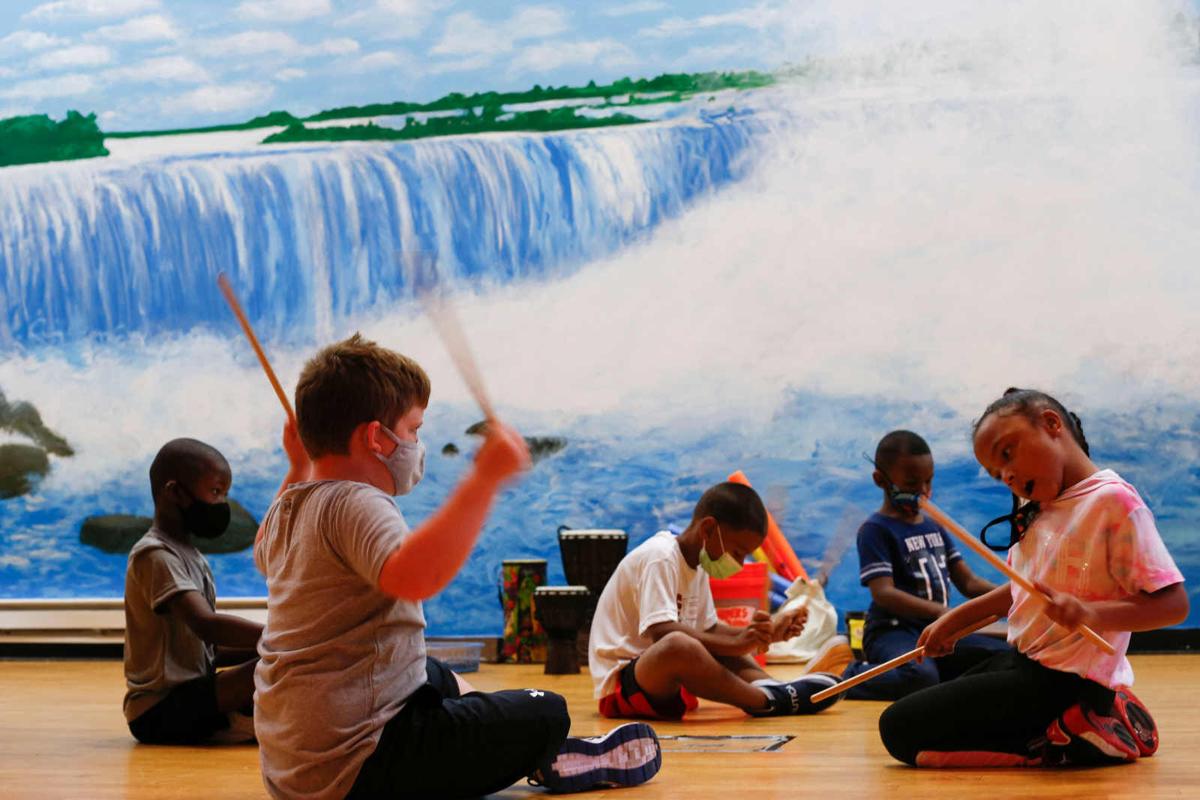 Kelly Piccirillo's kindergarten students were – mostly – paying close attention to her Tuesday morning.
"I have to teach you what it looks and sounds like when you are going to leave your chair and come to our rug," she said. "Now, that probably seems easy. But you know what? Believe it or not, we're going to practice with it."
After two school years like no others, families and educators are starting yet another unique educational experience.
It's all part of getting students into a routine. Tuesday was the first day for the 465 students at Niagara Falls Elementary School, which is housing pre-K through second grade this year. 
Last year, with pre-K to sixth graders, students learned remotely and in the hybrid model. 
"The whole first week, we're going to allow parents to walk their kids to the classroom," Principal Rocco Merino said. "There's a lot of kids new to the school, and talking to parents outside, there's a lot of anxiety."
Schools have updated their protocols with an eye toward making sure all students can safely return. 
Back in Piccirillo's classroom on the second floor, the crush of little feet finding their classrooms was over. Here, students were learning the proper way to go from their desk to the brightly colored rug.
"Sometimes we might sit in the shape of a circle on our carpet, so I have to teach you how to do that," she said. "Can you give me a thumbs up if it makes sense to you?"
She called on a student to be the first one to the rug.
"I'm going to say, 'Melania, would you join me on the carpet,' and you know what she's going to do? She's going to stand up, she's going to push in her chair," Piccirillo said, praising the girl as she picked a spot, sat down and crossed her legs.
"My friend Melania even came over and did criss-cross applesauce! An old pro," Piccirillo said. "Her chair is pushed in neat and tidy and she's ready to practice being a good listener!"
Settings such as schools "pose increased challenges and urgency for controlling the spread of this disease because of the vulnerable populations served," and the number of children who are not eligible for the vaccine, according State Heath Commissioner Dr. Howard Zucker.
At one point, one of the children started crying. Piccirillo went over and put her arm around him, and asked was was going on. 
"I'm hungry," was the reply.
"Yup, lunch is coming up," Piccirillo said. 
Over the first week, administrators and counselors will check in with teachers to see who is adjusting, and who is having problems, Merino said. 
"I think we need to take a step back and watch for a week or two. We want it to be as normal a first day as possible," he said.
School districts and private contractors in New York State are reporting a 15% to 20% shortage in the driver force.
In the gym, physical education teacher Mike Evans had a group of second graders and was talking about respect, and he mixed in a little math.
"Have a seat on the X," he said of a spot on the floor. "That's excellent, good respect."
Words such as "Balance," "Flexibility," "Muscle" and "Aerobic" are written in blue and red paint on the walls of the gym.
"Since this is our first day, we have some cool things on our floor and walls of our gym. Take a look around, we've got some basketball hoops, we've got some blue mats – Aiden, sit up, buddy – We've got a TV in here," Evans said.
Next, he pointed out the large, red circle at center court, as well as the big black circle inside that and a smaller black circle in the middle. It's part of a program to incorporate math into physical education, Merino said.
"We are continuing to monitor the numbers and consulting with health experts, but we need everyone to do their part," Gov. Kathy Hochul said in a statement Saturday.
It was just another day at Niagara Street Elementary. In the auditorium, kindergartners and first graders were happily banging drumsticks on the floor of the stage. Music teacher Kelly Gawron was teaching them how to keep a beat.
In Marissa Gagliardo's second grade class, children were starting to put together a book about themselves.
"I need to know a little bit about you and I want you to know a little bit about me," she said. "Sound good? Thumbs up?" she said. "Take out your crayons, if you don't have crayons, Mrs. G has some. Make sure our masks are up because snack is over."