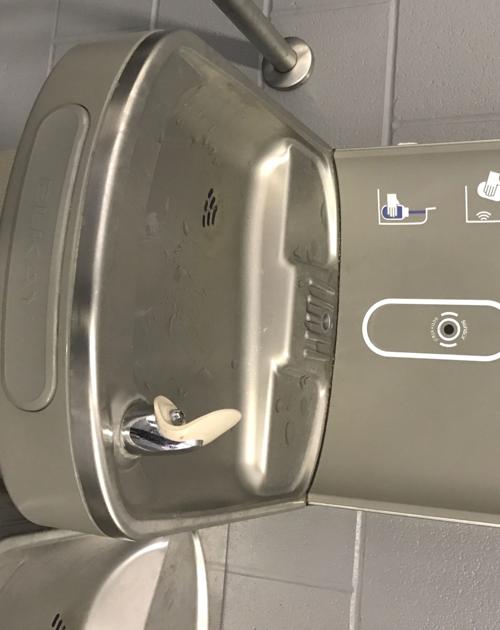 A new state-mandated testing program has found lead in some of the drinking water in at least 11 school districts – Lackawanna, Williamsville, Clarence, Depew, North Collins, Orchard Park, Lockport, Hamburg, Cleveland Hill, Fredonia and Silver Creek.
Parents of children in those districts were notified Friday that unacceptable lead readings were found in some water fixtures in school buildings, and that those fixtures have been shut down for repair or replacement.
Over the next few weeks, experts said it is likely that hundreds of school districts all over the state will be sending disturbing letters to parents, making similar notifications about the water.
The presence of lead in any school's drinking water can be alarming to a parent. Parents "should definitely be concerned" about the situation, but should not panic, one health expert told The Buffalo News.
"They should definitely be concerned because it is never a good thing when any child is exposed to lead," said Dennis A. Kwaczala, senior health and safety coordinator with the Erie 1 Board of Cooperative Educational Services. "But they should not panic. Take a close look at the letter you get from the district. It will tell you exactly what water fixtures have had problems, what rooms they were in and what is being done to remediate the problem."
Kwaczala is helping 23 Erie County school districts with their water testing, which is required under a state law that took effect last month. Every one of the state's 728 public school districts must run lead tests on the water coming from drinking fountains and most of the sinks in every school building.
The water testing began in elementary schools last month and is now being conducted in middle schools and high schools.
Every public school building in the state must be tested by Oct. 31.
Anyone who has a concern about their child's exposure to lead – whether at school, at home or anywhere else – should consult a pediatrician, Kwaczala said.
"The law was passed because lead can cause serious health problems, especially for young children and pregnant women, and testing at a select number of schools last year uncovered potential problems," said Christine Schuyler, director of health and human services for Chautauqua County. "However, the law was rolled out so quickly that the New York State Department of Health did not have time to prepare formal sampling and reporting guidelines for schools to follow."
The first few results are just now being made public, and the news has upset some parents.
Some parents – such as Debbie Duttweiler of Lackawanna – are sending their children to school with bottled water. And some districts – such as the Williamsville district – are making bottled water available to some students and staffers.
Duttweiler said she was not really surprised to learn that traces of lead were found in drinking water at her children's schools. Duttweiler's three boys, ages 12, 14 and 16, attend the Lackawanna middle and high schools on Martin Road.
"Our infrastructure is falling apart," said Duttweiler. "Lackawanna is a low socioeconomic community. There are a lot of things that don't get taken care of."
That's why Duttweiler sends bottled water each day with her children to school.
"My kids don't drink that water," she said.
Lackawanna is just one of a growing number of districts that have alerted parents to lead problems in the school drinking water.
Based on his discussions with school officials all over the county, Kwaczala said it is his understanding that most of the high lead levels have been found in sinks used mostly for hand-washing or washing school equipment, rather than drinking fountains. Water from school showers and toilets is not tested.
At Ellicott Elementary School in Orchard Park, water samples were collected and tested from 143 water fixtures. According to school officials, samples taken from 18 fixtures exceeded the state's threshold of 15 parts of lead for every billion parts of water.
Eight of the lead-contaminated samples came from classroom sinks, seven came from sinks used by maintenance staff and three came from water fountains, the Orchard Park district reported.
"When any district finds that a sample has exceeded the state threshold, they will put the water fixture it came from out of service until it can be repaired or replaced," Kwaczala said. "They will notify the parents of what fixtures have had problems and what the readings were. If the letter does not mention a certain water fountain or fixture, you can assume it has been tested and is OK."
Many school buildings throughout the state were built before the 1980s, and would be likely to have at least some plumbing in them that has the presence of lead, Kwaczala said.
"I would say that just about every school district is going to find lead in at least some of the water fixtures in some of its buildings," he said.
Williamsville reported Friday that the first batch of test results coming in to the district showed lead over 15 parts per billion at three classroom fountains at Country Parkway elementary school, along with seven outdoor faucets and two shower/locker rooms. At Forest Elementary, two classroom faucets and two student bathrooms showed lead over 15 ppb.
"Those outlets will be remediated and retested by the certified laboratory before being used again," the Williamsville district announced on its website. "Remediation may include changing the faucet/fixture, adding filtration, or adding appropriate labeling to certain fixtures as non-drinking water outlets such as custodial sinks and outside water faucets. Bottled water will be available for student and staff use if necessary."
In Clarence, school officials reported that sinks in classrooms, the kitchen, locker rooms and other areas of Sheridan Hill Elementary School tested high for lead. Other schools affected included Harris Hill, Clarence Center and Ledgeview Elementary schools.
Clarence schools sent letters to parents with a detailed list of which water fixtures elevated lead was found in.
They assured parents that the fixtures have been turned off and bottled water would be provided for student and staff use in those affected classrooms.
"Please know that we are taking these precautionary measures for the benefit of all our students and staff," the school said on its website.
Buffalo Public Schools have been working with the Erie County Health Department to test the water at several thousand faucets and drinking fountains across 58 schools in the district, said Elena Cala, the district's spokeswoman, on Friday.
The district expects to have the results compiled next week to report findings to parents and the School Board.
"It's probably going to be early next week when we can accrue everything," Cala said.
The Depew School District reported on its website that the district had its drinking water tested prior to the new legislation having kicked in. Of 284 water samples tested, only 38 showed lead levels above the 15 parts per billion mark, according to the online notice, including nine hand-washing sinks and two kitchen pot fillers at Cayuga Elementary School.
There were 10 of 60 samples that exceed the state lead limit at the middle school, including five hand sinks, 3 kitchen dish sinks, one kitchen pot filler and one kitchen hand sprayer.
Seventeen out of 115 samples taken at the high school exceeded the state level, including two drinking fountains, 11 hand sinks, a kitchen hand sink, a kitchen prep sink and two kitchen dish sinks.
The North Collins School District reported on its website that "22 sources of potable water in the North Collins Elementary School and Bus Garage have been identified as having lead concentrations in water at or above" the state levels.
Silver Creek officials said 31 of the 244 water samples in its schools also tested above the accepted limit of 15 ppb. Officials in Silver Creek received the test results Oct. 11, and the district shut off the water supply to the affected fixtures.
In Lackawanna, parents were notified about the lead found in their schools in a letter from acting superintendent Lisa A. Almasi. In that district, Truman Elementary School showed the greatest number of lead-contaminated water faucets and drinking fountains, said Leonard F. Kowalski, president of the Lackawanna School Board.
"Any water fixture that tested positive was put out of service," Kowlaski said. "We may abandon them."
Kowalski did not know when the Lackawanna schools' water supply was last tested for lead in the buildings' water supply.
"The presence of lead in the water is building dependent and depends on the plumbing," Kowalski said. "You may have dormant faucets where the water just sits. That's when the water starts to react with material in the fixtures. That's when the lead leeches into the water."
Kowalski said the Lackawanna district contracted with EMSL Analytical Inc. with offices in Depew to conduct the lead testing.
One woman who has three children attending Lackawanna schools applauded the district for releasing test results before most other schools.
"If we're intelligent enough to initiate the testing, we'll fix the problem - now that we've been made aware of it," said the mother of three, who declined to be identified for publication.
Kasia Katarzyna, a University at Buffalo associate professor of epidemiology and environmental health and an expert in metals poisoning in children, said news of area schools finding lead in their water supplies is likely due to the attention generated by the water crisis in Flint, Mich.
"Flint was sort of a watershed case, it drew people's attention to something happening in the United States," Katarzyna said.
How much lead in school water could affect students all depends, she said.
"There is no acceptable level. There is no safe level in blood," Katarzyna said. "In understanding what the school water may be doing to blood lead levels, it's very important to understand how much that water would be contributing to that child's exposure."
Although the new state water testing requirements create more work for school districts and worry for parents, Cleveland Hill School Superintendent Jon McSwan is a strong supporter of the requirements.
He said 14 sinks at the Cleveland Hill Elementary School are being replaced because of the lead testing that was conducted last month.
"Before this, we last tested our schools' drinking water for lead around 2001 or 2002...about 15 years ago," McSwan said. "Now, under the new state requirements, it will be tested every five years. As a parent of two school-age children, I think it's an excellent idea. Children are our most important asset."
News staff reporters Jay Rey and Harold McNeil contributed to this report.
Be the first to know
Get local news delivered to your inbox!