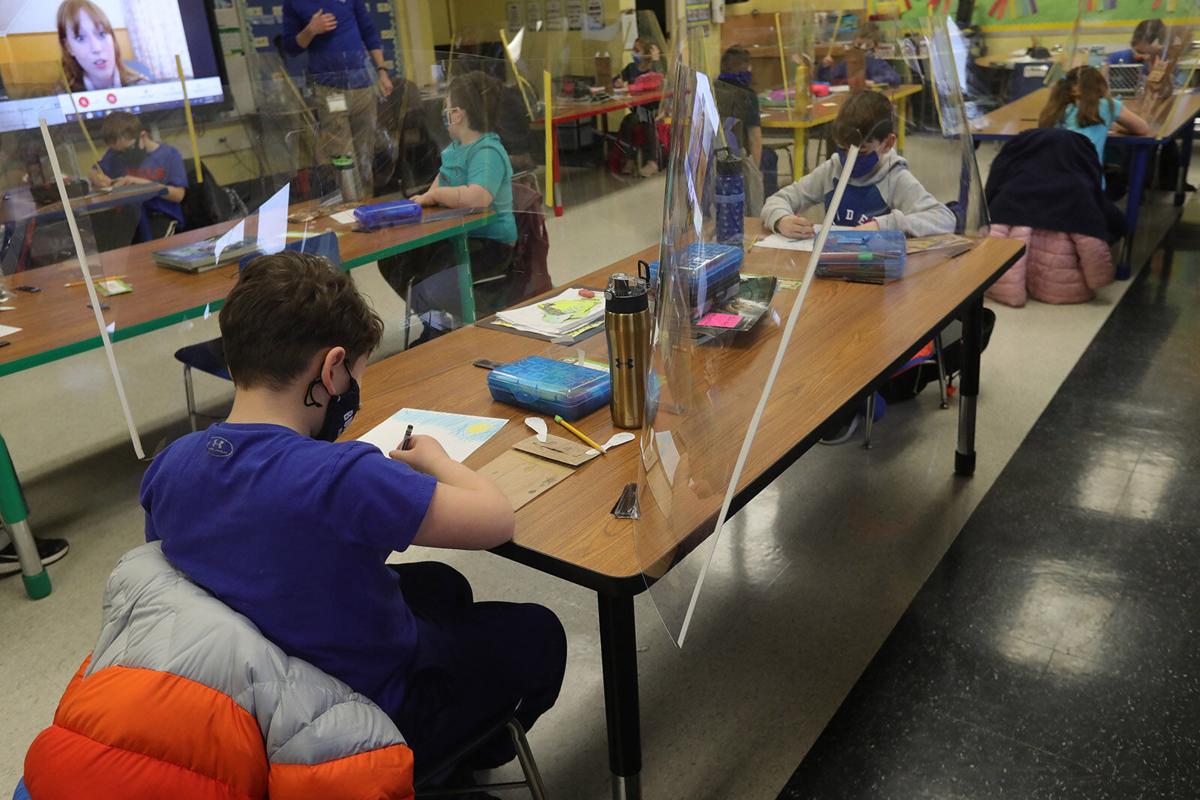 Parents in four suburban Erie County school districts have decided the best path to the classroom is through the courtroom.
With about three months left in the school year, they have filed legal actions against the Williamsville, Orchard Park, Clarence and Grand Island school districts to get their children full-time, in-person learning. The lawsuits come even as local superintendents are waiting and hoping for new guidance from New York State that would allow more kids in school at one time.  
"There's got to be a way to provide instruction to students every day," said attorney Todd J. Aldinger, who represents seven parents in the Williamsville district and one parent in Orchard Park.
The legal petitions are on behalf of the parents named in the filings, as well as "all others similarly situated," according to court papers.
"We don't want to get into a situation where every single parent who wants to have their kid go back to school full-time has to bring their own individualized lawsuit," said Aldinger of the Lipsitz Green Scime Cambria law firm.  
The Orchard Park parent represented by Aldinger is Robert Dinero, the owner of Athletes Unleashed, who previously challenged state Covid restrictions on his gym. 
Another law firm, HoganWillig, sued on behalf of parent groups in Clarence and Grand Island. The Coalition of Clarence Parents to Put Students First is a nonprofit group that represents approximately 200 students, while the Coalition of Grand Island Parents to Put Students First is a nonprofit representing about 180 parents, according to court papers. 
All four suits name the districts, school boards, governor, and state Health and Education departments. The Clarence and Grand Island suits also name the Erie County executive and county Health Department as well as the local teacher unions. 
The petitions have a similar argument to the successful suits filed on behalf of restaurants. They contend the governor's directives on restrictions have expired, and the decision to require students to wear masks and maintain a 6-foot distance is arbitrary and capricious.
Most schools do not have the space to have all students in classrooms at one time if they must be 6 feet apart from one another, and they designed hybrid plans which bring in half of students at one time.
Parents in Williamsville and Grand Island took to crowdsourcing to pay for their lawsuits.
In Grand Island, a GoFundMe page raised $25,000 to pay a flat fee for the cost of the legal action, according to the organizer of the fundraiser.
"We donated because our kids and all the kids in our neighborhood, city, state, country need to be in school enjoying their friends meeting new friends and learning in person from teachers that actually care about them," said one person who donated $1,000 to the Grand Island effort.
Williamsville parents raised their initial goal of $15,000 to retain legal counsel, according to their GoFundMe page. 
"Our children have a right to an in-person education, five days a week," wrote a couple who donated $250.
Children becoming 'apathetic'
Parents contend their children go to school buildings two or three times a week or for half days, and when they are not in the classroom they have little contact with teachers.
Dinero said his children attend school in person in Orchard Park every other day, but receive no instruction on the days they are not in school.
"I do not have the training or my time to properly educate my children to the degree that a competent teacher providing five days of instruction per week would be expected to," he said in court papers.
Christine R. Cornwell of Clarence said her three children are suffering with hybrid education.
"Without the stability of full-time learning, my two older children have become apathetic towards their education," she said in an affidavit.
One of her child's grades dropped by 15 to 20 points, and the child "views school as more of an option than a necessity."
Cornwell also said she would be sending one of her children to private school in the fall.
Could be tough cases to win
Schools are different from restaurants and gyms, and there are administrative processes already in place, said Christine P. Bartholomew, a law professor at the University at Buffalo Law School.
"I think there's a really good argument that a court could dismiss these complaints for failing to exhaust administrative remedies," she said. "The more interesting angle from these lawsuits is their potential as leverage to move communications forward, regardless of their potential legal success."
It may be difficult to determine if filing of legal action influences policy. 
But a series of local suits either led to temporary restraining orders and preliminary injunctions barring enforcement of the governor's Covid-19 restrictions, or the suits were quickly followed by the state loosening restrictions while legal challenges were still pending earlier this year.