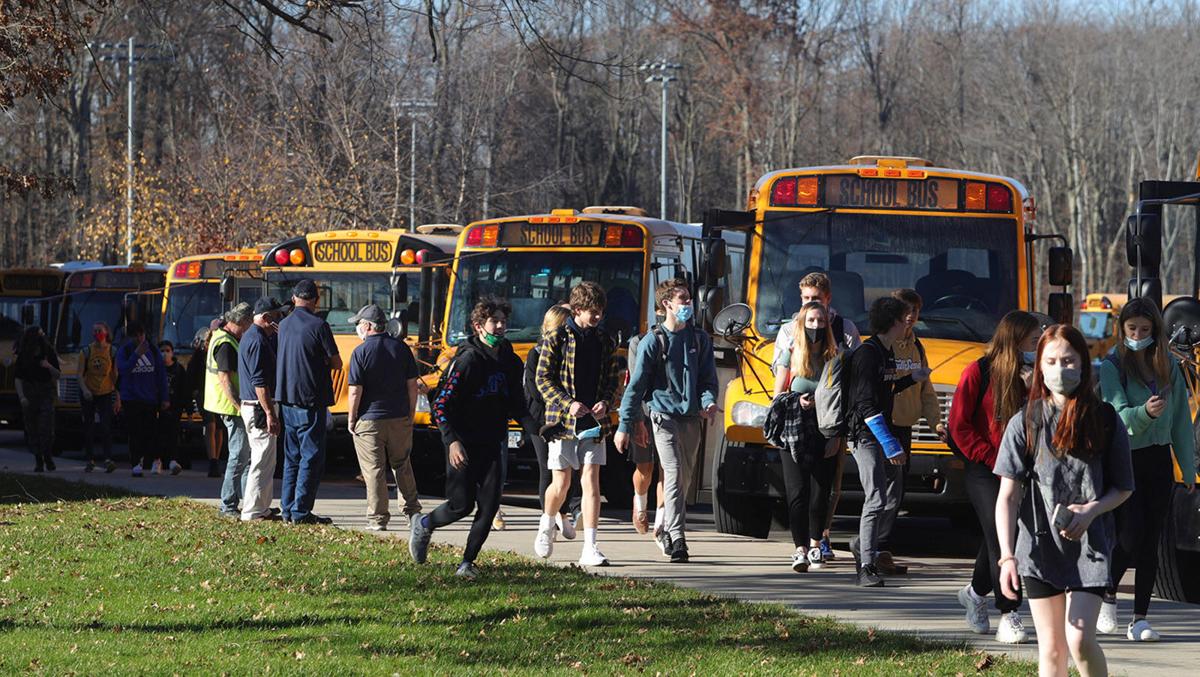 Nearly $400 million is headed to local public schools under the American Rescue Plan – the biggest infusion of stimulus funds allocated to districts so far.
That works out to an average of $2,870 per student in Erie and Niagara counties.
Some districts, though, will receive only about one-tenth that much, a Buffalo News analysis of state and federal data found. Others will receive far more.
Orchard Park, for example, will receive $282 per student. Williamsville will get $327 per student.
Lackawanna and Buffalo will each get more than $7,500 per student – more than 25 times as much as Orchard Park.
That's because the federal government is distributing the American Rescue Plan money using the same formula it uses to distribute anti-poverty Title I aid for schools every year.
That formula relies heavily on the number of children living in poverty in each school district. The greater the concentration of children in poverty, the more money per student that district will get.
In Orchard Park, for instance, one out of six students is considered economically disadvantaged; in Buffalo and Lackawanna, four out of five are.
"They're trying to help school districts defray the significant cost of dealing with Covid and at the same time drive aid to the needier school districts," said Hamburg Superintendent Michael Cornell.
His district is expected to receive $573 per student, based on the most recent stimulus aid estimates released by the New York State Education Department.
"I think we would always like a little bit more, that's just human nature," Cornell said. "But I certainly understand the methodology, and we're certainly grateful for the increase in federal money."
About a dozen districts in the state, most of them in the Adirondack region, will receive no aid from the American Rescue Plan because they are too small to receive any Title I aid, according to Brian Fessler, the governmental relations director for the New York State School Boards Association.
His group would like to see the state provide those districts with some compensatory money, either in the state budget or out of the state's share of the American Rescue Plan funding.
"We are supportive of the state taking an active step in trying to address some of those outliers and discrepancies," Fessler said.
Until the past couple of weeks, many schools across the state had low expectations for the stimulus money, as they feared that the state would reduce each district's amount of state aid for the 2021-22 school year by the amount of stimulus aid they got.
That has turned out not to be the case. The stimulus money will supplement schools' annual share of state aid, rather than replace it.
"Budgets for upstate school districts have been stretched to the limit since the 2008 financial crisis," Cornell said. "This is at least a down payment on being able to move forward with programs that a lot of districts have probably put on hold for at least a decade."
Three years to spend the money
It will be awhile, though, before schools will spend most of that money – or the aid from the previous two stimulus packages.
A year after the CARES Act authorized $1 billion for New York State schools, only 19% has been distributed to the districts, according to state Education Department officials.
So far, Buffalo Public Schools has spent $16 million of the $29.7 million it was allocated under the CARES Act, district spokesperson Elena Cala said.
"It basically backfilled state aid cuts, allowing us to retain personnel that would have been cut due to the decrease in state funding," she said.
The state Education Department has not yet distributed any of the $4 billion it received under the Coronavirus Response and Relief Supplemental Appropriations Act in December, according to department officials.
New York has received two-thirds of the $8.9 billion it is to receive under the American Rescue Plan, but the schools have not received any of it yet, according to state Education Department officials.
Once schools do receive the money, most of it will not be spent until next year or later, according to a report by the Congressional Budget Office. It's hard to estimate when schools will spend the money, the report noted, because of the uncertainty around when schools will fully reopen, among other things.
Initial estimates from the Congressional Budget Office suggest that schools across the country will spend only about 5% of the American Rescue Plan aid by the end of September.
One-fourth of it will be spent in the following fiscal year, which ends in September 2022, and another one-fourth by September 2023, the CBO estimated.
Schools have until September 2024 to spend the money.
From hand sanitizer to summer school
In December, under then-President Trump, the CDC released a report estimating it would cost about $442 per student to operate schools safely in 2020-21. That included increased transportation to accommodate social distancing on buses; hiring more custodians; and buying face masks, hand sanitizer, disinfectant and other pandemic-related supplies for schools.
A few months later, President Biden's administration released a report saying that far more money would be needed to safely reopen schools.
The administration estimated it would cost an average of $2,853 per student to cover many other costs related to reopening. Nearly half of that would be needed for hiring more staff, including teachers, nurses, counselors and psychologists. Close to one-third of the estimated cost would be needed to close budget gaps and avoid layoffs.
But schools don't have to spend their aid using that breakdown.
Districts can spend the money on a wide range of things including improving air quality in the schools, hiring counselors, buying laptops and providing meals to students.
While most of the money goes to the schools, the state Education Department can keep up to 10% of the $8.9 billion awarded to the state in the American Rescue Plan. 
The Education Department will allocate $629 million for addressing learning loss and providing summer programs and after-school programs and $195 million for new full-day universal pre-kindergarten expansion grants, according to information provided Monday to the State Board of Regents. The state will spend $24.7 million to administer the funds over three years.
"It is imperative that these funds are used for their intended purposes," department spokesperson Emily DeSantis said.
With many students missing a year or more of in-person education, schools say they know it will take a concerted effort to help students recoup the learning they lost during the pandemic.
"We're going to need a year or two of intensive sort of six-day-a-week learning opportunities for our students in order for many of them to catch up and go ahead," Buffalo Superintendent Kriner Cash told the school board recently.
The first two stimulus packages
The American Rescue Plan is the biggest of the three stimulus packages for districts.
It provides schools with nearly 10 times more money than the CARES Act did a year ago, and more than twice as much as the Coronavirus Response and Relief Supplemental Appropriations Act in December.
Of the three stimulus packages, the December package distributed aid most evenly, from $909 per student in Holland to $2,894 in Buffalo.
From the total of all three stimulus packages, schools in Erie and Niagara counties will receive an average of $4,731 per student, ranging from $1,322 in Orchard Park to $11,445 in Buffalo.