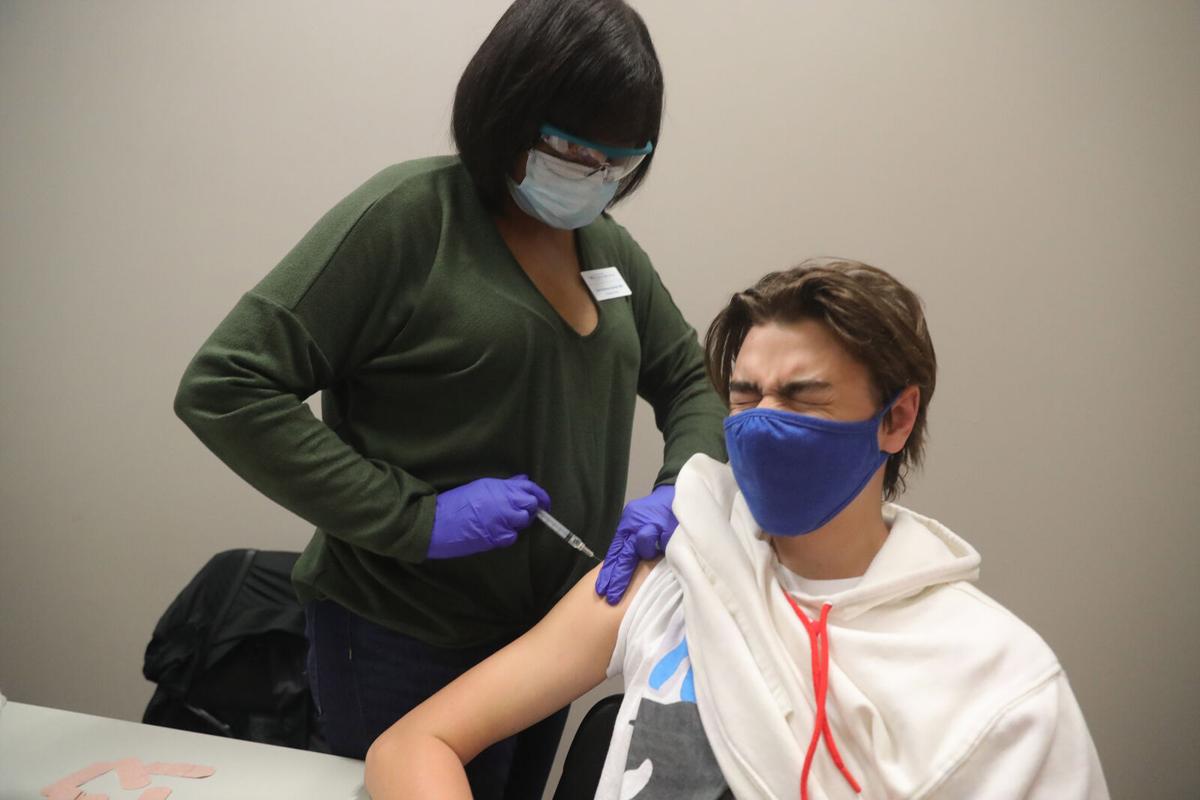 Kwazema Abakporo was happy to get a Covid-19 shot Thursday morning in the University at Buffalo Student Union, and he expects most students will get vaccinated prior to the start of next semester in August.
But Abakporo, a junior from Brooklyn, isn't sure making it a requirement is the best way to accomplish that.
"We just need to let everyone completely process what's going on," he said.
More than 100 higher education institutions nationwide have adopted vaccine mandates, although UB and other Buffalo-area colleges and universities are holding back on requiring vaccines for students next fall.
Many students already have at least one shot, despite having had access to it only for the past few weeks, according to local higher education administrators. Enthusiasm for vaccinations on campuses remains high, potentially making moot the need for vaccine requirements, they added.
"We firmly believe the vast majority will choose to get vaccinated without any requirement in place," said State University of New York spokeswoman Holly Liapis.
Several highly selective private colleges and universities were among the first to announce student vaccine requirements. At least 18 colleges and universities in New York State, including the University of Rochester, Syracuse University, Ithaca College, Cornell University and Fordham University, have said they will require the shot for the fall semester, according to the Chronicle of Higher Education, which is tracking institutions that mandate vaccines.
Public university systems in California, Maryland and Massachusetts more recently have gone on record requiring the vaccine, although the California system said the requirement would take effect only after the Food & Drug Administration grants final approval for Covid-19 vaccines that currently are being given under temporary "emergency use authorizations." The FDA has given no timetable as to when such approval could happen.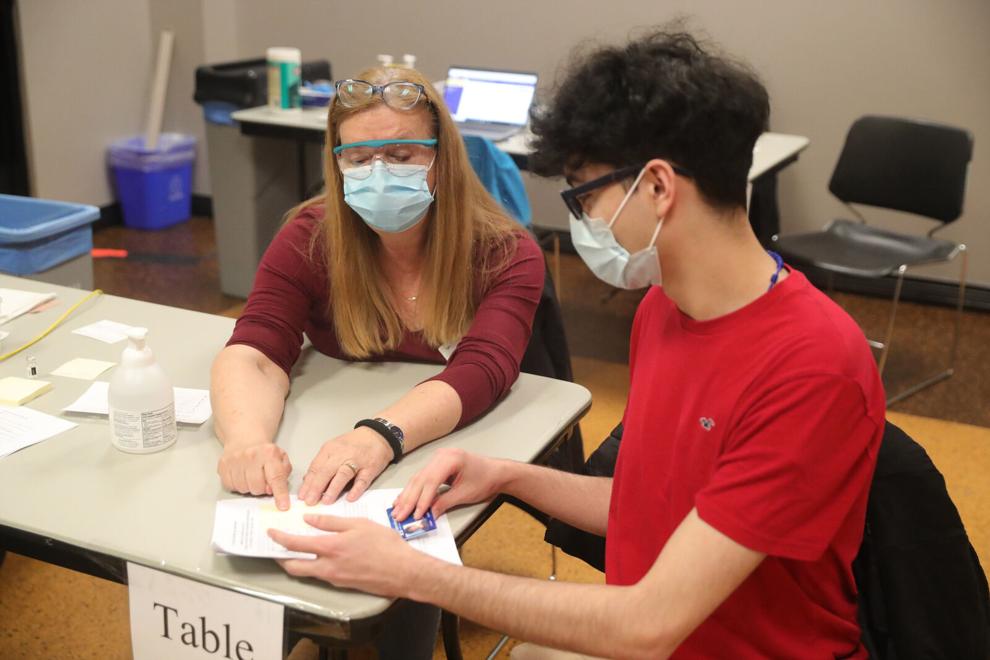 The "emergency use" status of the vaccines on the market is one of several factors that has kept some local colleges from jumping quickly on the vaccine requirement. Some colleges worry about possible legal challenges to a vaccine mandate while the vaccines are still under an emergency use authorization.
Officials from Canisius College, Niagara University, St. Bonaventure University and Hilbert College said they had yet to decide whether to require the vaccine.
While most colleges and universities require that students be vaccinated against mumps, measles, rubella and meningitis, those vaccines have been FDA approved for many years.
"The key in all of this is a little bit of patience," said Daniel A. Dentino, vice president of student affairs and dean of students at Canisius. "A lot of this, as we roll through the rest of this semester, will become more clear, hopefully. If the emergency authorization is dropped, that makes it a little bit easier from our perspective."
SUNY system leaders will continue to work closely with public health officials over the summer "to make a final determination on whether to require vaccinations," said Liapis. The University at Buffalo, SUNY Buffalo State and SUNY Fredonia are following SUNY administration's lead on the vaccine requirement issue.
Can colleges afford to require vaccines?
On a practical level, higher education as an industry has been battered by the pandemic. Many colleges and universities experienced enrollment declines and revenue losses. Imposed vaccinations could turn away even more students.
"Yale can basically say, in not so many words, 'Look, we're Yale. You want to come here? Fine, get vaccinated, otherwise don't come,' " said Gary A. Olson, president of Daemen College. "But most colleges can't say that."
Nearly 1,200 Daemen students, faculty and staff – about a third of the overall campus population – have received at least one vaccine dose, many of them at clinics on campus.
Olson said the campus would press forward with outreach and education about the benefits of the vaccine to overcome reluctance that can be attributed to a wealth of disinformation spread on social media.
"What's really important is to work on getting the real facts out to the population here at Daemen and everywhere else for that matter, so that they understand the safety of this, the effectiveness of it, the importance of doing it," he said. 
Some colleges and universities were making a strong push to get as many students as possible vaccinated before they head home at the end of the semester in just a few weeks.
Daemen on Wednesday will offer both the Pfizer vaccine and the Johnson & Johnson one-shot vaccine at a campus clinic. Hilbert is working to get 700 doses of Johnson & Johnson vaccine next week for students, said Christopher Siuta, director of counseling, health and wellness at Hilbert.
Siuta hopes nearly all employees at the college will be vaccinated by graduation in mid-May.
"Students, if we could be anywhere from 50% to 75%, I think that would be a huge win for us," he added. "It would be a great head start before we entered the summer."
UB administered nearly 200 doses of Johnson & Johnson shots Thursday and Friday.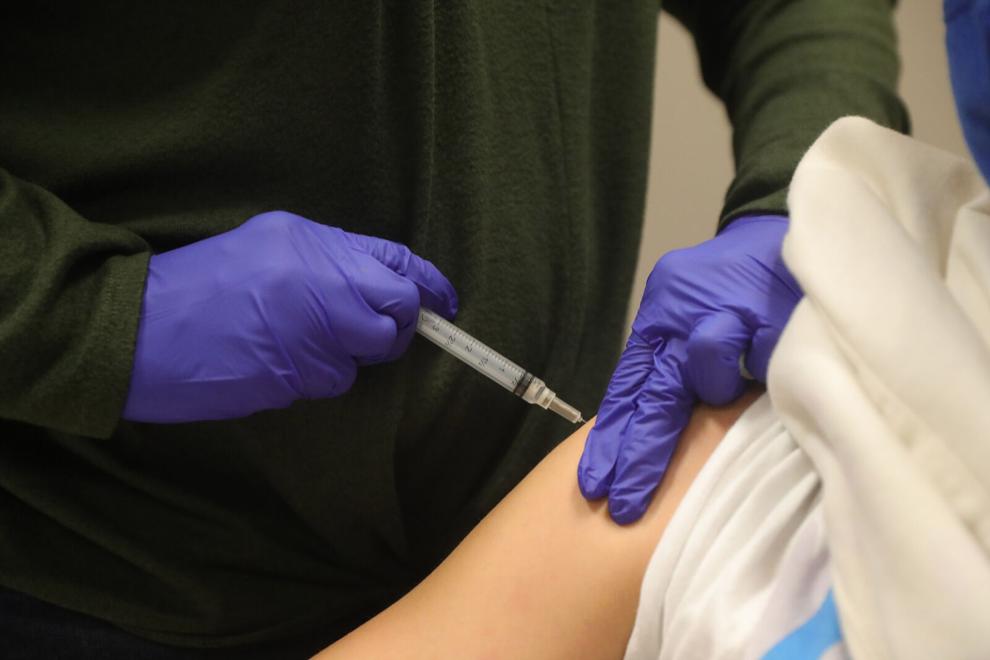 Several campuses had planned to offer the one-shot vaccine earlier but those clinics were put on hold because of the 10-day pause to the Johnson & Johnson vaccine as the Food & Drug Administration and the Centers for Disease Control and Prevention examined reports of rare blood clots. The pause didn't seem to hurt student interest in the vaccine at UB.
Abakporo said he hoped vaccinations will help the campus return more to the way things were prior to the pandemic, particularly when it comes to spontaneously meeting up with friends to hang out, grab a meal or have a pickup game of basketball.
Chris Garbutt, a geology major from Watertown, also received a shot on Friday and was hoping vaccination efforts will translate into having all of his classes in person next semester.
Garbuttt said he's disappointed by having to take classes remotely from his off-campus apartment room, with no one available to help him when he's struggled online with courses.
"I personally learn better in person," he said.
But Garbutt said he doesn't support a mandated vaccine, either, and he believes such an approach would misfire in trying to convince students to get a shot.
"A lot of people already aren't very trusting of most institutions," he said.
The university has been urging students on social media to register or walk up to a state-operated vaccine site in Harriman Hall on South Campus. UB also offered free shuttle rides for students to get vaccines at Erie Community College's Amherst campus and at KeyBank Center downtown. Students from outside Western New York who get a first dose of the Moderna or Pfizer shot at a local vaccine site now will be able to get a second dose anywhere in the state and country, because availability has expanded so dramatically, said John Della Contrada, vice president for university communications.
As of Wednesday, 3,223 students and 1,654 UB employees said they had been been fully vaccinated, said Della Contrada.
"We're seeing some good trends," he said.
Nearly a quarter of 1,244 UB students recently surveyed by the university's Division of Student Life said they were fully vaccinated, while another 25% said they were "in the process of getting vaccinated" and 39% said they plan to get vaccinated.
Twelve percent of respondents said they would not get a vaccine, citing a variety of reasons, such as a lack of long-term studies on the vaccines and a belief that young people are not at high risk.
Quarantines for unvaccinated students?
Colleges and universities are letting students know the consequences of not being vaccinated when they arrive on campus in the fall.
"Going back to a higher-density classroom, students who are not vaccinated may have more difficulty, may end up being quarantined or may have other situations that they may not be able to participate in because that would put them at risk," said Sara R. Morris, vice president for academic affairs at Canisius.
A big carrot for students to get vaccinated will be the ability to stay out of quarantine if they get exposed to Covid-19, added Thomas Missel, chief communications officer at St. Bonaventure University.
Vaccinated students also would not need to be tested regularly for Covid-19 or fill out daily screening forms, he added.
St. Bonaventure also has potential wild-card motive for students: The state, as it does at KeyBank Center and other venues, possibly could limit attendance at the university's Reilly Center to those who can show proof of vaccination or a negative Covid test within 72 hours.
"We're bringing back what's almost certainly a preseason Top 25 basketball team for the first time in 50 years and the fact that you might not be able to go to a Bonnies game because you're not vaccinated might be another incentive to get vaccinated," said Missel. "That's something that I don't know if we would mandate, but it wouldn't stun me if the state might mandate that."
Even though college-age students have had access to the vaccine only for a few weeks, 44% of St. Bonaventure's graduating seniors have told the university that they are fully vaccinated, said Missel.
Missel said the college will continue to consult with people on the issue of a vaccine requirement.
"But as everyone has realized during the pandemic, what you believe today could be totally different tomorrow," Missel said. "It just might make perfect sense to do it and mandate in a month but at the moment it doesn't make sense for us to do it."