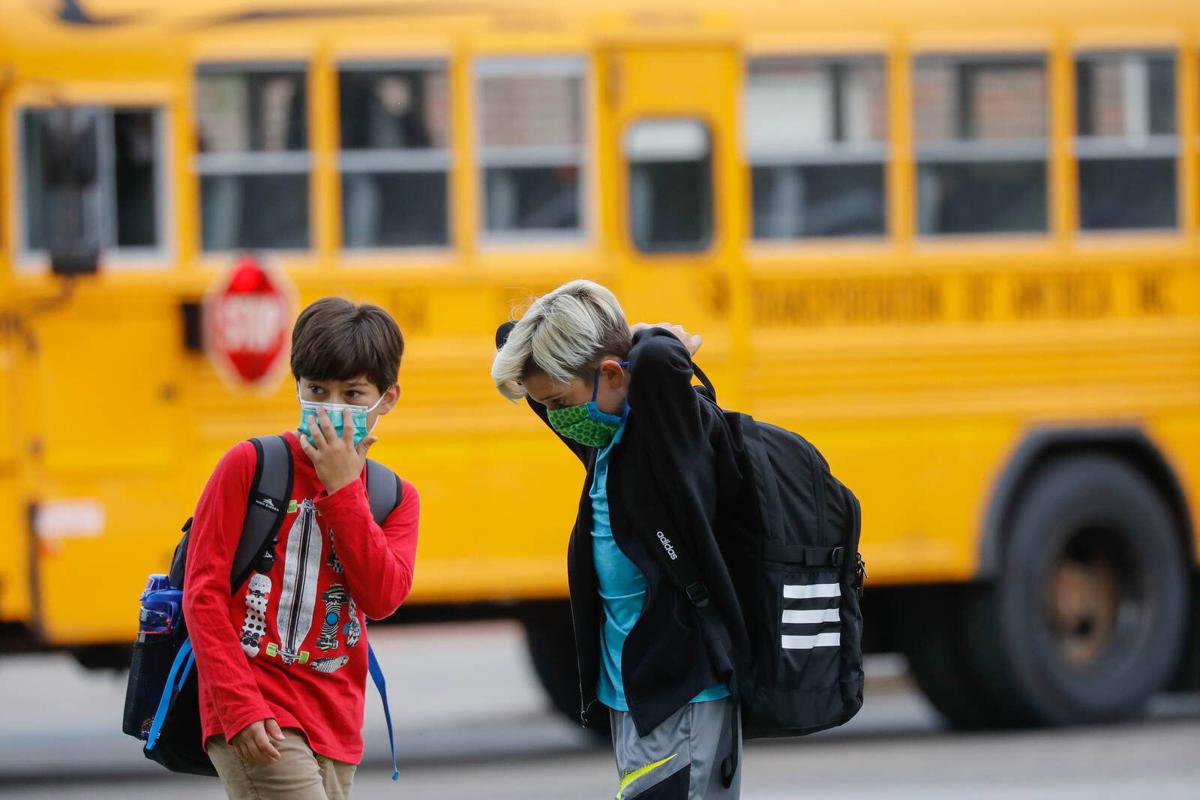 State Education Commissioner Betty A. Rosa is recommending schools use federal CDC guidance in planning for opening schools this year, which means masking for all teachers, staff and students, regardless of vaccination status.
Rosa, in a letter to school leaders Thursday, said the Covid-19 pandemic is "still dynamic," but predicted that much-awaited guidance from state Health Department officials would largely mirror that of the federal Centers for Disease Control and Prevention.
Like school leaders, the Education Department is "anxious" to receive guidance from the state Health Department on what safety measures should be followed for the fall semester, Rosa said in the letter to district superintendents, principals and leaders from charter schools. 
She said members of the governor's staff have told the Education Department that the Health Department is developing guidance, and that the recommendations from the CDC will be the basis of the guidance. Rosa also suggested schools use the recommendations of the American Academy of Pediatrics, which also said students older than 2 should wear masks, unless medical or developmental conditions prohibit their use.
Both groups maintain that in-person learning is beneficial for students, and returning safely is the priority.
But a mask requirement in schools will not be well-received by some parents.
"We believe it should be the parents' choice to decide what is right for their kids," said Dana Hensley, a parent in the Williamsville Central School District. "It's not a benign intervention for children. They can't see faces. They can't see how to pronounce words."
She said wearing a mask has made her 9-year-old more anxious, and other parents have told her their younger children chew on their masks.
"Kids aren't wearing them well," Hensley said.
She believes other mitigation measures, such as health screening, keeping kids home when they are sick and improving ventilation make more sense than universal masking.
And she said she is considering legal action. 
"We've lost our ability to advocate for our kids in any other way," Hensley said.
Hensley was part of a group of parents who successfully challenged New York State rules requiring 6 feet of distancing in middle and high schools in areas of high transmission. A state Supreme Court judge in May ordered Williamsville and Orchard Park school districts to open their middle and high schools full time. 
Gov. Andrew M. Cuomo said last week school districts could require their employees to be vaccinated, much as the state is doing with state employees, but he did not mention a mask mandate in schools. 
"If the numbers continue to grow, I think they have to consider dramatic action," Cuomo said of schools, but he did not say what that might be.
Children under 12 are not yet eligible for the Covid-19 vaccine, but the Food and Drug Administration may issue an emergency use authorization for the vaccines for children this fall.
For now, local superintendents are planning on opening school full time to all students, but they are still waiting for further guidance from the state. It's getting close in the Kenmore-Town of Tonawanda School District, where the first day of school is Sept. 1.
"Please know that Ken-Ton will adhere to the NYS guidance and we will communicate that as soon as it is released, but as I stated before, we are planning on five-day in-person instruction in September," Ken-Ton Superintendent Sabatino Cimato said in a letter Friday to parents.
Rosa said Health Department guidance is needed "as soon as possible," and she also commiserated with superintendents. 
"The urgency and frustration you are feeling as September approaches is palpable and is shared by the department," she wrote. "The overall goal for the 2021-2022 school year is to maximize in-person teaching and learning, be responsive to student needs, and keep students and staff healthy and safe."
She said the Education Department worked with a diverse group to come up with issues and questions for the Health Department, including masking requirements, physical distancing, transportation, Covid-19 testing requirements and screenings, community transmission rates, and local health department responsibilities.
"Many questions persist, including the extent to which remote instruction may be used," Rosa said.
She said the Education Department's position is schools should be open for in-person learning for all students as long as public health officials allow it. If a school is closed, it should be ready to provide remote instruction. And while the Education Department will not require schools that are fully open to offer remote instruction, she said schools may offer remote options if it is in the best interest of the student. 
In Erie County, Erie 1 BOCES is expanding its eAcademy this year to include elementary students. Several districts have asked parents if they would be interested in the fully virtual program for their K-12 children, although some were limiting it to students with documented medical conditions that would prevent them from attending school in person.